Here's what we love about trash-the-dress photo shoots: the chance to get out into nature, in your gown, with your new hubby, for a series of pix that capture the sexy, exhilarating rush of newlywed romance in all its wild glory. Yowza. Here's what we don't love about the trash-the-dress photo shoots: um, trashing the dress.
It sounds awfully destructive, but a trash-the-dress photo shoot doesn't actually have to involve turning your wedding gown into garbage. Depending on your bridal gown's material and embellishments, it can usually be cleaned and preserved post-shoot (though it probably won't retain its pristine pre-wedding glory, you're not likely to wear it again anyway). And even if it can't, it just may be worth the wow of a set of gorgeously sensual trash-the-dress photos.
These unbelievably romantic TDD pix from around the globe—which, depending on where you work, are kinda NSFW—say, "Oh, yes."
Natural, unposed, unabashed–no wonder this beautiful South Florida TDD is from Jessica Loren Organic Photography.
You can just feel the day-after-the-big-day languor and love in this Ocho Rios, Jamaica, TDD pic from Ontario-based photographer Melanie Dreidger.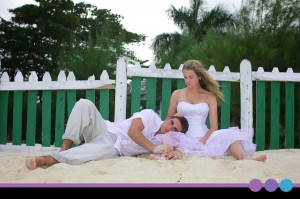 How much fun is this UK TDD by Freeman Photographics? The bride looks like a mermaid!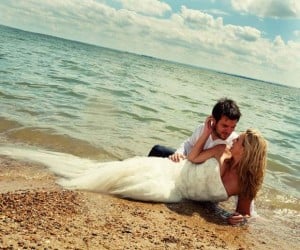 This desert shoot from California photographer Kerry Garrison is SO HOT, no?
After that scorcher, how about cooling off with a plunge into romance from award-winning Riviera Maya, Mexico-based Del Sol Photography?