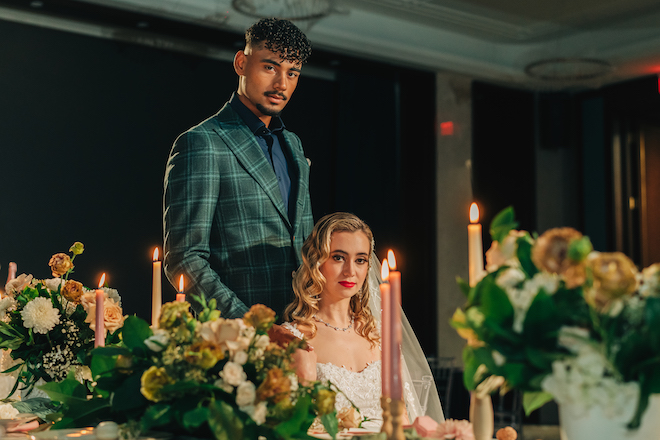 Elegance and opulence converge in the heart of Houston at the Blossom Hotel Houston, the perfect setting for an emerald green wedding editorial. This luxurious venue boasts views of the city and gourmet cuisine, providing a range of event spaces that exude timeless sophistication.
Expertly captured by Oryan Photo and Video, the grand ballroom was the chosen spot for this editorial, featuring charming floor-to-ceiling windows and a lush display of details. Every element was executed flawlessly, including the delicate floral centerpieces by CoCo Cabana. The emerald green linens from Hopeful Events and Design, warm candlelight and an intricate cream backdrop added to the ballroom's grandeur, as did the opulent pillar candles.
The bride was a vision in a classic lace gown with floral appliques; her glam look was expertly crafted by Polished Makeup & Hair. A bold red lip elevated her reception look, while the groom sported a hybrid jacket from B.Kreps&Co. for the ceremony and a teal jacket for the reception, both paired with a one-of-a-kind silk hand-woven pocket square from Ruth Graves.
Not Your Ordinary Cakes brought the vision to life with a decadent four-tier emerald green and floral cake, complete with wafer paper, edible paint and sheen green coloring. The final touches included a champagne tower, delicate pastel macarons and a painting by Rendered Moments that perfectly captured the day's romance.
"Emerald green is very trendy right now, so I loved seeing it used in a hotel with the not-so-typical pink accents," says Samantha with Polished Makeup & Hair. "It was a breath of fresh air!"
Scroll on and get inspired by this emerald green and blush wedding editorial, exclusively on the Houston Wedding Blog.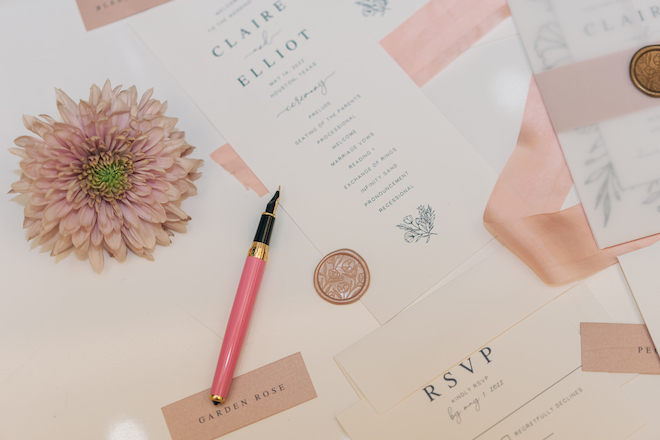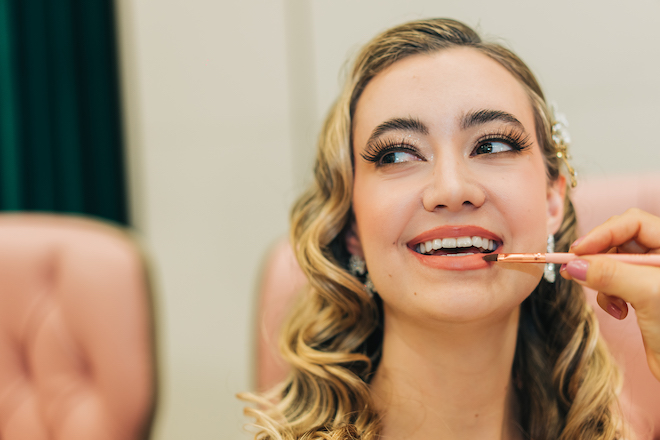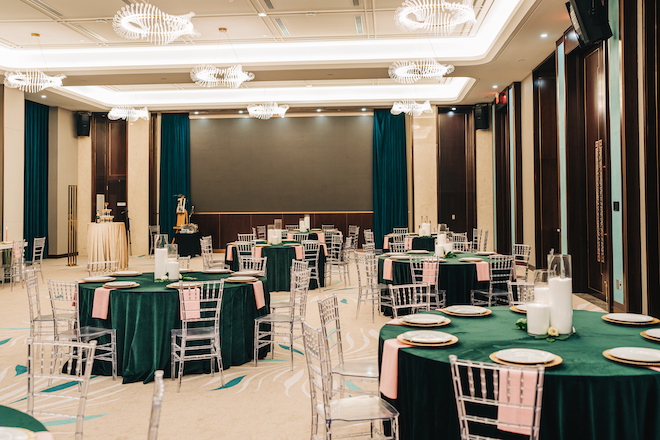 Contributing Vendors: Modern Posh Events / Courtney Hall / Glam by Nanie / Elias Paper Co. / Any Occasion Tents & Events / Heirlum Hangers / Privosa Fine Jewelry / Buttercream Houston / Clifton Creative Events / Avalon Event Rentals