Photo: Memories By Maygan Photography | Design: Magnolia Bay Custom Bar Services
It's no secret that one of the most crucial parts of the modern wedding celebration is… the booze. If you're like many contemporary Houston wedding couples, you're likely considering creating a signature wedding cocktail that represents your distinct personalities and tastes. Your guests also might crave a little liquid courage as they hit the dance floor, and, of course, everyone needs a libation for the many toasts and cheers that honor the joy overflowing on your wedding day.
The team at Magnolia Bay Custom Bar Services are experts in making your wedding beverages and drink presentation key parts of your overall wedding theme and reception celebration. As full-time firemen and cocktail connoisseurs, Marshall Boyd and Jason Myers founded their company to bring banquet bar services "to a new level,"  Myers says. Unlike traditional bar services, Magnolia Bay creates custom and hand-built wedding bars, themed wedding cocktails, wedding reception drink packages and more, to create a celebration experience your guests will never forget! We asked Myers for his tips on creating the perfect wedding cocktail concept and bar. Scroll down for a taste…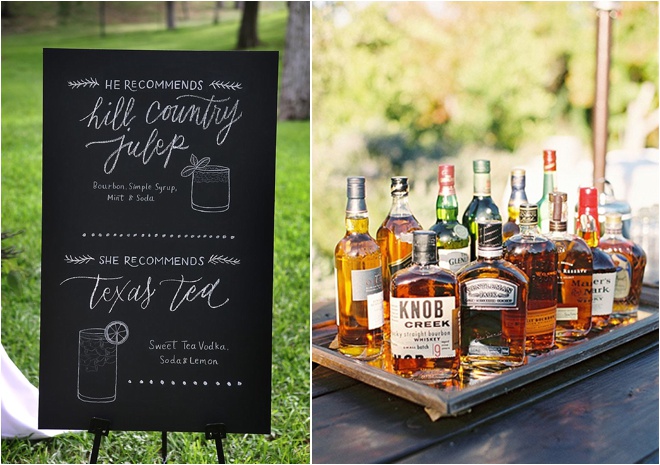 Design and Photo Courtesy of: Magnolia Bay Custom Bar Services
1. Hire the pros — Serving, planning and presenting alcohol is definitely something best left to the professionals. "I tell people to ALWAYS ask if the vendor is licensed through TABC and what insurance they carry," Myers says. Magnolia Bay is fully TABC-licensed and fully insured. Count them as one fewer thing you'll have to worry about on your big day!
2. Get personal — Did you and your boo bond over a favorite beverage, meet in a special city or fall in love at a favorite restaurant or bar? Try and incorporate those aspects of your relationship into your signature wedding cocktail or bar! "Our services are customizable to fit YOU," Myers says. "So many clients tell us they have been told 'no' by so many companies, that they gave up. We tell couples to give us an idea of what they want, and we build from there."
3. Go big! — "Don't show up to your own event and realize you should have done something more," Myers says. He recommends that wedding couples write down all of their ideas and then take a step back to consider how their dream cocktail concept can fit within their budget.  
4. Consider your wedding "brand" — Your custom wedding bar and drinking details—for example, the cups, napkins, koozies and decor—are the perfect place to show off your wedding logo, monogram, hashtag, color palette and theme. We love how Magnolia uses marquee letters and chalkboard art to personalize each cocktail concept! They also dress to impress. "We aren't your standard banquet bar service that shows up in black and white uniforms," Myers says. "When you work with us, you get hand-built bars that go with the look of your event, you get staff uniforms that go with your event, you get quality drinks, one-of-a-kind service and a one-of-a-kind experience."
5. Think outside the big day — "Always ask the venue if they allow outside alcohol vendors," Myers says. Many reception venues do require you to purchase alcohol through their vendors, but let's be honest, there are plenty more opportunities for unique spirits, fine wines and exciting wedding-theme cocktails throughout your engagement and wedding weekend. If you're crazy for these craft cocktail bars, consider using them at other events like your engagement party, rehearsal dinner of day-after brunch!
Design and Photo Courtesy of: Magnolia Bay Custom Bar Services
If you're ready to create your custom cocktail bar, or simply want to learn more, be sure to schedule a consultation with Magnolia Bay Custom Bar Services. Cheers!