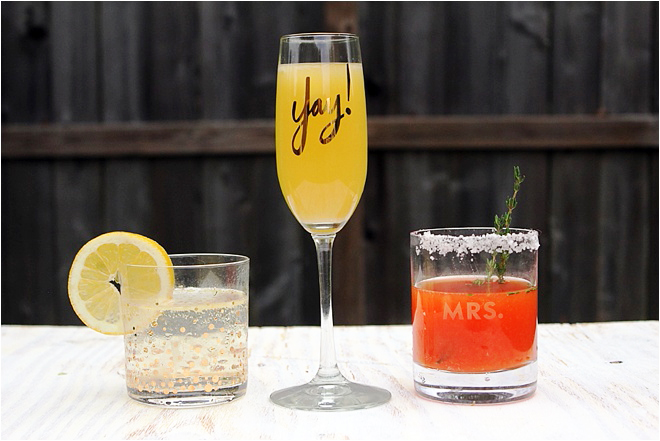 Every element of your wedding should reflect you and your boo down to the very last drop. The team at Capitol Beverage Service, Houston's beverage and bar catering connoisseurs, are pros at doing just that. In addition to their stellar wine, beer, Champagne and liquor packages, owner Ceci Kammer and her team can create refreshing signature cocktails customized for each client's unique wedding!
"We often serve very simple drinks," Kammer, says. "Our clients want a lot of flavor and something special, but not anything too fussy with hard-to-find ingredients." 
We asked Kammer to share a few of her favorite wedding cocktail recipes with us at the Houston Wedding Blog. We did you the favor of testing them out ourselves. Keep reading to get a taste of your own!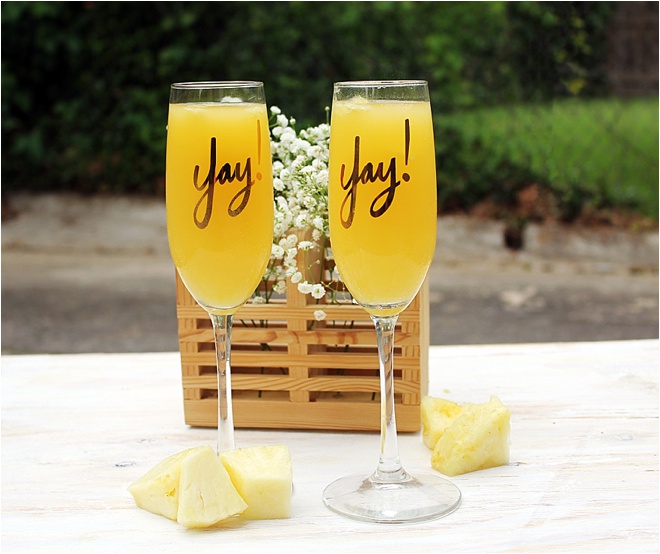 Brunch Sparkler – "This is a light, refreshing and super flavorful drink!"
Put several slices of fresh ginger in orange juice

Allow to sit for a few hours or overnight

Mix the orange juice with equal parts pineapple juice

Pour in sparkling wine (or sparkling water if you prefer a nonalcoholic drink)  

Serve chilled
 Tray: Bering's 
Paloma with a Twist! – "A twist on the old classic with a pretty spectacular taste!"
Start with silver tequila

Mix with blood orange soda (you can find this in most well-stocked grocery and specialty beverage stores)

To make this extra special, serve with a half–rim of salt and add fresh, finely chopped thyme leaves   
 Tray: Kuhl-Linscomb | Utensil: Bering's 
Simple Summer Cooler – "This is a summer staple in our arsenal. It is also one that you can play with to make it your own!"
Start with honey vodka (almost every brand of vodka makes a honey version)

Mix with club soda

Add a good squeeze of lemon

Stir and serve
*You can also pre-mix the vodka with fresh lemon juice and then add the club soda when serving a crowd.
Interested in creating a craft wedding cocktail of your own for your big day? Be sure to schedule a consultation with Capitol Beverage Service to fill your every wedding beverage need. And make sure to let them know you found their fabulous wedding cocktail ideas on the Houston Wedding Blog!