---
Wedding Parties with Panache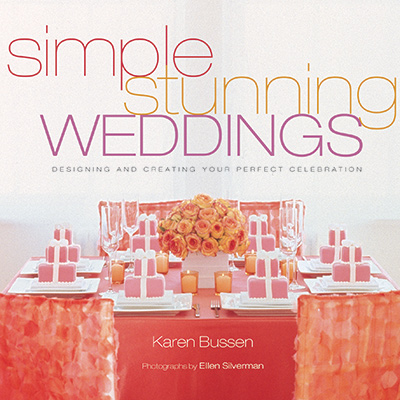 Photo: Ellen Silverman
Inspired by her mother's love of art and home decorating, Karen Bussen made her own foray into the world of hospitality and event design, working for famed New York restaurateur Danny Meyer and celebrity chef Rocco DiSpirito. In 2000, the ambitious and free-spirited Bussen—she leapt into adult life by signing on as a magician's assistant on a cruise ship at the tender age of 17—launched her own event planning company. The debut of her "Simple Stunning" series of entertaining how-to books soon followed, along with the creation of her signature "Simple Stunning" line of destination wedding packages for Palladium Hotels & Resorts.
These days, Bussen shares her party-planning expertise with exclusive clients, on popular TV and radio shows…and here, where she offers her advice on entertaining guests graciously, both on the big day, and at the parties that precede it.

Weddings in Houston: When and how did you get your start in event planning and styling?
Karen Bussen: I worked in restaurants for many years in New York, which gave me a whole education in hospitality, tabletop style, design and service. When a small Italian restaurant I managed needed floral arrangements but couldn't afford a florist, I volunteered. In time, people started noticing my work and inviting me to do all kinds of interesting design and styling projects, like styling flowers and props for celebrity chef Rocco DiSpirito.

WIH: How important are pre-wedding celebrations to the entire wedding experience—and what are some of your favorite ideas for these before-the-big-day bashes?
KB: I call these events "satellite celebrations," and each should be a fun and authentic expression of who you are, rather than just over-the-top displays of "stuff." People remember moments and feelings much more than they remember elaborate flowers, so focus these pre-wedding parties on sharing the love, stories and moments that will last a lifetime. Simple is almost always more beautiful when it comes to everything from food to favors to festive decor.

WIH: What are some of your favorite ways to create an unforgettable statement with reception food and drink?
KB: I'm a huge foodie, so I love stations at cocktail hour that offer "pairings" of delicious nibbles and sips. Think: tiny bottles of tequila paired with mini-tacos, or a brunch station with a Tito's Bloody Mary bar. Overall, my advice is to ask your chef to focus on quality local ingredients, prepared simply to let their gorgeous flavors shine through.

WIH: What are fresh, new concepts you've incorporated into rehearsal dinner celebrations?
KB: Probably my favorite rehearsal dinner idea is a two-part celebration. Early in the evening, we host a small, intimate gathering of family, much in the traditional sense of a rehearsal dinner, which is typically an event for the immediate family and bridal party. This allows for toasts, laughter and the sharing of a cozy meal. Then, when dinner is over, we invite everyone else to come for drinks and desserts—sometimes at the same spot, sometimes at another venue close by, and we make that all about mingling, meeting up, and kicking off the celebration in a casual and super-festive way.

WIH: We love your "Simple Stunning" book series! What inspired you to create "Simple Stunning Weddings" and "Simple Stunning Bride," and what are some of your favorite chapters/features of these titles?
KB: With all the options, ideas, and pressures out there to host the perfect celebration, I really wanted to focus on how to put together a stunning wedding for real people who have actual jobs and lives, ha! I mean, sure, you can make a cake table out of 1,200 carnations the day before your wedding, but why would you? I just wanted to bring a sense of elemental and well-edited design. In my books, I break down some simple principles of color, where to focus your decor, and other tips I've learned from my years working with all kinds of couples.

WIH: What are you working on now?
KB: I'm incredibly excited about my partnership with Palladium Hotels & Resorts in Mexico, Jamaica and the Dominican Republic. What started out as a simple experiment to offer beautiful, customizable destination wedding packages at one resort has become a full-fledged collaboration, and an enormous source of pride for me. I am able to bring the same spirit and style to each of these weddings that I would bring to my private clients, but at a much more affordable price point.

WIH: What's the number one piece of advice you have for couples before the big day?
KB: Discuss your priorities and your budget openly, at the beginning of your process. Do not go into debt for your wedding under any circumstances. Use your creativity and your own personal style to make your celebration special—in the end, it's all about love, not stuff.
You Might Also Like