---
The Unexpected Menu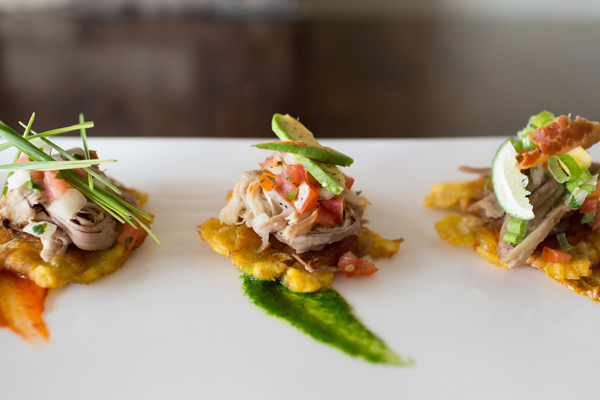 Photo: Rathke Photography | Food: The Hometown Chef Catering
An outstanding reception is the result of a good working partnership between the happy couple and their selected caterer or venue. The bride and groom communicate their dreams for their ideal reception and the caterer helps refine those ideas into delicious realities.
And just as each couple's dream has a different feel and…flavor, each reception menu can, and should, offer a taste of the wedding couple's distinct personality and backgrounds. So dig in, as we serve up a feast of fabulously unique food options and ideas, courtesy of a cadre of leading Houston catering experts.
1.Think Global, Eat Local
Tiffany Avila, owner and CEO of The Hometown Chef Catering in Humble, encourages clients to be inspired by the food they really love. For friends and family visiting from out of state, or even outside the country, it's a wonderful opportunity to introduce them to food that is uniquely Texan, too. "Most people just want to feed the masses, and they get nervous to think out of the box," she says. But that's a missed opportunity, when Texan fare is so full of flavor and fun. "We recently had a group where half of the guests were British and they'd never had barbecue. That would be typical for us [Texans], but they were just going crazy over it."
The state's Mexican and Czech influences also offer a great opportunity to treat guests to a taste of Texas—especially with late-night breakfast stations. Rebecca Payne, senior catering manager at the Hilton Americas Houston, says, "We see requests for breakfast tacos and taquitos, as well as kolaches [Houston's ubiquitous Czech pastries]," along with doughnuts, waffles and other sweet and savory bites that offer a last burst of carb-driven food energy.
2. High-Tech Treats
The nation's recent obsession with "molecular gastronomy" and high-tech cooking techniques is making its way into wedding menus, as couples look for new ways to excite and delight guests' palates. Payne's culinary staff has started to use a device called an "anti-griddle," which, instead of cooking foods, stays at a constant temperature of -30 degrees and flash-freezes anything placed on its surface (the device was inspired by a similar one developed by culinary technologist Philip Preston and used by Chicago chef Grant Achatz at his groundbreaking restaurant, Alinea).
At a recent event at the Hilton Americas, Payne says their chef used it to make frozen lollipops within seconds—a delicious treat for receptions where children are in attendance.
3. A Taste Of Nostalgia
Caterers are often asked to serve beloved family recipes and childhood favorites that stir up feelings of nostalgia for the bride or groom.
Gary Baumann, director of catering and conference services at the Omni Hotel Houston says, "A lot of it just comes down to customization with the client, like incorporating family traditions and menus that couples grew up with." In the past, his team has prepared everything from a grandmother's treasured meatloaf recipe, to an aunt's favorite blueberry pastry.
Margery Reinheardt, director of catering for the Hilton Houston Post Oak, says dessert is a perfect place for childhood favorites, and a bit of creative fun. "I had a bride who insisted on having pecan balls for dessert. They are just the simplest things—vanilla ice cream encased in chocolate and rolled in pecans. But it had to be her mother's recipe: 'Buy this brand,' 'Here's the ratio you need to use,' and I just said to her, 'Sure, we'll do that!'"
4. Skip The Same Ol' Steak
Familiar cuts of meat, such as New York strip and ribeye, are frequently served at receptions, but aren't exactly exciting. For major impact, Chef Chris Nguyen of Café Natalie Catering says you might want to consider forgoing beef altogether, in favor of an international favorite. Regions including Louisiana, the Philippines, and much of South America, make a communal event out of roasting and serving a whole pig. Nguyen has catered to brides and grooms who want to provide this dramatic—and delicious—experience at their wedding reception. "Thanks to the farm-to-table movement, it's become more acceptable in Western culture to see the whole pig, including the head," Nguyen says, noting that the elaborate slicing and deboning involved are all part of the presentation.
5. Aim For Authenticity
Nguyen says that restaurant trends are influencing reception-menu choices in other ways, as well. For example, some of his couples specifically request Benton's Bacon, which is made in Tennessee and has a reputation as one of the best bacon brands in the world.
Others might request locally made goat cheese as part of an appetizer, or meats and seafood from highly specific purveyors or regions. "I had a bride a few months ago request a specific kind of oyster harvested off the coast of North Carolina," he adds.
Avila notes that the most challenging cuisines to prepare are those that incorporate many spices, such as Cajun and Indian. "There are so many areas of India and each prepares dishes differently. Cajun dishes pose a similar challenge, because it's all about the spices, and people want these to taste exactly how they remember."
When scaling an international or family recipe for a large crowd, getting the flavors and textures just right can be tricky, so there's generally a tasting of the heritage dish before the reception to ensure it is as remembered. Nguyen says that Café Natalie prepares two different versions of the recipe, each scaled a little differently, to see which is preferred. Meanwhile, at the Omni, Baumann says the kitchen might make a smaller batch for the immediate family to ensure the authentic flavors come across, and then prepare larger batches for the broader group of guests.
You Might Also Like