---
Party Perfect!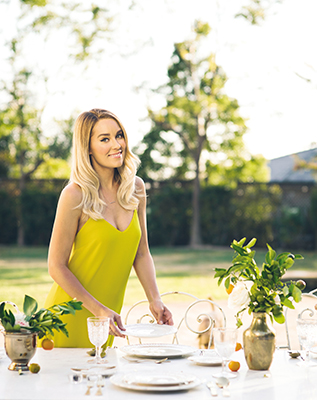 By: Lauren Conrad
Photos: Yoni Goldberg
TV personality, fashion designer and lifestyle expert Lauren Conrad offers her finest etiquette tips for planning pre-wedding celebrations with grace and style.
Modern-day party planning etiquette can be tricky, particularly for the hostess. It feels like the general rules are always changing and usually subjective, so I've compiled my tried-and-true tips for hosting an event with grace and consideration.
Planner Etiquette
I try to send out invitations four weeks in advance. People's calendars fill up quickly, but sending the invitations too early risks them being misplaced or forgotten about. Obviously, for larger-scale events that may require travel, you should afford your guests additional time, while two weeks' notice is enough time for a smaller, more casual gathering.

TIP: Make certain to properly greet and introduce partygoers, even if you believe they may have already met. Social gatherings can be intimidating, so do your best to make each guest feel comfortable. (Take a note from Bridget Jones and try to offer an interesting fact about each person to help spark a conversation!)

Invite guests to bring a date, if the budget allows. It makes for a better time for everyone. If your budget is tight, be very clear in your invitation so that you don't find yourself scurrying to set an extra place setting when the guest arrives with a "plus one."

Don't invite a second-tier guest list too close to the event. People will know they were not your first choice, and no one wants to feel like the second string.

Be prepared. Give guests as much information as possible ahead of time regarding parking, transportation and attire; have a backup plan in case of inclement weather, etc. The more you anticipate and do ahead of time, the better your event will be. There are always inevitable hiccups on the day of, so it's best to eliminate or minimize the foreseeable bumps so you have more time to focus on the unforeseeable ones.




Partygoer Etiquette
As a good host, you can prepare for just about anything and plan a dazzling event, but so much of the party mood depends on your guests. Which is why being a thoughtful partygoer is an important role.

Reply by the RSVP due date. As a host you typically wait for a final head count before placing most orders and finalizing details, so when you're the guest, respond as soon as possible—especially if the host is someone you would like to make a good impression on. Plus, it's just the nice thing to do.
TIP:
Never cancel on the day of the event. Unless it's an emergency, it's never an okay thing to do. Be mindful of how much work your host is putting into hosting you.

Be on time. Do not arrive more than 15 minutes late to a dinner party, or 30 minutes late to a cocktail party. If you're going to be any later, you should call or text the host. Equally as important, do not arrive early.

Oftentimes, the host is running around putting on the finishing touches. An early guest is just unwanted stress. Try your best to arrive during the first few minutes of the party.

Don't ask if you can take home a floral arrangement, a centerpiece or leftover food. If the host isn't offering, you can assume it's for a reason.

Follow the dress code. If the host offers one of those "open to interpretation" dress codes, just ask.

Don't bring an uninvited guest. Here's the bottom line: The people listed on the invite or envelope are the people invited to attend. If it reads, "Ms. Audrey Hepburn," you can safely assume the invitee is not being asked to attend with a guest. If it reads, "Ms. Audrey Hepburn and Guest," that's an invitation to bring a plus one (but only one!). If the invite reads "The Hepburn Family," it's safe to assume the entire household is invited.

Come bearing gifts. If you don't already know, you will soon: Party planning is a big job and showing you appreciate the efforts of your host is not only considerate, it pretty much can guarantee an invitation to the follow-up get-together.
The Unexpected Guest
Earlier we discussed how, as a guest, you are able to determine whether you are invited with a plus one, or whether it is appropriate to ask if you may bring a guest. As a habitual hostess, it's inevitable that you'll be faced with this dilemma.

Over the years, I've hosted quite a few events where guests have appeared at my door without RSVPing, or a partygoer has arrived with an unexpected plus one. For this reason, I always try to account for a few extra heads when preparing the menu and when stocking the bar (this is when a 20-percent safety buffer comes in handy!).

Your goal should be to handle the situation with grace and discretion. Quietly arrange for another place setting, even if that means getting inventive with seating (an ottoman can make a quick fix, and can usually seat two people at a dining table). If it's a buffet, just put out extra dishes and flatware. In the event that there isn't quite enough food, it's your obligation to serve yourself last and least (and, if needed, nudge your significant other or cohosts to do the same).

I'd suggest keeping the issue quiet and not bringing it up to the person(s), or to any other partygoers, for that matter. Even something as simple as, "What a surprise! We weren't expecting you," can leave a bad aftertaste. My best advice is to make any necessary accommodations in order to balance out the event, and then forget about it. Letting yourself be bothered by it will take away from the fun you should be having!

Excerpted from "Lauren Conrad Celebrate" (HarperCollins, 2016), available at amazon.com
You Might Also Like