---
On the Waterfront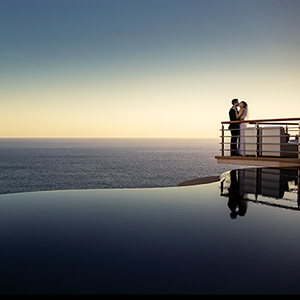 Photo: M. Wang Photography
There's something about a vista of serene, sparkling water that evokes a sense of both exhilaration and joy. Especially when that H2O expanse serves as the backdrop for what is likely to be the most exhilarating and joyful event of your life. These eight water-view venues take full advantage of their picturesque settings—whether the shore they showcase is at the edge of a placid man-made lake, or Nature's own dazzling Gulf of Mexico.
Waterpoint Premier Lakeside Venue
"We have a lot of couples come out here, and the grooms are so tired of seeing stuffy ballrooms with patterned carpet. When the guys see that water, it's like they relax, and just let all their stress go," says Lynn Winkler, owner of Lake Conroe's Waterpoint Premier Lakeside Venue.
Of course, the gals love it too. And why wouldn't they? Waterpoint, which hosts just one event per day, and allows couples carte-blanche freedom to customize their celebration, is a location that's hard to beat. With a ceremony platform that cantilevers out over the water, and a grand room that overlooks the lapping lake, "You don't need to add much of anything to make it beautiful," Winkler says.
"We are local," she adds, "but when you're here, you don't realize you're in Conroe. The marina, the sailboats, the water—it could be Italy. It could be the South of France. But it's right here at home."
"The great thing about a water-view ceremony is that not much is needed to enhance the site," notes Chelsea Baker, catering manager for waterfront La Torretta del Lago, overlooking the sparkling ripples of Lake Conroe.
Among her favorite wedding ceremony sites is the venue's beach, which provides a "destination feel, with chairs set up right in the sand." For a slightly more formal feel, try the Palm Court, or the Versailles Ballroom, which boasts soaring ceilings and a lovely lake view.
Adds Baker, "Exchanging vows overlooking beautiful Lake Conroe as the luminous Texas sun slowly sets on the horizon cannot be beat. After dancing the night away in a wonderfully appointed waterfront ballroom, your guests will feel as if they are at a destination wedding, and not 45 minutes from downtown Houston!"
Situated spectacularly on the shores of Clear Lake, Waters Edge Venue offers three unique waterfront ceremony sites. Located off the end of the venue's lighted pier, the Grand Gazebo gives couples "a very intimate and personal ceremony experience," notes events manager Rachel Newton. Also popular are the Isle of Palms Beach, and the Skylight Veranda, which provides all the comforts of an indoor setting, with a "beautiful view of Clear Lake, framed by our California jeweled palms," she adds.
For a celebration with lakefront allure, Waters Edge welcomes couples and their guests to its 5,000-square-foot ballroom, with room for 300, and a collapsible glass wall overlooking the lake's sparkling waters. "We host only one event a day, so you are sure to receive the utmost care and attention from our staff," Newton notes. "Our staff of Certified Wedding Planners will be with you to guide you through the entire planning process and ensure your day is flawless."
"We host only one event a day, so you are sure to receive the utmost care and attention from our staff," Newton notes. "Our staff of Certified Wedding Planners will be with you to guide you through the entire planning process and ensure your day is flawless."
The Woodlands Resort & Conference Center
Tucked away on 28,000 square feet of pristine land in the Texas piney woods, the Woodlands Resort boasts bountiful views of majestic Lake Harrison, and space for up to 250 wedding guests to dine and dance the night away.
Ideal for ceremonies, "Each of our three unique terraces provides views of Lake Harrison's stunning water features, the surrounding forest and the verdant adjacent golf course," says senior catering manager Judy Patterson.
For an unforgettable water-view reception, opt for the elegant Emerald Ballroom, with floor-to-ceiling windows and a wraparound balcony, along with vaulted ceilings and specialty lighting. Or go for The Glass—the resort's lakeview event space, which is "the perfect venue for intimate weddings, without the risk of inclement weather," she notes, and with all the comforts and indulgences of the Woodlands Resort's renowned catering expertise.
Among the Gulf area's most storied sites, Hotel Galvez & Spa—A Wyndham Grand Hotel—isn't just grand in structure, its expansive Gulf of Mexico views are about as grand as wedding scenery gets.
For a nuptial celebration that embraces Hotel Galvez's gulf surroundings from start to finish, say your vows in an outdoor ceremony staged upon Centennial Green Gardens—the hotel's iconic 9,330-square-foot lawn, overlooking the gulf's bright blue waters. And don't worry about bringing in too many whistles and bells for your marriage rituals: "Our wedding couples tend to keep things simple, and use enhancement such as rose petals and flower arrangements to showcase the natural scenery and architecture of this amazing historic property," says communications director Christine Hopkins.
Then proceed to the Music Hall ballroom to celebrate your newlywed status. The hotel's catering department offers Gulf Coast seafood, fine Texas steaks and Southern specialties, served with classic style, while the room's large windows offer "an endless view, symbolizing the endless love of the couple getting married."
For dazzling water views, it doesn't get much better than being out on the water. Headquartered in Kemah, Star Fleet Yachts offers two decked-out vessels, for one-of-a-kind weddings of up to 150 of your nearest and dearest.
"Not everyone gets to attend a wedding on the water," says director of sales Jennifer Lamar. "What makes a Star Fleet wedding so special is that it's a unique and wonderful experience not just for the wedding couple, but for their guests as well."
Star Fleet's Star Cruiser and Star Gazer yachts hold up to 75 and up to 150 guests respectively (the company also has two smaller vessels for pre-wedding parties and special occasions). Aboard the Star Cruiser—a favorite for weddings—couples tie the knot on the upper deck, with officiant duties provided by a uniformed-captain minister. From there, it's downstairs, for a lavish meal served up by Star Fleet's expert catering staff, then back upstairs for dancing and gazing at the stars above twinkling Clear Lake or expansive Galveston Bay—the choice is yours.
San Luis Resort, Spa & Conference Center
Set on 32 beachfront acres, the AAA Four-Diamond San Luis Resort, Spa & Conference Center is both ideally situated and accommodating, with wedding space for up to 500 in its Grand Ballroom, and a magnificent foyer overlooking the glorious Gulf of Mexico.
Enjoy a fresh-air ceremony in the resort's gulf-view gazebo, where ocean breezes offer cool refreshment, and a pristine white ceremony structure provides a romantic setting for your vows.
Looking for a destination-wedding experience close to your Houston home? Treat your guests to the San Luis Resort's luxury rooms, penthouse suites and acclaimed spa, offering Asian and European massages and treatments, rejuvenating remedies and poolside spa services. "The water views add a calm serenity to wedding ambiance," notes director of catering Michelle Beckwith, "not to mention the sound of the sea!"
Located in La Porte's historic Sylvan Beach Park on Galveston Bay, Sylvan Beach Pavilion has been the site of grand celebrations—off and on—for more than a century. In 2013, following a $5-million makeover, this waterfront icon of modernist architecture re-emerged as a prime wedding and event venue, featuring a 10,000-square-foot glass-walled ballroom and in-house services aplenty.
The pavilion's "beautiful outdoor patio goes right up to the waterfront," notes venue manager Caitlin Mead, "and can accommodate up to 300 guests for a ceremony. It creates a unique, serene setting with a relaxing environment for any event."
Shifting indoors for your reception doesn't mean shutting out the beautiful bay beyond. "Our main ballroom has floor-to-ceiling windows with both a waterside and a parkside view," Mead adds. Use it to host 600 of your nearest and dearest—and take full advantage of the venue's in-house catering, rental and lighting services.
You Might Also Like