---
Mother's Day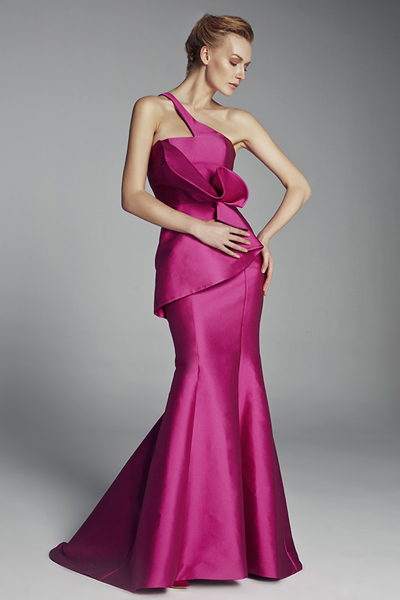 Photo: Courtesy of Veneto Collection
She's always given you great advice. Now you can return the favor, by sharing these expert tips on shopping and dressing for one of the biggest events of Mom's life: your wedding.
1. Shop online for retailers, not dresses.
Mothers can lose precious time surfing the Internet looking through thousands of images trying to find "the" dress, cautions Terrie Tibbets of T. Carolyn Fashions.
"The problem with surfing the web is that many of those dresses you see may not be available given the time frame, size needed, and color wanted. It's better to use the Internet to find stores that have dresses that can be tried on. Often those dresses that are so striking in images, don't necessarily translate well to the average woman. Part of the fun of trying on special occasion dresses is experimenting with many different styles."
2. Distinguish, but don't distract, with your color choice.
Custom-couture designer and alterations expert Minerva Woolridge of MW Couture says, "I think the mother-of-the-bride should go for colors like coral, pink or red, and the mother-of-the-groom should choose colors like navy or dark blue so that it's easy to distinguish which side each is from." But avoid black, she cautions. "Although it is an elegant color, it clashes too much with the bride and can take away attention from her. This day is all about her, so you should be mindful and try not to choose a color that's too distracting."
3. Find the most flattering style for your figure.
"If you have a petite frame, make sure to avoid dresses that overwhelm your figure, and instead go for something that elongates your body and gives you height," advises custom dressmaker Mary Denney of MLD Limited. "If you're tall, watch the hemline and make sure it's not too short"—a common problem for taller mothers, she notes. "If you're curvy: the dress should enhance your figure tastefully," she adds, and most of all, "stay away from dresses that are too tight!"
"When selecting a dress for the wedding, make sure you are comfortable in it since you will most likely be in it all day and night," adds Amanda Dinh, of special occasion boutique Veneto Collection. As for versatile styles, "Cap sleeves are very flattering on most women for summer, as are three-quarter sleeves for the fall. If you want to be chic and elegant, faille and Mikado are great fabrics because they really hold their shape."
4. Know what's trending...but also what works for you.
Denney says mothers are leaning toward many of the same style choices that are popular in the latest crop of wedding gowns. In particular, she's seeing high demand for "pastels, lace sleeves, drop-waist dresses, belting to enhance waistline, beading and off-the-shoulder dresses."
Dinh sees modern moms requesting embellished bodices with plain skirts, "which work well for most women because they are not as flashy as a full-length beaded gown."
Woolridge is tracking a trend toward "gold, blush, silver and champagne tones," which she loves since these neutral colors "go well with most skin tones and hair color."
At T. Carolyn, meanwhile, "Mothers are now open to exploring more options." She notes that "an interesting trend is both mothers wearing the same color, similar shades, or even the same color as the bridesmaids. The deciding factor for mothers is whether the color is good on them or not. Mothers today are more concerned than ever about not looking 'matronly.' Just as brides want to express their own personal style and taste, so do mothers. The good news is there has never been a better selection of styles or colors than there is today."
You Might Also Like