---
Home Sweet Home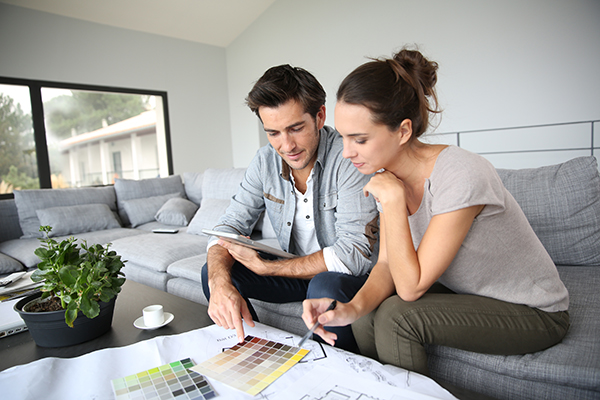 If you're in the market for a new shared home, you're likely to have plenty of questions. Where should we put down roots? What kind of home best suits our needs? Do we have the time and resources to renovate an older property? Are we planning to start a family in the next few years? What can we afford? An experienced realtor will help you answer all of these, and more, and will help you balance your aspirations with practicality and value.
1. First Things First
Before you start combing MLS listings and filling your weekends with open houses, ask yourselves what basic elements your new home must have. Do you like socializing with others? Is a quiet space essential to you? Do you enjoy working on home projects such as refinishing floors, laying tile or landscaping?
While "a townhome or condo typically is more affordable for a first-time home buyer," it will mean sharing a wall with your nearest neighbor, says realtor Michelle Trevino Ray, of Michelle Ray Properties. "A single-family home will provide more privacy," but may come at a higher cost, and involve more investment in maintenance, she notes.
And speaking of maintenance, if you're considering a resale home or fixer-upper, to get you into a neighborhood you love, "Look for signs that the owner has taken care of it," Ray advises. "If it looks like it has wear and tear, you are most likely going to end up with many more home-improvement projects than you bargained for."
Even if you're looking at a newly built home, "You should always verify the types of basic building materials used to ensure it is built well."
2. Location, Location, Location
"The Houston area is growing so rapidly and there are lots of investment opportunities," Ray says. And while this growth—which includes the arrival of major Fortune 500 companies on the Houston business scene—means that home options abound, it can also put upward pressure on housing prices. Fortunately, "Prices have recently stabilized," Ray says, "so it's a great time to buy."
If you happen to work for one of the many businesses that calls rapidly gentrifying downtown Houston its home, "Consider the distance of your workplace to the area of town you want to live in, and remember—traffic in Houston can be brutal," Ray says. For many couples who work long hours and want to stay as close to the office as possible, an inside-the-loop option is the preferred choice. Ray, who specializes in this area, particularly recommends The Heights, East End, Rice Military and the Museum District to newlyweds searching for character and affordability, without a major commute. "All of these locations are close to entertainment and restaurants, and still have great pockets of investment opportunity."
A bit farther afield, and offering more square footage at a reasonable price, Ray cites Spring Branch, Bellaire, Oak Forest and Garden Oaks as prime locations. "These areas have great schools and are still close to the loop and the amenities that the inner loop offers."
3. Get Ready & Get In
Preparing to purchase a home is a matter of both money and heart. "Financially, you should get your credit scores in tip-top shape so that when you apply for pre-approval on a mortgage, you get the best rate available," Ray says. "Emotionally, you should be prepared to act quickly on any home you come across that you are interested in, because some homes go fast. It's heartbreaking to see a client miss out on a house they wanted because they did not act quickly."
And if you're looking to sell your current home before moving into that newlywed nest, a professional realtor will help with that, too. Michelle Ray Properties, for instance, offers professional photography and marketing to help you get the best possible price for your property. "We also offer staging and decor services, and can be of assistance with this as well," Ray adds. "There is no additional charge—it is part of our services for buying or selling."
And last but not least, make sure that the home you buy today will suit your needs tomorrow—whether as your residence, or an asset that will help you generate income. Ray takes pride in assuring this value for the newlywed buyers she serves: "We are diligent about ensuring that the home our client is interested in is also a good investment for re-sale."
You Might Also Like