---
Farm to Fête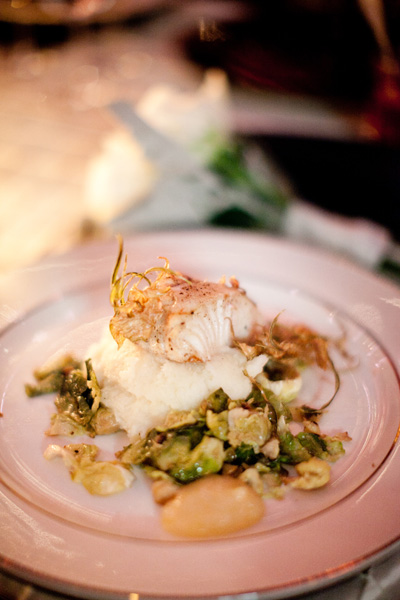 Photo: Christian Oth Studio
Inspired by her father's love for food and her love of farm-fresh meats and produce—her go-to meal is warm potato salad with coddled pheasant eggs—Marcey Brownstein developed a flair for hosting parties for friends, which led her to launch her own catering business in 2000. Using impeccably sourced, seasonal ingredients in her reception menus and celebratory cocktails, self-taught chef Brownstein is on everyone's radar in New York's super-hot wedding scene. Find out about Brownstein's most in-demand dishes, "locavore" leanings, and passion for mini mouthfuls with major impact, in this delicious Weddings in Houston interview!
Weddings in Houston: When did you get your start in catering, and who are some of your notable clients?
Marcey Brownstein: I began my adventure with food when I was a child. Although my parents were not gourmet chefs by any stretch of the imagination, we really liked to eat. My father was a cook in the army and liked making food visually appealing when serving it.
When I was in high school I worked in a clothing store with a group of international women. It was the 80's in Los Angeles and I was introduced to all types of cuisine—Persian, French, Italian, Moroccan, etc. I also began hosting parties for my friends in my parents' home. I traveled a lot after high school and when I moved into my own apartment, I cooked more and more, though I never went to culinary school—only technique classes and one-offs. Life experience was the greatest teacher.
I started my catering business in 2000 and have catered for many notable clients, including art dealers, collectors, actors, actresses, bankers and hedge fund owners to name a few.
WIH: What are your most in-demand menu items for wedding receptions?
MB: We serve a lot of short rib prepared in several different ways. People prefer family-style service, which is nice because you get a lot of variety in the meal and there is something for everyone. We do "two ways" and "three ways" quite a lot. For example "beef three ways" is an entrée with a piece of braised short rib, two slices of NY strip steak and an oxtail-filled "ravioli" on one plate, served with a Jerusalem artichoke purée and seasonal greens. It's a beautiful dish.
WIH: Farm-to-table cuisine often conjures up images of rustic American dining. How are you bringing this concept into multicultural and contemporary wedding menus?
MB: I love this trend! I love using beautiful local and in-season vegetable preparations, with lots of color, as well as simply prepared meats, fish and poultry. This can be executed with almost any culinary influence. We have a lot of multicultural couples that influence our work. It gives us a true understanding of the importance of including cultural heritage in the menu. In addition, on staff we have a Chinese-American chef, a Persian chef and many Latino chefs, so we can create almost any type of cuisine in a beautiful, modern way.
WIH: What are some of your favorite ways to add local and seasonal touches to a classic wedding menu?
MB: Everywhere! We use local and seasonal touches whenever we can. New York has so many wonderful resources for local produce. Out of season we use many items we have made during the bounty: house-made pickles, preserves, jams, ramp butter and ramp pesto.
WIH: For cocktail-hour hors d'oeuvre and small bites, what are some of your favorite items and presentations, looking toward 2017 weddings?
MB: Mini hard-shell tacos and margaritas, mini beer mugs with sausage or soft pretzel bites, and wines served with cheeses are some of our favorite hors d'oeuvre and cocktail pairings.
WIH: Houston brides and grooms are huge fans of fabulous desserts. What are some of your favorite sweet wedding treats?
MB: Lots of downsized versions of in-demand desserts, including chocolate budino (a type of molten chocolate cake), pots de creme, mini fruit parfaits, creme brûlée, doughnut holes with salted caramel, cobblers and crumbles in small mason jars, and mini milkshakes and floats.
WIH: What are some fun ways couples can incorporate their personalities in their menu?
MB: We always make sure this happens. It's nice to do it in subtle ways that are kind of tongue-in-cheek. For a groom whose favorite food was Cap'n Crunch cereal (I kid you not) we made mini Cap'n Crunch ice cream cones. They were delicious, and such a cute nod to the groom. Everyone who was close to the groom knew it was his favorite, and they were so excited!
You Might Also Like