---
DIY vs. Don't Try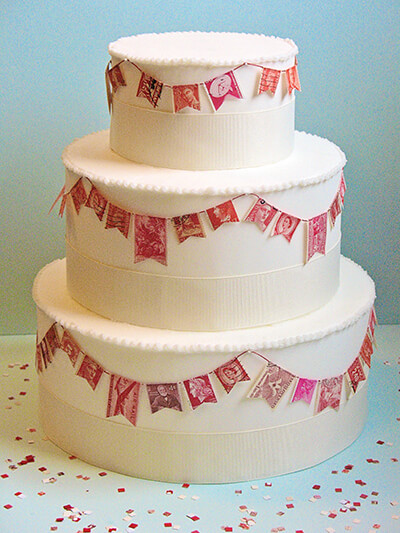 Photo: Studio D. Sharp
Have you heard the one about the bride who attempted to impersonate a professional coordinator, florist, caterer, baker, decorator and graphic designer? She's still recovering (not to mention missing from most of her wedding-day photos, having been frantically rushing around behind the scenes). While it can be gratifying—and lots of fun—to have a hand in crafting your special day, many elements are best left to actual experts. So what should you DIY—and which wedding components should you probably not try? We've got your tips for a wedding that is as personal as it is, well…perfect!
PAPER & INK
DIY: Thank-you cards, place cards, favor tags.
The area of graphic design and paper products (stationery, menu cards, labels, favor tags and packaging, bunting, signage, etc.) is a tempting one for amateurs. Plenty of design-related computer programs and online options make it simple to create pretty paper products featuring fabulous fonts, photos, artwork and effects. Their versatility also makes it easy to go overboard. If you've got a good eye for design and are handy with—or eager to try—software like PrintingPress, PrintMaker Platinum or The Print Shop Deluxe, you may want to design and print your own personalized cards and tags. You can also turn to Etsy to customize items like wine-bottle and favor-box labels, without actually having to design and print your own.
Don't Try: Wedding invitations.
A full wedding-invitation suite is a major endeavor. First off, there's the design itself, which can involve hours of sketching, computer illustration and color matching to align the invitation design with your wedding's theme and color scheme. Then there are the suite components, which typically include the invitation, RSVP card, RSVP envelope, and enclosures such as maps, accommodation information, and lists of local-area attractions. As for printing, do you really think you can get that fantastic foil-stamping effect or raised lettering out of your home laser printer? Um, nope. Leave the invitation to the experienced professionals.
FLOWERS & DECOR
DIY: Guestbook, bunting, paper flowers.
There are plenty more decor and floral DIY projects you may want to attempt—especially for the ceremony and cocktail reception—but these are a few of our favorites. When we say "guestbook," we actually mean any number of guest sign-in options, including thumbprint boards (which can be designed as peacock tails, balloon bunches, tree leaves—you name it!), card "trees" (where guests actually clip, pin or hang sign-in cards in any shape you wish), Jenga blocks or quilt squares. Want to add a sweet, retro touch to your festivities? Take an easy video lesson on how to create colorful bunting or paper flowers that can be used as backdrops, chair decor and more (Pinterest has tons of photo and video tutorials to choose from).
Don't Try: Bridal bouquet, ­reception centerpieces.
Perhaps the biggest mistake DIY-minded brides make is attempting to design, arrange, transport and set up their wedding flowers. Sure, it's tempting to think you can conserve money by reducing that "flowers" line item on your wedding budget. But the truth is that a professional florist, with access to wholesale flowers, floral vessels and flower-arranging tools, will pay a lot less for those bountiful blooms and accoutrements than you will. Not to mention that she'll know exactly what's in season (meaning both freshest and least pricey), and how to care for and preserve it before the big day, and she'll transport your flowers at the right temperature, under the right conditions, so that they arrive in excellent shape at your ceremony and/or reception venue. And that's not accounting for the years of experience and education she likely has in designing and arranging flowers and plants to fit individual wedding themes, gown designs, sentiments, and personal styles.
FASHION & STYLE
DIY: Bridal garter.
Bridal accessories offer the crafty bride oodles of options for showing off creativity, skill and personal flair. Our favorite fashion DIY is the handmade bridal garter, which you can fashion for yourself with little more than a bit of lace, a length of satin ribbon, a piece of ½-inch elastic, scissors, a safety pin (to pull the elastic through the garter), thread and a basic sewing machine. Bling it up, if that's your thing, with a pre-made rhinestone applique—available at most fabric and craft stores.
Don't Try: Wedding gown.
This probably goes without saying, but unless you are a professional fashion designer and/or seamstress, designing and sewing your own wedding gown is almost certainly going to be way too much to handle. Even if you are a professional designer and/or seamstress, the fabrics, trim, construction and detailing that are involved in wedding-gown creation are so unique and specialized, they'll likely test your skills in ways your skills really don't need to be tested right now, while you're having fun being a bride-to-be. If you can't afford the high price of a couture bridal creation, or if the traditional white wedding gown isn't your cup of tea, shop vintage retailers, department stores or local boutiques for a special-occasion dress that fits your budget and bridal style, and spend a little extra on having it professionally altered to perfectly fit your figure, as well.
You Might Also Like