---
Delight, Excite, INVITE!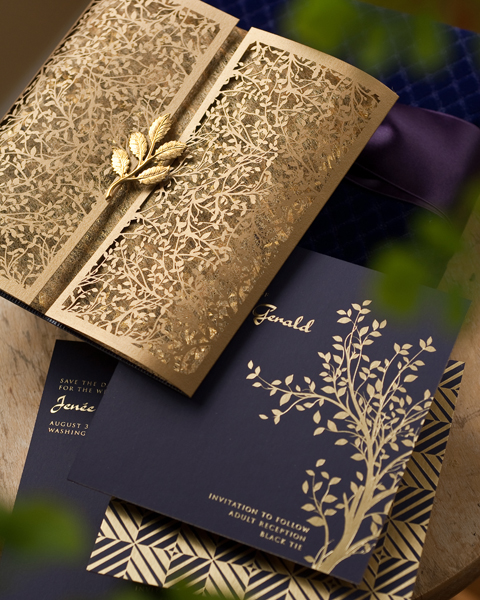 The modern couple's wedding invitation comes in all shapes, sizes and colors, and is carefully crafted to express their unique personality. As Amanda Bayer of Bella Dia Stationery puts it, "Your invitation is the first sneak-peek of your event, and sets the mood and theme of your entire wedding." Here's how to create a wedding invitation that expresses who you are as a couple, while providing essential wedding information to your guests, graciously, and with style.
Perfect Timing
With more and more couples opting to send out save-the-date cards, it's best to have a timeline established before the designing, addressing and mailing process begins.
Save-the-dates need to be in the mail at least six to eight months prior to the wedding to give your guests plenty of time to mark their calendars and make travel arrangements.
Formal invitations should go out six to eight weeks prior to the wedding, and your RSVP date should be at least three weeks before the wedding. Chances are, three weeks will turn into two for some of your guests, and you don't want to be scrambling to draw up a new seating chart and adjust catering counts at the last minute. Since your invitation is a valuable and complex piece of postal mail—not a casual Facebook event invite, which, says DGZ Weddings founder Debbie Zissman, "you should never do for your wedding!"—timing is everything.
What to Include
What, exactly, goes into that all-important invitation suite? "Every couple should include all information that is important to help their day run smoothly," says RSW Creative Design owner Rhonda Watson.
The main points such as "who, what, when and where" must be included in your formal invitation, but extra details—attire, accommodation information, maps—aren't always necessary. "With all the technology at our fingertips, most people do not need [driving] directions," says Bering's stationery department founder Ben Whitley. The key is to keep it simple. You don't want your pretty invitation to be cluttered with calligraphy, which will distract from the elegant aesthetic you and your designer worked so hard to create.
Instead, provide extra info on your website (which can be publicized on your save-the-date) or feel free to include an insert or two in your invitation suite. For example, if your reception is being held at a different location than your ceremony, provide the venue address on a separate reception card. While RSVP cards are essential add-ins, "Rehearsal dinner invitations should not be included unless it is a destination wedding," Whitley advises.
And a word of advice on registry etiquette, from Isabella Invitations creative designer Christiana Turner: "It is improper etiquette to include gift registry information on the wedding invitation." If anyone has questions about your registry, family members and close friends can "help communicate that information by word of mouth." Or, if you and your future spouse decide to create a wedding website, include a registry tab with links to your chosen stores.
The Wording
Phrasing your wedding invitation can seem like a tricky endeavor. But as daunting as this part may seem, it's really only a matter of following a tried-and-true formula.
Creativity is encouraged here, as long as the information is "precise and straight to the point," notes Turner. Zissman adds: "It is also important to acknowledge whoever is hosting the wedding." In the past, the names of the hosts (typically the bride's parents) were usually included in the opening line, like so: "Mr. and Mrs. John Doe request the pleasure of your company at the marriage of their daughter…" followed by the full names of the couple getting married, the wedding location, and the ceremony and reception times.
Contemporary couples have alternatively chosen to honor the parents of the groom as well, by inserting their names after the groom's, with the line "son of" in between. For same-sex couples, one spouse's name could be followed by his or her parents' names, with the other spouse's name followed by his or her parents' names.
Another acceptable way to word your invitation is to forgo individual parents' names altogether—if, for example, the couple is paying for their own wedding—and instead use a general phrase like, "The families of…" to announce their nuptials. This is one area that doesn't have any hard-and-fast rules to abide by, so determine what works best for you and your future spouse.
Plus Ones
In the old days, guests understood that the only people invited to an event were those whose names were printed on the invitation envelope. Unfortunately, these days it seems that not everyone gets that memo. If your heart is set on an "adults-only" wedding, or your budget simply doesn't allow for plus-ones, the easiest way to convey this is by wording your RSVP cards accordingly.
For example, instead of asking for the number of people attending, simply ask, "Will you be attending?" with a "Yes" or "No" option. "'Adults-only' should not be used on any part of a wedding invitation," says Whitley. If a guest still replies with a plus-one or their children's names added, don't hesitate to give them a call and politely explain your situation. If you are planning on including children in your invitation, and in your wedding, "Arrange for a babysitter at the venue," Whitley advises. "The coordinator for your event might also be able to help with plans to entertain the children."
Addressing Your Invitations
You've written, designed and printed your wedding invitations, but you're not quite finished yet—it's time to address those babies!
Writing the addresses by hand is a surefire way to make your guests feel special, so if you're worried about your less-than-polished penmanship, consider hiring a professional calligrapher to do the job for you. Just make sure your calligrapher has a complete list of your guests' names, all correctly spelled and written in full. "Please, no abbreviations on the invitation itself," says Zissman.
Social titles should also be looked over once or twice for accuracy. After all, "An invitation is something special and intimate," says Watson, "and each guest should receive a properly addressed invitation if you would like them to share the experience with you."
Display your return address on the back flap of the outer envelope, slap a stamp on each invitation, drop them in the mail…and breathe a sigh of relief—the hardest part is behind you.
Tick-Tock
If you plan on sending out second-round invitations to your "maybe" list of invitees, be wary of response time, advises Bayer. "Guests might feel like your second choice if they receive an invitation with an RSVP date that has already passed or is only a day or two away," she notes. The only solution? "Spend the extra money and have a second set of response cards made with a later RSVP date," to avoid hurt feelings.
Even if you've done your best to make RSVPing as easy as possible, there will inevitably be a few stragglers in the mix. Don't fret! One week before your caterer needs a final headcount, pick up the phone and give not-yet-replied invitees a call. This small gesture will not only help you out, but will also serve as a reminder to your guest that their presence on your big day means the world to you.
You Might Also Like