---
An Invitation to... Awesome!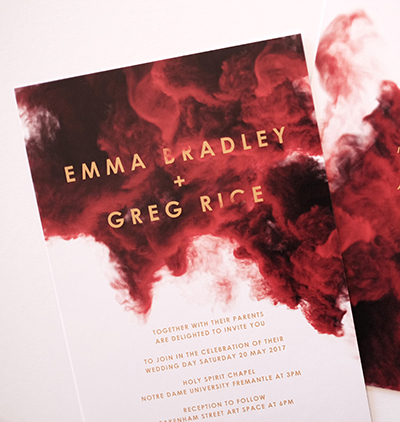 Photo: Aesthete Collective, Invitation: Paper Fusion
Set The Tone
Your save-the-date announcement lets guests know to mark their calendars for the day that will mark the beginning of your newlywed life. It's also your first chance to establish the feel of your fantastic celebration.

Linda Merchant, who handles stationery and invitations for iconic Houston retailer Bering's, notes, "Our clients really love styling their save-the-date around a beautiful photo of the couple. The photo could be taken at their home, family ranch, at a styled shoot, or on a favorite vacation." As for design, "We always like to play with how the save-the-date arrives: folded, tri-fold—you name it, we've designed it!" As for destination or themed weddings, "I love to see the couple get creative with their save-the-dates," bringing the location or theme into the design, with maps, graphics, color and ornamentation. Think: sand, seashells, waves, wine-bottle graphics, grape leaves…or a chateau silhouette.
Consider incorporating a photo from your engagement photo shoot, especially if it includes activities you like to do together, says Christiana Turner of Isabella Invitations. For example, "Couples who enjoy shopping can have photos taken showing them hitting up their favorite retail establishment." She adds, "We had a couple, who loved cycling together on a tandem bike, include a photo of themselves riding together on their save-the-dates. Another couple getting married at a vineyard sent mini wine bottles with custom labels printed with their save-the-date information."

You may even want to include a photo or illustration of your favorite pet, a cute sign, or even a whimsical saying that will express your personal style. A great non-paper option? Create a magnet that someone will keep forever. A calendar, etched on wood with a heart over your date, a wooden tree, or even a wooden barn, are all so unique that they are likely to go on your guest's fridge and never come off!

When scheduling your save-the-dates, remember that they need to be in the mail at least six to eight months prior to the wedding, to give your guests plenty of time to adjust their schedules and make travel arrangements.

Big Reveal
When an invited guest reaches into the mailbox, your wedding invitation should stand out from anything else they find in there, and compel them to open it up with excitement! Perhaps the best way to create a sense of occasion with your invitation packaging is by using a unique medium. Balsa wood, acrylic and Plexiglas are all materials that can transform a traditional wedding invitation and make receiving that invitation a 'wow' moment for the person opening it.

A simple white box filled with rich, luscious velvet makes an amazing presentation for an invitation printed on clear acrylic, for example. Tie that box with a simple but stunning matching satin ribbon, and you've delivered your request for attendance with style, grace and refined elegance.

Turner says that while "boxed" invitations are still popular, she is creating lots of elaborately embellished envelopes for upcoming weddings. "We are doing die-cut envelopes in different shapes, which adds to the anticipation before guests even open up the invitations."

Cohesive Couture
While consistency—in color, style and overall tone—is important in the invitation suite and associated stationery pieces, it's not necessary to have one uniform look for everything. Turner notes, "The key is to brand the wedding. You want to create a coordinating look throughout with the stationery, which should translate into the wedding day." While all your stationery pieces need not be exactly alike, it's nice to use your "monogram, or a pattern designed for your invitations, on the dance floor, with a lighting gobo, or even on the ice bar," she says.

Whatever design you choose, remember that consistency is key when choosing the essentials for your wedding, from invites to floral design and table settings, so that each element of the event contributes to the overall look and feel that you want your guests to experience. Careful consideration and attention to detail can make your wedding memorable and bring your vision to life—plus, let's just be honest…it looks better! But keep things in perspective, Merchant advises: "There's no need to give yourself a headache." She suggests starting with the basics: "Is there a family crest or a monogram you want to include? A color scheme? A theme? Streamline accents into all of the printed materials. It really is difficult, and not as much fun, to make every printed item 'matchy-matchy.'"

Trends & Treats
Beyond the basic paper, color and wording that will form the foundation of your invitation design, there are endless embellishments and design details you can choose from to create a sense of drama and delight.

Gold foil is a favorite invitation accent with today's couples, and it's easy to see why. A heavily patterned gold design, or a lighter touch—say, highlighting just your names or your wedding date in gold—can really make special invitation details pop.

On the flip side, it's almost impossible to go wrong with a minimalistic wedding invitation design that's timeless, elegant and eye-catching. For this type of invitation, keep things clean and monochromatic, and consider choosing a mix of simple type and script-based fonts that resemble calligraphic handwriting.

As for print, "Letterpress is still the 'stationery darling,'" Merchant says. Also: "Couples are still selecting classic-style invitations in white, ivory or blush, with gold trim or lettering. We are also seeing an influx of brides 'going green,' so they are cutting out the inner envelope that holds the invitation, response card, etc. Adding a moderately priced liner provides a 'finished' look, that is still reasonably priced."

In A Word
When it comes to wording invitations, it's important to acknowledge whoever is hosting the wedding. In the past, the names of the hosts (typically the bride's parents) were usually included in the opening line, like so: "Mr. and Mrs. John Doe request the pleasure of your company at the marriage of their daughter…" followed by the full names of the couple getting married, the wedding location, and the ceremony and reception times.

Contemporary couples often choose, instead, to honor the parents of the groom as well, by inserting their names after the groom's, with the line "son of" in between. For same-sex couples, one spouse's name could be followed by his or her parents' names, with the other spouse's name followed by his or her parents' names.

Another acceptable way to word your invitation is to forgo individual parents' names altogether—if, for example, the couple is paying for their own wedding—and instead use a general phrase like, "The families of…" to announce their nuptials. This is one area that doesn't have any hard-and-fast rules to abide by, so determine what works best for you and your future spouse.

As for envelope text, writing the addresses by hand is a surefire way to make your guests feel special, so if you're worried about your less-than-polished penmanship, consider hiring a professional calligrapher to do the job for you. Just make sure your calligrapher has a complete list of your guests' names, all correctly spelled and written in full. And please, no abbreviations on the invitation itself.

If you plan on sending out second-round invitations to your "maybe" list of invitees, be wary of response time: Guests might feel like your second choice if they receive an invitation with an RSVP date that has already passed or is only a day or two away. The only solution: Spend the extra money and have a second set of response cards made with a later RSVP date, to avoid hurt feelings.

Even if you've done your best to make RSVPing as easy as possible, there will inevitably be a few stragglers in the mix. Don't fret! One week before your caterer needs a final headcount, pick up the phone and give not-yet-replied invitees a call. This small gesture will not only help you out, but will also serve as a reminder to your guests that their presence on your big day means the world to you.


You Might Also Like