---
All Night Fun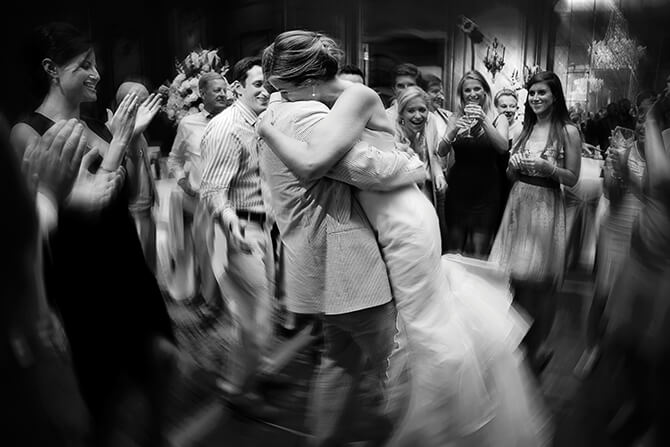 Photo: Nhan Photography
Yes, it's the day you make your marital vows—but it's also one of the biggest parties of your life. And what is the most important element at a party? The entertainment, of course. From ceremony accompaniment to selfie stations to beats that get everyone moving on the dance floor, memorable wedding entertainment comes in many sounds, sizes and sorts. While you're choosing the right performers, emcees and interactive diversions for your big day, don't forget that you and your guests are in for a full day of celebration, with many phases. Keep guests entertained from start to finish, for a lively, lovely fete they will never forget.
Ceremony Staging
The most important portion of the day—can't have a wedding day without a marriage, after all—the ceremony is a perfect time for the bride and groom to give guests a first taste of their couplehood characteristics, and a glimpse of what is to come.
Scott Graham, composer, pianist, and owner of Scott Graham Piano, shares three things each couple should think about when choosing their ceremony music: "One, what ambiance do they want to create? Two, what are their favorite songs and at what point during the ceremony would they like them played? And three, what songs do they think their guests would enjoy hearing?"
The ceremony is a serious time, but it doesn't have to be solemn. Graham encourages couples to have fun with their song choices, especially during the pre-ceremony wait. "The music selections should get everyone excited to celebrate. Choose classics or today's current hits to entertain your guests for a livelier vibe, or select romantic classical or jazz tunes to add a level of sophistication to your event."
Cocktail Cool
Once the ceremony is done, the cocktail hour is the time to get guests into a celebratory mood. Mixing and matching live music with a DJ is an updated way to entertain during this transition, suggests Jason Fajkus, vice president of DJU Entertainment. "A string quartet (three violins and one cello) and a DJ play music together. The DJ plays the beats, and the strings play the lyrics. It's amazing entertainment for guests, as it is cocktail music, but like they've never heard cocktail music before."
Adds Lewis Grell of LG Enteratinment: "It's always nice to add some spice with a saxophonist to play over music during your cocktail hour, or an electric violin or percussionst."
Graham agrees that playing familiar tunes is the best choice to keep guests entertained while those hors d'oeuvre are being passed. "People enjoy it when they can recognize a song; they tend to sing along to it, which I've noticed is contagious. If the bride and groom give me free reign, I'll get some ideas from the guests. 'Linus and Lucy' (the 'Peanuts' theme) and the 'Rocky' theme are always big crowd favorites."
Making the transition from cocktails to the main bash is important, too. "If the cocktail hour is in the foyer, and the ballroom doors suddenly open, this is our opportunity to really set the mood," notes DJ, emcee and entertainer extraordinaire Jonny Black, of Jonny Black Productions. At this point, it's time to up the volume, but not too much—"We don't want to blast them, this is not a club," Black says—"but we do want to get on the mike and take charge, tell them what's going to happen, so they can enjoy themselves without worrying about it."
Speaking of that mike, Grell notes: "Your MC is one of the most important parts of your entertainment. He's going to be the one who's making the guests feel welcome, give that special touch to the evening's atmosphere." And remember, for a more formal black-tie setting, "Your MC should be separate from your DJ, with more of a spotlight effect going on."
For the ultimate in personalization, couples can have a song written just for them, for their first dance. When creating an original composition, Graham goes out of his way to learn as much as possible about the couple, so the piece reflects them. "When I compose a song for a couple, I like to tell their story. I start with asking questions about how they met, their likes and dislikes, their favorite places to visit, and what they enjoy together as a couple, adding elements from their individual personalities to create a melody and turn it into a beautiful song to celebrate their union."
Dinner & Dancing
Dinner entertainment is sometimes overlooked, but couples should never opt for dead air, even while their guests are enjoying their meals.
"Some parents and older guests might not want to stick around through the wilder late-night partying part of the evening. During dinner is a great time to appeal to their tastes," Black says. "Go for slower classics, from the time when they got married. It's a great way to make that connection with everyone in the room." Because, if the celebrating is going strong later on, "and all of a sudden Mom comes and says to the DJ, 'Play Sinatra,' you've just lost the party atmosphere."
Once the dining is done, it's time to let loose and pump up the volume, and have your DJ or band play songs that you love, along with high-energy music from your backgrounds and cultures (Indian bhangra, Latin salsa, a Jewish hora, etc.). For a fun club vibe, turn the lights down and let guests help themselves to glow sticks and cocktails illuminated with LED ice cubes. So cool!
Getting Interactive
Props, games and interactive entertainment have become ubiquitous elements at wedding receptions. Couples have even incorporated them into their cocktail hour for a little pre-game warmup. They add another layer to the merriment and give guests who may not be keen on dancing a chance to get in on the fun. One of the newest trends in interactive entertainment has been the incorporation of social media.
Photo booths are now "fully connected social-media photo stations," says Fajkus. "Guests can upload to Facebook, or text or email themselves their photo. Also, by using Instagram, they can take a picture anywhere, hashtag the photo, and it will print out at our photo station printer. It's a great way to take pictures anywhere at the event and have them print on site."
Interactive entertainment is not just a sideline to dance-floor action. Couples can opt to have a dance floor that reads and responds to dance movements, Fajkus says. "So a bed of roses can be displayed on the floor, but as guests dance across, the roses will push out of the way and a monogram or any image or video can be displayed underneath. The floor has over 175 different applications, so no matter the theme or layout, the interactive projection will wow guests as it moves when they move."
The Grand Finale
Once the last glass of bubbly has been poured, it is time for a fond farewell—but not a low-key one. A well-chosen song and a little production magic are the perfect recipe for a memorable sendoff.
When choosing a final song, make sure it is consistent with the rest of the day's mood. "Glad You Came" by The Wanted is terrific for couples with a passion for pop, "Time of My Life" by Bill Medley and Jennifer Warnes—also known as the "Dirty Dancing" song—works well for a nostalgic feel, and for couples looking for a bona-fide classic, "Save the Last Dance For Me," sung by Michael Bublé, is a surefire hit.
And while Bublé is a fabulous choice, bubbles are…not so much. "It's really hard for a photographer to shoot bubbles—not to mention the fact that they're very slippery," Grell says. "Do your send-off with ribbon wands instead. They look great in photos and they won't break any venue rules."
Black's last bit of advice: "You want to end on a high note, with a big bang. We discourage couples from having parties that last longer than five hours, so that everyone stays until the end. Whether it's a slow or fast song, we are always going to get guests on the floor for one last hoorah, then send them off for the evening. That way, the majority of guests are present, and the sendoff pictures are awesome."
You Might Also Like