---
A Grand Entrance: 5 Houston Venues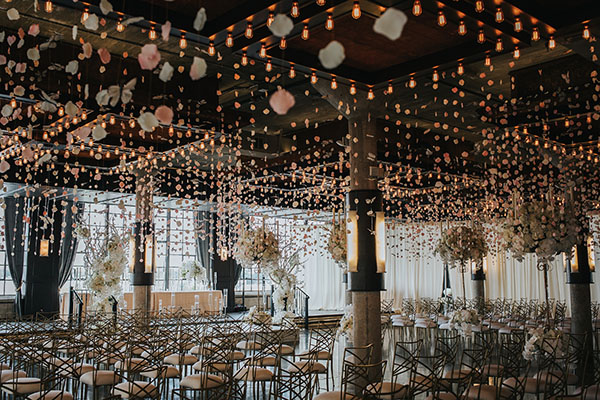 Photo: J. Cogliandro
Decor: Todd Events
Location: The Astorian

Picturing your newlywed-self descending a grand staircase to greet your celebrating guests? Dreaming of a dazzling ballroom decked out in crystal chandeliers and gilded mirrors? Perhaps you're yearning for floor-to-ceiling windows overlooking Houston's twinkling night skyline? Whatever your wedding fantasy, you'll find a venue to accommodate the dramatic impact you seek—starting with these five fabulous Houston sites, each one designed to dazzle…and prepared to make your wedding wishes come true.

The Corinthian
How's this for a venue entrance? "As guests make their way up the entry stairs of The Corinthian, their eyes are immediately drawn to the colonnade of 24 Corinthian columns soaring to a height of 35 feet, supporting the intricately plastered ceiling of the Great Hall," says Boyd Bryan, general manager of The Corinthian, and of Jackson and Company catering, which owns and operates the venue.

Bryan notes, "Florists and decorators have often used exquisite chandeliers, suspended floral accents, and lush draping, to highlight the original plaster ceiling," and flanked the venue's towering Palladian window with oversize floral creations to bring focus to "this one-of-a-kind feature."

Want to make an impact after your "I do's?" Look no further than The Corinthian's double Grand Staircase, leading from the Mezzanine into the Great Hall, where, "You and your new spouse can make a royal entrance into the reception," Bryan says.

The Astorian
Located a stone's-throw from downtown Houston, in a Houston Historical Society-designated landmark building re-conceived to pay homage to New York City's iconic Grand Central Station, The Astorian blends Art Deco glamour with industrial edge.

"The Grand Ballroom, with its open floor plan, is configurable to accommodate almost any layout that the couple can imagine," says partner Joe Pachioli, noting that ceremonies often take place looking out upon a glittering backdrop of Houston skyline, as the sun goes down.

Couples who want to change up the setting after saying their vows can lead guests to The Astorian's swank cocktail lounge, where they'll be dazzled by stand-out details include a 40-foot hand-laid mosaic, domed granite ceiling and marble bar top.

Throughout the venue, glossy wood paneling and soft lighting bring warmth and intimacy to the cool sophistication of concrete floors, rusted steel, brushed aluminum, and brass and copper interior accents. Says Pachioli: "The attention to detail, not only in the design, but also by the staff, truly sets this space apart from other venues in Houston."

Chateau Cocomar
From its exquisitely manicured gardens, to its circular entry drive and sculpture fountain, to its gleaming interiors and glittering crystal chandeliers, Chateau Cocomar is all about dramatic impact, mixed with a considerable dose of feminine romance.

For ceremonies with plenty of pomp and circumstance, couples love Chateau Cocomar's upstairs ballroom—"It's just so white and beautiful, with very detailed crown moldings, and a soft tone that's perfect for saying, 'I do,'" notes controller Sherry Alvarez.

After the emotion and intensity of the marriage ritual, guests and newlyweds can refresh themselves with cocktails and hors d'oeuvre on the upstairs terrace, where sprawling views of the venue's green lawns and surrounding forest make for a stunning natural backdrop. When it's time for the reception to begin, guests need only make their way downstairs, to the chateau's main ballroom, featuring "gold filigree, antique fixtures, large windows…and a very dramatic long staircase," Alvarez says, "where the couple can make their grand entrance as newlyweds."

Chateau Polonez
Named for a classic Polish dance that originated in the 18th century and was historically the first dance couples participated in at the beginning of a lavish ball, Chateau Polonez remains true to its European inspiration, with its dramatic porte-cochere entrance, soaring domed foyer, and grand, two-story ballroom.

Guests entering through the venue's double doors will find themselves in an ornate entranceway, where a sparkling chandelier hangs from a domed ceiling painted with an intricate mural.

But sheer grandeur is not the only distinguishing feature of Chateau Polonez. For wedding ceremonies with an enchanted-garden feel, the Gazebo on the Lake "is wrapped in wisteria that drips beautiful purple flowers in the spring, and creates a lovely fairytale setting," notes venue director Kasia Tran.

For indoor ceremonies, couples make their entrance down the curving double staircase, as guests look on in anticipation. And for indoor celebrations during any season of the year, the ballroom, with seating for 240 on the ground floor, and an additional 110 on the upstairs balconies, overlooking the main floor, offers ample space for all of your guests to enjoy an evening of mingling, dining and dancing…perhaps even a "Polonez."

The Bell Tower on 34th
With its floor-to-ceiling glass windows, The Bell Tower on 34th's Campanile Chapel is an impressive site for wedding ceremonies with the regal ambiance of a house of worship, in a location where the post-ritual revelry is just steps away. "This special space offers a view of the 30-foot water wall and patio area outside", notes venue CEO Roger Igo. "The chapel space also features a beautiful dome ceiling and authentic wedding bells, which can be heard throughout the room."

Adjacent to the chapel, a swank groom's suite, and two different bridal suites—"one with a beautiful garden featuring a quaint fountain, the other with a fantastic second-story view of the famous Bell Tower water wall," Igo describes—offer surroundings in which to primp and prep that are as elegant as the celebration space itself.

The Bell Tower's most distinctive feature may be its "magnificent cascading staircase," set in the Carillon/Chandelier Ballroom, which boasts "columns, arches, multiple chandeliers, and giant antique wood doors"—the perfect spot for a newlywed entrance as grand as they come.


You Might Also Like