---
6 Essential Wedding Day Attire Shopping Tips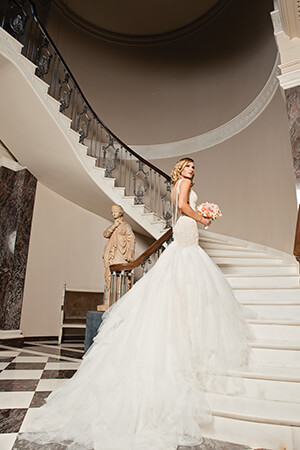 Photo: Larry Fagala - Gown: Galia Lahav - Bouquet: Todd Events
Choosing wedding attire presents a distinct conundrum: namely, how to dress oneself for arguably the most traditional of rituals, while still being fabulous, unique and stylishly on trend. A conundrum, yes. But oh what a delightful one! Because while searching for your wedding-day attire can be full of anticipation, drama, and, let's face it, occasional disappointment—when the style you fell in love with in a photo, for example, turned out to be less than lovable on your actual body—it's still likely to be the most fun you'll ever have shopping for clothes. Embrace it, enjoy it, and go with what feels and looks right, rather than what you always thought you should or would wear as a bride. And while you're at it, follow this essential advice for selecting, buying and caring for your "Yes, yes, YES!" dress and attire.
1. Don't drop in.
Shopping for a wedding dress or suit is different from shopping for regular clothes in one critical way: Most salons advise, if not require, a pre-set appointment with an in-store consultant to help you choose and try on your selections. There are a few reasons for this: One, the sheer number of gowns and attire at any given salon can be overwhelming; a consultant will take into account your budget, wedding theme and style preferences, and help you narrow down your choices to a manageable number.
Two, wedding gowns are way more complicated, in many cases, than just plain fancy dresses; your dedicated gown consultant will help you work those laces, pearl buttons and illusion-netting bits (and snap on those industrial-chic spring clamps that get the dress to fit just so, prior to alterations). And three, salon consultants aren't just salespeople, they're talented stylists; your consultant will help you choose appropriate accessories, even footwear, to help show how a gown might actually look when you're big-day-done-up.
2. Don't jump the gun.
Starting your gown-shopping adventure too early is just as risky as starting too late (see item 3). Since other elements of your wedding will determine the best gown not just for your figure and style, but for the grand occasion itself, it's wise to have things like your wedding season, venue and general theme or "vibe" nailed down before you delve into dress shopping. Designer suits pose a problem as well: you and/or your groom may be in love with something one season, only to have it become unavailable when it comes time to buy.
Another risk: Shopping for a gown more than a year in advance of your wedding (or before you're even officially engaged!) can lead to bad dress decisions. Lots can change in the 12 months before your wedding, including your wedding design scheme, your figure and the latest collections available at local salons.
3. Leave time for ordering, receiving and alterations.
About nine to 10 months prior to your wedding is the general rule of thumb for when to begin your gown shopping. And that "begin" is an important distinction—after all, finding the right wedding dress can take time. You know what else can take time? Ordering your dress, waiting for your dress to be made and delivered to your salon, having your dress altered to perfectly fit your body, and selecting the accessories, footwear and jewelry with which you'll build your complete bridal ensemble. Remember, that gorgeous soufflé of tulle and Chantilly lace you're slinking around the salon in is a sample—your actual gown will be made to order by the design house. About eight to nine months out from your wedding day, expect to put a deposit down on your selected gown—you'll pay the remainder once it's delivered to your salon, about three to four months before your wedding. In the last couple months prior to the big day, you'll do your fittings, make minor adjustments, add accessories, and pull the whole fabulous outfit together.
4. Nix the crowd.
This is a toughie, but trust us. While it's tempting to bring your mom, his mom, your aunts, your sisters, his cousins, your brothers, your bridesmaids and all your assorted besties along to weigh in on your wedding attire choices, one or two trusted escorts is a much better idea. Bringing lots and lots of folks to your appointment has an odd tendency to lead toward conflicts in taste, or, on the flip side, a "mob rules" mentality. At the very least, having too many opinion-givers can slow things down, and limit the number of pieces you're actually able to try on during your appointment (typical bridal salon appointments are one to one-and-a-half hours long, max). We recommend bringing your mom, a select member of your wedding party or family, and maybe your wedding planner (who offers the advantage of a more objective opinion). More than three "guests" at your appointment is simply too many.
5. Arrive prepared.
Getting ready for your salon appointment involves several steps. First, do your research; while you don't want to arrive armed with a massive binder of designer collections and must-try "looks," it does help to have at least an idea about silhouettes, cuts, styles and designers you admire.
And for goodness sake, don't show up to your salon appointment in sweats and a greasy bedhead. You're trying on the outfit (or two!) you'll wear on the most important occasion of your life—start from a place of pretty. While there's no need to show up in full professional makeup and hair, you'll want to look put together and well groomed. Wear shoes of roughly the height you're planning to wear on your wedding day, and wear or bring a strapless bra and shapewear (though most salons have these available to try under your gown).
Oh, and don't forget to fuel up. Gown shopping can be emotionally and physically demanding. Don't starve yourself before hitting the salon. Instead, have a good, solid, protein-packed meal or smoothie an hour or two before, and consider bringing a snack such as nuts, dried fruit or an energy bar, in case your energy flags.
6. Focus on fit rather than size.
Wedding gown sizing and regular clothes sizing have almost nothing in common. You may be a size 2 in your normal, daily life, only to discover that the wedding gown of your dreams fits you best in size 6. It's OK, really. First off, nobody but you, the salon consultant and the designer will ever really know what size your dress is. Second, what good is there in buying a size 2 gown if it squeezes you in all the wrong places and cuts off your circulation, causing you to faint dead away at the altar and miss doing the "YMCA" dance at the reception with your best friend from actual YMCA summer camp?
The best wedding day attire are the clothes that fits you best. Which doesn't just mean hugging your voluptuous curves, or showing off your strong back and shoulders, or making your tall frame look willowy instead of gangly. It means making you feel that feeling, all the feelings, when you look in the mirror. It makes you exalt in the anticipation of that moment when your betrothed first lays eyes upon you on that magical day. And it's out there, waiting for you to fall in love with it.
You Might Also Like