---
5 Absolutely Essential Wedding Planning Tips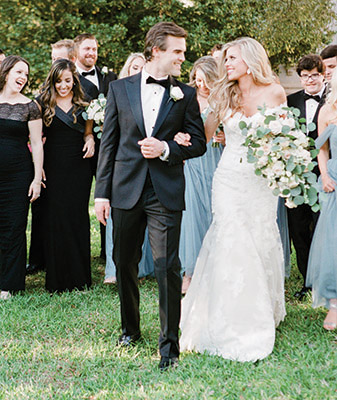 Photo: Kelli Durham Photography
The first thing you can do to ensure that your wedding planning goes off without a hitch? Hire a professional planner, who will bring years of experience and solid vendor relationships to the process, "so that you know you have someone who is always looking out for your best interests, and who also has their finger on the pulse of the entire scope of your event—all of the details," says Jim Gray, owner of planning and design firm Grayhouse Events Atelier. "There are so many moving parts to a wedding—having a coordinator also takes much of the stress and time-consuming aspects of planning off the couple so they can simply make decisions and know they're in the capable hands of a hired professional." The second thing? Take this sound advice from some of the best in the wedding planning business.

1. Set, and stick to, a budget
Planner and event stylist Kat Creech, of Kat Creech Events, says that prioritizing your budget is the key to getting what you want, without overspending: "If you are a foodie who loves heavy presentation and unique cuisine, you will want to budget higher on your food and beverage line. If you want a nonstop party from beginning to end, you will want to budget higher on the entertainment line," she advises. "Don't take shortcuts on those items—they are the things that will make your wedding most memorable to you."

To make sure that your budget is in line with your wedding expectations, "Break down your overall budget into a price per person," Creech adds. She explains that, while $30,000, for example, can seem like a lot of money, "If you have 300 people, that breaks down to $100 per person,"—a fairly low per-person amount, when you consider the cost of the venue, delivery and labor fees, and providing fine food, cocktails, entertainment, and a beautiful space to celebrate in, for each of those guests. "You need to review your expectations to determine if the investment is viable," she notes, and consider the possibility of reducing your guest count to ensure that your guests' experience is in line with your vision for your wedding—and your budget. "We start every wedding journey with a design and wedding budget to ensure we have a solid foundation for expectations and investment. Educating our couples on a wedding investment is the most vital thing we do."

Adds Claudia De Velasco of A Day To Remember, "When drawing up a budget, decide what will actually be a part of your wedding budget, and what will be a personal expense—for example, personal items such as your wedding attire, hair and makeup." Deciding how or where to allocate budget "can be daunting, as we all want to spend on each and every detail, but it's important to focus on your most important wedding elements." She also notes: "We always stress that photography and cinematography should remain high on the list, as these two items are the two things you walk away with at the end of the night. Investing in a wedding planner is another high priority: Peace of mind and sanity in planning such an important day should not have a price tag."

On the topic of hiring a professional planner, Roberto-Carlos Ochoa, of J'Adore Events (formerly known as Cocomar Ladies), has this to say: "A lot of venues are offering 'venue coordinators.' Do not get this confused with a professional wedding planner. A venue coordinator basically takes care of logistics the venue is responsible for, such as tables, chairs, beverages, food, etc. A wedding planner or coordinator goes the extra mile and assists you in creating a detailed itinerary, helps you confirm all your vendors, and runs your wedding rehearsal the day before. They also are there to help you with all of your personal items, such as setting out your sign-in book and the photos you want placed on your sign-in table, organizing all of your escort cards, setting out place cards, bustling your dress, and cueing your DJ when to play that exact song you wanted to make your entrance to."

2. Start planning early
"Couples are getting started early on their booking process," notes Ochoa, "so you might lose out on booking the venue or DJ you really like if you wait too long."

Alexis Oakes, of Euphoria Events, reminds couples to hire a planner first, and then rely on that planner for timeline assistance: "They can walk you through details on everything from when to hire a minister to when it's time to purchase your bridal party gifts."

Oh—and one more thing: "Don't start worrying about the cute favors you saw on Etsy until you have a pretty good idea of what your day is going to look and feel like," says Shaun Gray of Gray & Associates Events. "Otherwise you're going to overwhelm yourself and become exhausted. And when you're exhausted, your spouse-to-be is exhausted. Then, before you know it, planning your wedding starts becoming a chore, instead of a celebration." 

3. Be inspired, but also be realistic
With so much visual inspiration available to wedding couples, "It can be difficult to pin down your design vision, and know how to bring it to life," acknowledges Creech. Working as not just a coordinator, but a consummate event stylist, well-versed in the design (and cost) of flowers, linens, decor and lighting, she collaborates closely with couples to "really review the integrity of the wedding design, and act as a 'general contractor' for your event, to ensure that the perfect creative partners are brought in to accomplish all the various elements that are so important to you."

Jim Gray notes that it's important to let your planner into your life…and into your home: "I love to spend time in a client's home, to understand not just their personal style, but the color palettes and design tones that they surround themselves with. Their wardrobe style also plays a role. Then, once I know these things, I take into consideration the style of the venue they've chosen, the season of their wedding, and trending color schemes, among other things."

Adds Kristin Van Hauen of Bourbon & Lace Event Services: "We usually start out with our brides' Pinterest boards, which are all over the place…but there are always key points or things that stand out, that we can see they are drawn to." Her mission, she says, is not to recreate their Pins, but to create something that is wholly unique to her client. So she'll ask personal questions that yield personalizing elements: "We had a couple recently, where the groom is in the military and they've traveled a lot, so each of their reception tables has a picture of them together in one of the cities they've traveled to. Another of our recent brides had collected antique keys with help from her grandmother since she was a child; we incorporated keys into her centerpieces, and the escort cards each had a key attached."
And when it comes to trends, tread lightly, advises Ochoa: "Pick a style that is current, but remember to stay timeless. You don't want to look back at pictures five years from now and say, 'OMG, what was I thinking with so many mason jars and so much burlap??'"

4. Involve your family...but don't let them take over
"Family can be one of the most joyous—and stressful—factors of your wedding planning," says Oakes. "But always remember this piece of advice: It's your wedding! No matter who is paying for it, no matter who is involved, at the end of the day, the reason you're getting married is because you want to spend the rest of your life with this one person. The rest is just icing on the cake." Her advice: "It is absolutely acceptable to listen to your family's and friends' suggestions—just take them in stride and move forward!"

De Velasco tells couples: "Remember…you will never ever please everyone. Let me repeat that again…you will never ever please everyone, so pick your battles. If Mom insists on ecru over eggshell on the wedding invitations, and this is a detail you don't really care about, let her choose. Weddings are about love, of course, but also about family and unity." She adds that, "Asking that special person in your life to be a part of your wedding ceremony is the best way to show your love. How about having both parents walk you and your spouse-to-be down the aisle, or asking your favorite aunt or uncle to be a reader at your wedding?"

And Creech adds: "Hiring a professional wedding planner allows your friends to be friends, and your family to be family," during the planning of the wedding, and on the big day itself. "By having a professional guide to walk the journey with you, your friends and family get to do all of the fun stuff, without the stress of hard work. Appeasing family members during such an emotional time always comes up. I promise, an event planner has heard all the stories, and we can bring in outside perceptions and advice to handle all of those uncomfortable, 'What if's.'"

5. Planning your LGBT wedding?
Don't tolerate anything less than full support. Just because a vendor may be high-end, or a veteran of the wedding scene, they may not be experienced at or willing to work with "all types of clients," Shaun Gray cautions. "If working with tolerant professionals is important to you, then be up front, and ask right from the beginning if they work with same-sex couples."

Another tip for finding out if a vendor is LGBT-friendly is to look at the language in their marketing. "Are they clearly defining roles as a 'Bride' and a 'Groom?' If so, chances are they either don't work with same-sex couples, or that they aren't as experienced in the field," Gray says. "So, you could still give them a shot, but you should ask them about it from the start."

"Love is love, and we at A Day To Remember believe that love will always win!" De Velasco says emphatically. "We are not just LGBT-friendly, we are certified through the Gay Wedding Institute, the leading LGBT wedding certification in the U.S. When searching for LGBT-friendly vendors, we encourage you to look for indications of LGBT understanding, in the form of certifications, a notification on the vendor's website indicating 'LGBT,' or by images displaying same-sex marriages. Having a planner will help alleviate the stress of researching LGBT-friendly vendors, as LGBT-friendly wedding planners will have a vetted list on hand." And Oakes adds: "Same-sex couples should never be afraid to speak up about their wedding." If a venue or vendor says, "No," or seems the least bit uncomfortable about serving the needs of the couple, "There is always someone ready to take on the opportunity to be part of your special day!"
You Might Also Like