---
5 BIG Seating-Chart Questions Answered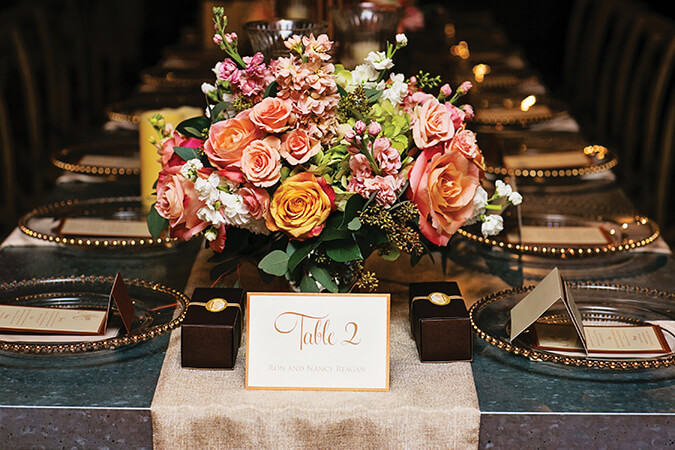 Photo: D. Jones Photo
The RSVPs are in. The centerpieces are selected. The menu is set. It's time for…the dreaded seating plan. If you're in a tizzy about organizing your reception tables, we're here to calm your nerves. Because, after all, these are dinner seating arrangements we're talking about, not global crisis negotiations. While a seating plan is super important, especially if you're planning to serve a formal plated dinner, figuring out who should sit where does not have to keep you up at night. But a good seating plan will keep guests chatting, reminiscing, striking up new friendships, and basically having the time of their lives, all night long. So pull up a chair and listen in.
Should my groom and I sit separately from our guests?
Only if you wish to. A sweetheart table, where the bride and groom sit together, without any distractions, is a preference for some brides. Others want to be in the middle of the action, seated at a long, rectangular "bridal table," shared with the entire bridal party, and usually stationed at the front of the reception room, near the dance floor. As for seating position, tradition dictates that the groom sits to the right of the bride, and the best man to her left, while the maid of honor sits to the groom's right. But modern brides often choose to seat couples next to each other, or slightly mixed up (for mingling fun). Whether you choose to sit solely with your new groom, or in the midst of your best friends and closest family members, make sure you do make a place for yourself at the reception!
Do I really need a set-in-stone seating plan?
Um, yes. You really do. Here's why: No matter how many delicious signature wedding drinks and sumptuous hors d'oeuvre you ply them with during cocktail hour, when it comes time for the grand reception, wedding guests get a little…nervous. Especially at larger weddings, guests are encountering people they've never met before, in a formal atmosphere, where they're dressed in formal clothes and expected to socialize formally. Taking the decision about where to sit out of their hands reduces their anxiety and allows them to settle in, get comfortable, and stop being so formal. Having a seating plan also helps ensure that people who probably shouldn't sit together—exes, feuding factions, guests of significantly different ages or politics or sports-fan affiliations, for example—don't.
Is it better to seat guests with people they know, or mix them up with new faces?
Both! College or high-school friends who haven't seen each other in ages will welcome the chance to catch up over dinner at your fabulous reception. But your party is also a great opportunity to bring your friends and his together to strike up new friendships. As for family, it's always lovely to have the parents, grandparents and close friends of the bride and groom sit together at one table.
Assigned seats or assigned tables—which is best?
Assigned seats, indicated with escort cards that correspond with formal place cards upon the table, are elegant and impressive—but only for the most formal seated dinner receptions. Otherwise, assigned tables are the way to go. To guide guests to their assigned tables, have escort cards displayed at the entrance to the reception area. And when we say "displayed," we're really leaving things up to your imagination. A quick peek on Pinterest will reveal that brides have presented escort cards tucked in wine-bottle corks, clothespinned on flower-edged lines, tied with ribbon to Champagne-flute stems, and on and on. Just make sure each table is clearly marked with signage indicating its number or name. From there, guests will sort out exactly where to sit—though the hope is that they'll spend little time in their seats, and lots of time on the dance floor!
OK, I'm feeling a little better about this whole seating-chart thing.
Any last advice?
Glad you asked. When sketching out your seating chart—and yes, you should definitely sketch it out with visuals showing round, square and rectangular tables (if you're planning a mix of table shapes), make sure you're working with a finalized list of RSVPs. You probably shouldn't do your seating chart until about two weeks out from your wedding day, to assure that everyone who will be attending your celebration is accounted for. Check off each individual name on your RSVP list, and make sure to seat unaccompanied guests at tables with at least one or two other unaccompanied guests. If you are working with a wedding consultant or planner, have him or her on hand while you do your seating chart, perhaps over dinner or drinks at your home with you and your fiancé. But try to limit the seating-plan-organization crew, and avoid bringing others (your parents, bridal party members, etc.) in for this vital task. When it comes to wedding seating, everyone has an opinion. The only ones that matter, though, are yours and your beloved's. Everything else takes a back seat.
You Might Also Like