---
2016 Wedding Design Trends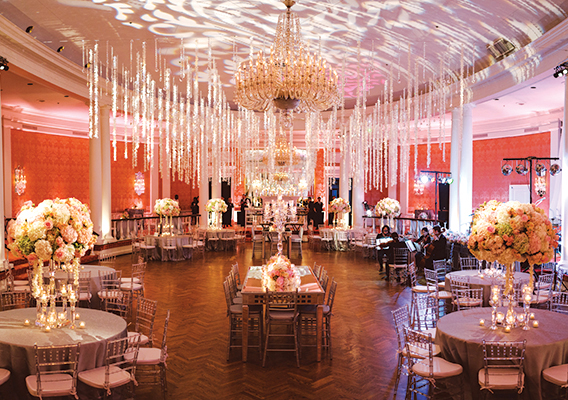 Photo: M. Wang Photography
Wedding decor has many duties: It must invite and inspire, it must fill space and create atmosphere, and, most importantly, it must reflect who you and your spouse are together in this world. This holds true for all weddings—after all, "No matter how big or small your event is, the little details and personal touches leave a big impact on the guest experience," notes celebrated event designer Todd Fiscus, of Dallas- and Houston-based Todd Events. With such important objectives to achieve, and so many sources of inspiration to create your perfect wedding environment, it helps to have a talented pro by your side, guiding you. Luckily, some of the nation's best event-design experts are right here in Houston. And we've turned to them to tap the coming year's hottest trends, and most useful tools, for creating a wedding that WOWs.
Ritual Adornments
First things first: Your ceremony kicks off your big event, and it is the first impression your guests will get of your wedding's overall feel. Your ceremony is also the occasion for your wedding's most precious and meaningful moments.
"Brides are seeing that this is the epicenter of the day," says designer Lee Capetillo, of A Memorable Event. "I'm designing more and more ceremonies that focus on that moment with lighting, candles, draping, and, of course, lush flowers."
Designer Bahara Jamea of Plants N' Petals Design Studio says that for 2016, chuppahs, a mainstay of Jewish ceremonies, hold value for couples of many different faiths. "Couples of all backgrounds are loving chuppahs because they provide a romantic frame for the ceremony and clearly define the altar area. The chuppah becomes even more desirable if the ceremony and the reception takes place in the same room; after the room turn, the ceremony structure can easily become a gorgeous backdrop to house the wedding cake or sweetheart table."
Event producer Jeri Powell of Darryl & Co. also notes that "transferable" decor is in high demand: "As guests are only spending a small fraction of their time in the ceremony, couples want to get the most 'bang for their buck' when it comes to decor," she says, noting that her team will often create ceremony floral arrangements that can be repurposed in the reception space.
Color Code
When it comes to color palettes, Jamea is seeing a variety of options, many of which are polar opposites of one another.
"On one hand you have soft, romantic, almost watercolor effects, which create a uniquely light, airy feel in the wedding decor. Yet on the other end of the wedding decor spectrum, you have very bold and dramatic designs." The "striking monochromatic florals and colors" that many 2016 couples are requesting "give the wedding at once a modern feel and dramatic presence," she notes.
Jill Vidal, owner of EB Inc. Event Rentals & Design, agrees. "While a lot of brides are still leaning toward the soft, neutral color palettes, we are seeing an increase in brides wanting to incorporate pops of vibrant color in their decor."
For Johanna Terry, owner of Johanna Terry Events, "A big trend right now is 'bohemian elegance.' Brides are going for a more organic look, but with bolder colors."
And speaking of color, Fiscus notes, "We love blue-and-white Chinese porcelain as a point of inspiration. It pairs with many color palettes, including one of our favorites: cantaloupe, watermelon and coral."
Modern Mix
Using a variety of textures, shapes and materials in your design can add significant depth to your reception room.
"Our favorite design process is taking a space, whether it is a tent, a ballroom or a warehouse, and transforming it into a completely new environment," says Fiscus. "We want guests to feel like they are in a totally new place that they've never seen before and will never see again."
This process frequently involves "taking our inventory and adding beautiful faux finishes such as 'antiqued' mirrors, beeswax treatments, gold leafing and patinas," the designer says. For 2016 weddings, look for modern furnishings mixed with antiques, for a "more residential feel" that creates an environment which is as fresh and exciting as it is gracious and welcoming.
For EB Inc.'s Vidal, fashion-inspired accents such as ikat patterns, "add a little 'sass' to classic decor elements." Try this look with patterned napkins or table runners, which bring a punch of pizzazz to the dinner table.
Jackie Preston of Lary's Florist & Designs notes that texture can come in many forms: "Floral walls, whether made with real, silk or paper flowers, are trending right now. Also, we're seeing clients mixing metals such as gold, silver, rose gold and copper," which can bring depth and shimmer to the celebration space.
Flicker & Glow
No matter what your wedding decor, proper light is what makes it right. And for pure romance and elegance, there is nothing like candlelight to set the tone.
"I'm seeing a lot of 2016 brides requesting tons of candlelight for the ceremony instead of flowers," says Terry. "Using candles instead of flowers also helps cut down on ceremony cost."
Also enjoying huge popularity for 2016 are string lights, which bring a magical, almost whimsical feel, especially to outdoor and tented celebrations, where they introduce an ambient glow to dark corners, or any area needing a little more light.
And when it comes to lighting, don't overlook what's happening directly overhead. Chandeliers continue to be popular for 2016 wedding celebrations, but these traditional fixtures are getting an exciting twist from Todd Events. "Instead of one big crystal chandelier, we are doing collections of chandeliers," says Randi McBroom, executive director of Todd Events Houston. "We have beautiful artisan lanterns we purchased while doing a wedding in San Miguel de Allende, Mexico. Our clients love having unique elements like these, that we are pulling in from different parts of the world."
Table Trends
Mixing and matching different chairs and table shapes continues to be big in 2016. "Alternating between square-top, banquet and round tables is a great way to break up the layout of a space," Vidal says.
She notes that EB Inc. is seeing more demand for 'king's tables,' meaning that the head table has seating on both sides for the bridal party and immediate family.
The centerpieces that top those varied tables are also getting the mix-and-match treatment. "For floral centerpieces, there is a trend of doing alternating tall gorgeous arrangements with low, tight ones," says Ken Catangay of River Oaks Plant House. Tiered candles of different heights also are "a great way to accent the guest tables," he notes.
At Todd Events, "Reception table florals for 2016 are soft and organic, not as structured and tailored," says McBroom. But organic doesn't necessarily mean understated. "It has become very easy to recognize Todd Events' signature floral design, which is packed full of flowers, with big drifts and movement, and a combination of large-face flowers and tiny, interesting blooms that we refer to as 'jewelry flowers.'"
Whether tall and tousled, low and tight, or a mix of the two, for maximum centerpiece appeal, "Floral arrangements should be very artfully designed, with careful thought and attention given to the placement of each and every bloom, almost like you are looking at a floral painting," Jamea adds.
Visualize & Revise
"When it comes to your wedding, think 'In Grand Style,'" Powell advises. "If your budget is limited, rather than spending it on 10 small arrangements, spend it on one grand arrangement that will be a showstopper. It is all about creating an impact."
Preston agrees that staying within budget is as important as creating a look you love: "Prior to meeting with wedding professionals, figure out your budget. Be honest with the wedding expert about your budget and advise what you expect to receive within it."
Whatever budget you're planning for your big-day design, it's essential to stay clear and focused as you put together the pieces of your event. "Before a couple dives into a magazine or jumps online, they need to close their eyes and envision their ceremony and reception. How does it make them feel? What small details can they see? What is the environment like? When you have these answers, then plunge into those resources, and I guarantee that every detail you ever imagined, and more, will be found," says Capetillo.
Big Picture
All of our experts stress that although there are many options and directions when it comes to decorating your special event, you should never forget the most important part of your wedding—the coming together of two individuals in the bond of marriage. "Let the wedding preparation be an opportunity to get to know each other even better before the big day," Catangay says. "And don't worry about the small stuff, since the real essence of the wedding is the union of two people in love who will be spending the rest of their lives together."
You Might Also Like