---
18 Hot Wedding Decor Ideas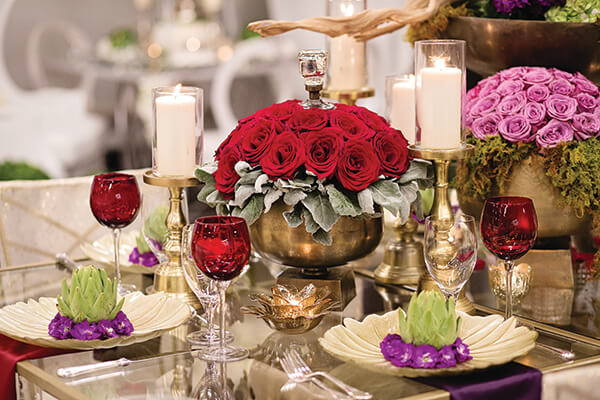 Photo: M. Wang Photography
Romantic colors, a little shimmer, a lot of floral and plenty of personalization: Brides and grooms put their signature stamp on their wedding day, through decor that speaks to their past and celebrates their future.
Prime Palettes
Yesteryear's Hues
While beloved purple and its sister colors—lilac, lavender, eggplant, et al—is still the wedding hue of choice for many brides, pink and orange in their softest forms are the new faves in town. Event designer David Rexroat of AJ's Urban Petals notes that blush, pale mauve and muted coral are among the most popular wedding colors he's seeing for late-2015 and 2016 weddings. And, of course, lots of ivory and white. "Brides really want that Old World, European look" that these vintage shades convey.
Rose-Gold Standard
When it comes to weddings, "Rose-gold is the new gold," declares Johanna Terry, owner of Johanna Terry Events. Bold gold is huge on fashion runways, but softer rose-gold is the metallic of choice for wedding decor and rentals. Her favorite pairing: rose-gold with blush-pink—a perfect marriage of romantic colors.
Throw Some Shade
Couples wanting to keep it simple can opt for one color, but include varying shades and tones of that color to add interest. For instance: "shades of green, including avocado and grass green, or bright pink with raspberry and coral," says Jill Vidal, owner of rental and design company EB Inc Event Rentals & Design. Try bright tones for the ceremony, then shift to the darker hues for the evening reception.
Dream Themes
Country Cool
The romantic feel of the French countryside has been a popular theme for a few years, but if you bring in pops of color, like Pantone color-of-the-year Marsala (a deep but muted brownish-red), you get a whole new look. "What we are doing now is taking those ivory muslin-covered traditional chairs and reupholstering them in textiles like bold-colored velvets," says Darryl Murchison, the creative mind behind top event-design company Darryl & Co. "It's classic design with a punch."
Boho Haute
Think beautiful prints, decorative lamps and casual dining. With its residential feel and air of relaxation and decadence, the Bohemian theme is a huge trend for couples looking to bring an exotic insouciance to their celebration. But, Todd Fiscus, owner of design firm Todd Events, urges couples to proceed with caution: "Bohemian can look like an easy style to achieve, but be careful. It really takes a lot of work to make this look sing."
Mix & Match
When two individuals come together to celebrate their union, they bring with them individual tastes, styles and ideas—which bodes well for wedding design. Mixing and matching themes to create a unique, unified look is a major development for this year's weddings. Lisa Anhaiser of LBL Event Rentals offers this example, "Rustic has taken a turn and incorporated industrial elements. This means events will have more practical features and will showcase an oxymoronic 'modern-rustic' feel." Other ideas include urban-beachy (neutral colors and cool marine blues, sand- and succulent-based centerpieces, glass), vintage-elegant (lace, Art Deco touches, lavish floral arrangements) or steampunk-sophisticate (Victorian light fixtures, globes and gears, blacks and metallics) on for size.
Luxe & Lavish
There's no doubt that the coming year's weddings, especially those slated for opulent hotel ballrooms and historic venues, are taking a luxurious turn. "We are doing a lot of very rich, full, heavy-laden flowers," says Donna Senter, owner of event-design firm The Senterpiece. "Last year, greenery was really in. Now we're going back to massive flower arrangements, big floral walls, and candelabras surrounded by tons of flowers."
Sights on Ceremony
Luxe Outdoors
Setting your ceremony in the midst of a grove of trees or on a dock overlooking a lake takes advantage of all that nature has to offer. But this is your wedding, not a Saturday picnic, after all. If you're planning to say your vows al fresco, take a bit of advice from Vidal and add a luxurious touch to your outdoor scene by adding diaphanous draping to your altar canopy, and hanging chandeliers from the trees overhead.
Altar States
Elaborate altars are a mainstay of Jewish, Hindu and Muslim weddings. But even nondenominational couples are incorporating canopies and chuppah-style structures into their ceremonies. "Brides are drawn to the substance and focal point the structures create," says Sheli Hart, lead event designer for Flora & Eventi. "They make a great backdrop for photos, versus the traditional altar-flanking arrangements we see so often in ceremonies."
Aisle Style
Nothing is more romantic than a ceremony aisle covered in rose petals, but for 2015, the tradition is getting a bit of an update. "It's increasingly popular to create patterns or ombré color graduations down the sides of the aisle, or even for the center," Hart says. "The use of a patterned rose petal design is getting popular as well."
Organic Elegance
"More and more brides are interested in floral arrangements inspired by nature," says Bahara Jamea, wedding and event designer with Plants N' Petals. "It is a less structured but highly designed look that does not feel too forced. I am seeing a lot of Jewish brides wanting asymmetrical floral designs on their chuppahs, which adds interest to the traditional flat-top, four-legged structure. Popular flowers include amaryllis, anemones, dahlias, trailing honeysuckle, poppy, chocolate cosmos and peonies."
Party Pretty
Complement & Contrast
With the rising popularity of "Tuscan-style" seating, where the bride, groom and their wedding party all sit together around a large rectangular banquet table, designers are finding new ways to distinguish the guests of honor. "We like accentuating the backs of the bride's and groom's chairs," Senter says. "We might do garlands on the backs of their chairs, or initials and wreaths. One of my favorite things to do is something I call a 'sconce piece,' which is more of a teardrop-style arrangement on the back of the chair." Besides being pretty, these chair accents are practical, as they identify the newlyweds' seating spots for guests and photographers alike.
Antique Chic
As a way to celebrate the joining of two families, modern brides are incorporating family heirlooms into reception decor. Jamea suggests displaying pieces from weddings past: "Have mom's, grandmother's, great-aunt's, etc., bridal gowns encased in acrylic and displayed or placed on pretty dress mannequins, alongside a picture of them in the gown. If the gown is not available, other mementos of the day will work as well, especially if there are photos to display alongside them."
Shape Up
For the skilled florist, flowers are much more than stems to be arranged in a vessel. Today's top floral experts are using blooms, vines, twigs, succulents and greenery as sculpting materials, creating whimsical pieces that reflect the wedding couple's personalities, pets, initials and more. "Hearts made of flowers, topiary animals created from greenery, floral 'flowers' and butterflies, letters of the alphabet,"—all of these make for out-of-the-ordinary decor, notes event designer Pam Lopez of A Memorable Event, who likes to use carnations, roses and silk flowers for these colorful art pieces.
Fine Flickers
Our love affair with candlelit weddings is still very much aglow. But the hottest lighting look for weddings is electric. Hanging bulbs, chandeliers and table lamps all create an intimate dining experience and elegant restaurant feel. "We love seeing lampshades. They look fantastic in any application—with ribbon, petals, greenery, etc. We also love playing with Edison bulbs and soft-pink light bulbs. Anything that gives that soft glow adds so much to a tabletop," says Fiscus.
Intrigue Overhead
To draw action to your dance floor, draw attention to the area above it. If your reception venue is built for it, install a fabulous floral focal point over the spot where the action is. "We love creating a big rectangular 'chandelier' to hang over the entire dance floor. It can be done simply with trellis from Home Depot, from which we suspend flowers at different lengths," says Rexroat. "It makes a beautiful faux ceiling over the reception's dance area."
Looking Glass
And speaking of mirrors, reflective surfaces are one of the most popular decor items for 2015 and 2016 weddings, Terry says. Mirror tabletops, mirror-tile side tables and lamp bases, and mirror-like mercury glass, all are big for giving receptions an air of glamour and sophistication. Actual mirrors, whether framed or not, are showing up in reception decor, too, where they also serve a secondary purpose: "Whether you use a collection of antique gold mirrors or just oversize mirrors," Terry says, "those mirrors help to make small reception areas appear larger."
Big Shot
For maximum impact, opt for "very big, romantic centerpieces," Lopez notes. These should be designed with monochromatic flowers in lush, lavish abundance, with stems and leaves hidden from view. "Add tons of candles to the bases of all centerpieces for a romantic glow in the room," she says.
You Might Also Like