---
10 Ways to Personalize Your Wedding Menu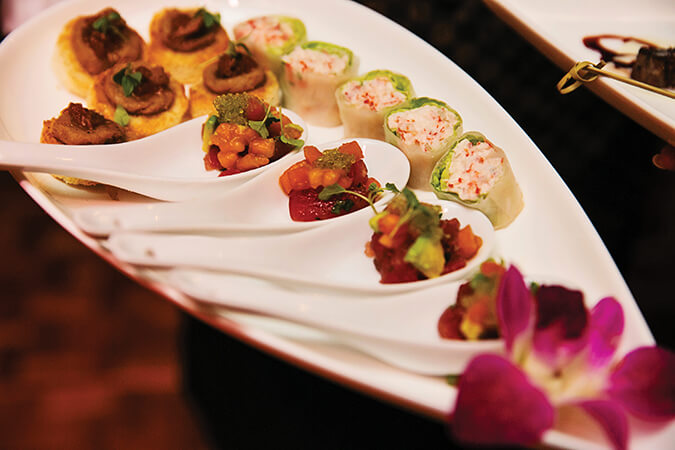 Photo: D. Jones Photo
Your wedding is all about you and your beloved—and should be. There is no other occasion more personal than the celebration of a relationship that results in the ultimate commitment. You wouldn't be willing to carry any old flowers down that special aisle, or wear some off-the-rack dress to say, "I do," to your groom. So why, then, would you be willing to serve food that might look pretty on the plate, but doesn't mean anything to you beyond mere sustenance? Offering a menu that is a reflection of you is a way to share a taste of who you are, where you come from, what you like and what you love.
Think that sounds like a complicated recipe? Not so, say Houston culinary experts, who are ready, willing and excited to fulfill requests for beloved comfort foods, Southern favorites, ethnic specialties—even items that pay homage to your fave fast-food indulgences or craving-satisfying snacks, whether for your wedding reception, rehearsal dinner, bridal shower, or any event associated with this most special of occasions.
1. Taste Test
Before your menu is set (and perhaps even before your venue is confirmed), you should be able to arrange a tasting provided by your caterer and attended by you, your groom and your wedding coordinator. This tasting will be a great way to communicate what you want with all of the people responsible for your event. It's also an excellent opportunity to explain what flavors you like, and share details about your background with your chef.
"You should be able to taste a few of the items you are looking to serve your guests," suggests Virginia Patterson, sales manager for Seasons 52, which is known for its healthful, delicious food, and is fast becoming a favorite Houston venue for rehearsal dinners, pre-wedding events and intimate marriage celebrations. "Having a few people taste the items and help you decide will ensure great food being served for your special day, and great food will leave a lasting impression on your guests."
Adds Chris Nguyen, owner of Café Natalie Catering, "If you strive to appeal to all your guests' palates, you risk developing a menu of unoriginal selections. To create a wedding meal that is more personally significant to the bride and groom, we present our interpretations of the couple's favorite foods or restaurants, family culinary traditions, seasonal specialties, and any unique ethnic-inspired dishes.
2. Let's Talk Texas
We live in a location well known for its succulent meats and proteins. Steaks, ribs, chicken, seafood—you name it, and Texas does it right.
Thomas P. Nguyen, owner of South-African-fusion eatery Peli Peli, states: "Being in Texas, steak is king. Our filets are very popular, especially filets that are locally sourced from Texas distributors," he adds.
But it's not just the quality of local meat that makes Texas cuisine such a standout. "Houston is called the Bayou City, and it's where bayou culture bumps into Texas tastes," notes Fern Casio of notable Southern fine-dining establishment Brennan's of Houston. "Our food is unique; we call it Texas Creole, and we take the best local product available and blend it with our culinary heritage"—which happens to be the heritage of many Houston brides and grooms.
3. Git Your Grits
Perhaps no Southern food is simpler or more beloved than wholesome, comforting grits. Which, with their great versatility, just happen to lend themselves to some of the most exciting menu items you can imagine! Give them an upscale or unexpected twist: a featured passed appetizer (classic combined with shrimp), as a station (like a mashed potatoes bar with different toppings), or even as a sweet surprise (try apple and caramel mini-parfaits)! Out-of-town visitors, especially, will be delighted by this memorable take on a Southern great.
4. Fusion Feast
You don't need an absolutely authentic appetizers-to-dessert ethnic menu to infuse your wedding meal with your personal taste. Peli Peli's Nguyen offers this suggestion for making your menu a reflection of yourself: "Really incorporating a bit of your heritage, by use of seasonings, sauces and spices in the dish, creates your own unique 'fusion,'" he says. "We suggest taking marinades and seasonings that are commonly used in your culture and using those items to flavor and create your dishes."
Whether it's chipotle pepper or cumin, coriander or Kalamata olives, anise or sesame seeds, talk to your chef about how to spice up common hors d'oeuvre, side dishes, proteins and desserts with a subtle but sensational taste of your culture. Nguyen enjoys assisting clients in cooking up hors d'oeuvre ideas with international appeal. Recommending three appetizer selections with different flavor profiles such as spicy, sweet and savory, and a range of proteins, Nguyen says beyond these basics, anything is possible. "Our bulgogi on jalapeño corncake is a favorite appetizer with great Asian flair and a hint of Texas heat in the pepper flakes. Miniature truffled mac-and-cheese cups are popular for the bride and groom who love Southern comfort food."
5. Contemporary Classics
"Bringing back 'oldies' is a frequent request that we always meet with the chefs about," says Nicole Wilker, senior party planner at Brennan's. "In fact, our Baked Alaska has made quite a comeback since being requested at a reception. There are several items that have ended up incorporated into our menus." For a fun personal touch, Brennan's often will name the revived classic after the bride or groom, turning it into a signature wedding dish.
Want to add a retro touch to your revelry, and delight older guests with memories of traditional fancy-dining favorites? Consider snazzing up your menu with beloved classics, which may include succulent shrimp cocktail, tableside-prepared Caesar salad, sweet-and-salty rumaki, twice-baked potatoes and flambéed Bananas Foster.
6. Signature Sips
"This is where you can really have fun with the details of the event," says Patterson, who notes that Seasons 52 mixologists infuse signature wedding and special event cocktails with the same market-fresh ingredients her chefs use in their menus. "Make the signature cocktail fun, eye-appealing and, most of all, tasty!"
Payne describes these delicious drink ideas: "Freshly muddled fruits and herbs infused into cocktails are hot right now. Think blackberries and rosemary or strawberries and basil. These drinks are vibrant in color and can be made to match the couple's wedding color or theme."
Notes Nguyen: "In designing signature cocktails, we are currently seeing a trend toward serving butler-passed classics with a twist of local flavor. Guests love our Lavender French 75 made with Tito's vodka and our Old Fashioned made with Garrison Brothers whiskey. For the modern couple, chile-pepper or sake-based cocktails are great flavorful selections with an exotic edge."
Donnette Hansen, owner of the renowned Rainbow Lodge, which specializes in fresh game and Texas flavors, offers this recommendation for how best to prepare and serve signature drinks: "If you are having a large wedding, try to stay away from cocktails that require a great amount of time to make. That can create a backup at the bar upon arrival, while making them in advance would probably diminish the integrity of the cocktail," she says. Instead, stick to signature cocktails that have two or three key ingredients and a pretty garnish.
7. Perfect Presentation
Presentation details such as specialty glassware, drink garnishes, colored rim sugar and bar signage can boost the impact of your signature sip as well.
"Seasons 52 did an event with a specialty drink that would traditionally go in a highball glass. But for this event we served the drink in a Champagne glass and it made all the difference in the world. The different glass made it fun and classy," recounts Patterson.
And don't forget to place signage on bars or butler trays identifying the name of your drink and its meaning to you.
8. After-Party Refuel
Reveling late into the night is a wedding tradition—because who really wants the party to end?
To nourish your guests and give them a little something to soak up those signature cocktails, a round of wee-hours treats is in order. And by now, any sort of formality has subsided, so bring on the fun bites and flavors of your youth!
"We've had requests for everything from taquitos and doughnut holes to waffle fries and nachos," says Payne. "This has become a popular way to end the evening. After hours of dancing and imbibing, couples want to 'top off' their guests' tummies," she continues.
"Guests enjoy interactive stations for late-night bites," notes Nguyen, who likes the option of the traditional taco cart, serving up barbacoa, el pastor and chorizo tacos with plenty of delicious toppings. "We also suggest a ramen-noodle station with pork-belly buns as an Asian fusion option, or a flavored-popcorn bar to give your guests a take-away treat." Depending on how late your festivities linger into the night, you may want to welcome the morning with a delicious breakfast buffet. Delight your guests with Houston favorites including savory breakfast tacos (filled with a choice of eggs, potatoes, cheese, chorizo and a variety of salsas) and tasty kolaches—a nod to Houston's Czech history.
9. Plan Well
Making sure your guests are fed well throughout your wedding will help maintain energy and momentum. Hansen advises on how to plan a menu well to sustain and satisfy your guests, while infusing your edibles with a personal touch.
"I think it is always better to have fewer 'memorable' menu items and plenty of them, than a scattering of many items but not enough of any of them for the whole crowd. Guests will talk about the food, and you never want to hear, 'I didn't get any, they ran out.'"
Another tip: Don't stuff your guests at the cocktail hour if you're serving a lavish, multi-course dinner, or having lots of interactive stations. Instead, have three to five selections of butler-passed small bites, including items that speak to your background—fragrant samosas, shrimp-and-grits bites, or miniature Maryland crab cakes, perhaps.
10. Open Communication
Realize that most establishments look forward to working with you to create a menu that is a reflection of you, even if it's not what they are used to doing.
Hansen states: "With a strong kitchen on your side, getting the menu you want should be easy. Communicate your ideas. The most fun part of my day is sitting down and writing custom menus—I enjoy translating a family favorite into a banquet or appetizer possibility."
At the same time, be flexible and realistic, knowing that not every venue will be able to cater to every desire you have. "Ask to talk with the chef of the venue where you are booking your event," recommends Patterson. "The chef ultimately will be the one responsible for your food even though the event coordinator is helping you plan the event. The chef can then understand exactly what you are wanting and how to create it."
You Might Also Like