---
10 Awesome Invitation Ideas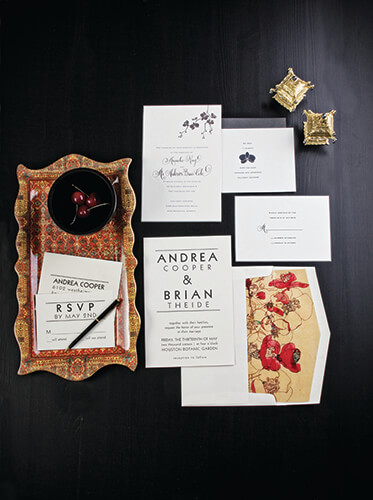 Photo: Ashley Nicole Photography - Invitations: bell'Invito, Bering's - Props: Blue Leaf Houston
Setting the tone and style of your nuptials starts with your wedding stationery—after all, that save-the-date and invitation are the first two wedding-related items your guests will ever see. The details that go into your invitation suite, from paper type to printing technique to color palette to embellishment, all work together to give guests a glimpse of the type of event that awaits them. To ensure you select the right wedding stationery for this very important job, here are 10 tips from top stationery pros.

1. Trump Tradition
Your mom might argue that an all-white invitation with black cursive script and zero motifs of any kind is the only way to go, but keep this in mind: If a traditional look doesn't suit you, there are plenty of other equally elegant routes. "Choose the design that's right for you," says Sabrina Moyle, founder of Hello Lucky design studio in San Francisco. "Don't get too caught up in worrying about tradition. Instead, choose an invitation that fits your style, whether it's colorful or classic."

2. Peruse Price
Stationery costs money. As with wedding attire, avoid wedding-invitation "sticker shock" by researching various styles you love before getting your heart set on one that's out of your price range. Christiana Turner with Houston's Isabella Invitations [formerly Elegant Custom Invitations] suggests determining your estimated number of guests as well as your bottom-line budget. "Also, don't forget to consider the cost of postage and any additional stationery you may need, such as thank-you notes, programs and menu cards, when making calculations."

3. Embrace Paper
While it may feel as though every interaction, transmission and request is conducted digitally these days, "Remember that your wedding is a great opportunity to slow down, reflect and celebrate," explains Moyle. Wedding invitations should be presented on paper and delivered via post. Anything else is too casual for a formal event.
4. Don't Procrastinate
"A very common mistake in the invitation process is not allowing enough time to choose, purchase and print the stationery," says Turner. "Wedding invitations should be mailed six to eight weeks in advance, and production often takes up to six weeks for custom invitations, and five to seven business days for catalog invitations."
Invitation designers caution that many couples tend to count eight weeks back from their wedding date, and then add another month and a half to arrive at a date when they need to order their invitations. These couples may find themselves suffering unnecessary headaches when there is a mistake that causes them to fall behind in sending their invitations out. To avoid this situation, designers advise clients that once their venue is booked, invitations should be the next thing to check off on their list. To be safe, most designers tell their clients to order their invitations no less than six months ahead of the wedding date.

5. Beware of Bargains
The old saying, "You get what you pay for," often rings true when it comes to wedding stationery. "Just because it seems like a bargain, doesn't mean it is the right choice," says Debra Hall of Olive Paper in Charlotte, N.C. "Be sure you're happy with the overall quality before you commit." Keep in mind things such as paper weight, a higher quality of which can easily make your wedding invitation appear and feel much more luxurious.

6. Go With a Pro
As with just about everything wedding- related, there are certain protocols and conventions required when issuing a formal invitation. To make sure you adhere to what's expected, it's best to use a professional to design and create your wedding invitations. Since this likely will be your first time issuing such an important invitation, you won't be familiar with wedding-invitation conventions or protocols. Professionals, on the other hand, maintain extensive knowledge of these conventions for a living, and know how to steer brides in the right direction. Invitation designers will be able to point out details as significant as the wording of the invitation, along with processes as seemingly insignificant as the stuffing of the envelope—yes, there is a right and a wrong way to insert all those pieces.

7. Count Correctly
What happens when you run out of invitations because you spilled coffee on a few, or a half dozen went missing in the mail? You're out of luck when you don't have any backups, which is why Turner suggests that when placing your order, you should make sure to account for late additions to the wedding, lost invites and keepsakes. "It's generally suggested that you order 10 to 15 percent more invites than you think you need," she advises, adding that you can avoid ordering too many invitations by organizing your guest list by couple and family rather than individual guest.
Ordering too few invitations, meanwhile, can result in unnecessary stress and higher expenses to get additional small quantities. In most cases, it costs more to order invitations in smaller quantities than it does to order them in bulk. And it is almost inevitable that you will have last-minute guest additions, lost invitations or forgotten guests.

8. Avoid Oopsies
Treat your wedding invitations as you would the resume you're sending to your dream employer. There is nothing worse than a grammatical, spelling or punctuation error on something as important as your wedding invitation. "Proofread, proofread, proofread!" says Turner. "Ask your family members and friends to proof your wedding invitation a gazillion times, and even when they have given you the thumbs up, look over it one more time."

9. Eschew the Envelope
Sometimes more is just better. And in the case of a wedding invitation, sometimes more than an envelope is what's demanded of the occasion. "We're going for a sense of excitement and intrigue so that when guests open it there is a 'wow' factor," says Johnson of her high-end wedding pieces. "Brides are going for creative ways to package it all together—belly bands, laser-cut sleeves, pockets, boxes—all of these add style and function to the presentation of your invitation."

10. Post Perfectly
Those "Love" postage stamps are awfully cute, but don't assume your invites require the standard postage amount. "This one seems like a no-brainer," says Turner, who adds that too often couples assume they're applying sufficient postage to their invites only to have them returned by the post office weeks later, often too late to do anything about. To avoid this catastrophe, Turner suggests compiling "one complete invitation, including any enclosures, and taking it down to your local post office to have it weighed before placing postage on the envelope. You should also ask the post office about any upcoming postage increases as you may need to buy the 'Forever' stamp, which is good no matter how many U.S. Postal Service increases are made."
You Might Also Like