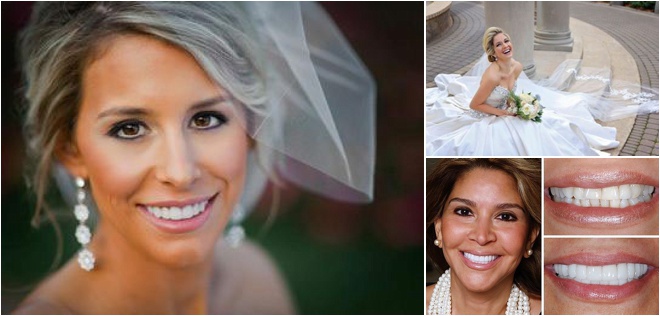 A confident bride is a beautiful bride. And NOTHING makes you feel more confident than a brilliant, white, radiant smile. It you've been thinking about fixing that crooked bite, closing those awkward gaps, removing stubborn discoloring…or just amping up the brightness factor a bit, now is the time, darling—before those cameras start a-clicking.
Fortunately, you live in Houston, where Dr. Guy M. Lewis, DDS, AAACD, heads up the renowned Texas Center for Cosmetic & Implant Dentistry—one of the nation's foremost centers for transformative dentistry. Not only is Dr. Lewis the official cosmetic dentist for the Houston Rockets and Houston Astros, AND the go-to "gorgeous smile" guy of numerous beauty pageant contestants (Miss Texas, Miss Teen Texas, Miss Hawaiian Tropic), but he's also, well, just so darn nice. And the TCCID staff—you may have chatted with them at our recent I Do! Bridal Soiree at The Corinthian—if we've ever met a sweeter bunch of gals, we can't remember when.
Here's another something sweet for your teeth (but, you know, not sugary sweet—Heaven forbid, honey!): Schedule your Texas Center for Cosmetic & Implant Dentistry appointment before July 31, 2015, let them know you are a Weddings in Houston bride, and you'll receive $100 off smile-transforming Zoom Whitening, OR a FREE cosmetic dentistry consultation. Offer good for grooms, mother-of-the-bride/groom and bridesmaids, too! Get the smile you've always dreamed of, just in time for the wedding of your dreams.