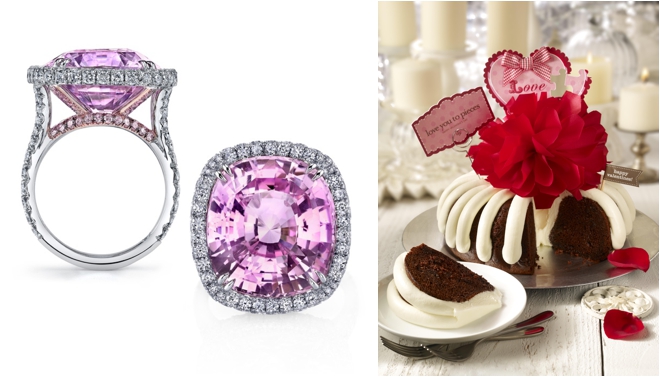 Credits (left to right, top to bottom): Brennan's Houston ~ Hotel ZaZa Houston ~ Zadok Jewelers ~ Nothing Bundt Cakes
You're head over heels, you're blissfully betrothed, you're getting all ready to get hitched—let's face it: You, love, are pretty much exactly the kind of girl Valentine's Day was made for.
And here, love, are just a handful of our favorite Valentine's Day gifts, goodies and indulgences, courtesy a few great Weddings in Houston partners—for you, for him, for the two of you together. Enjoy!
Here's an idea: Knock off work early and meet your man for a romantic spa escape, courtesy Hotel ZaZa Houston's decadent ZaSpa. Try a 50- or 80-minute Swedish-style his-n-hers massage with warm scented oils in the luxury of the spa's exclusive couple's room. Top things off with a private 45-minute soak in a deep tub for two. Reservations are required!
Next, slip into something sexy…like a stunning piece from one of Zadok Jewelers' spectacular collections. Not sure what kind of jewelry you might fancy? Check out Zadok's Valentine's Day gift recommendations, courtesy CultureMap.
Dressed to the nines, and sporting your new bit of Valentine's Day sparkle, make your way to Brennan's Houston, for a sumptuous prix-fixe dinner of Louisiana-blue-crab-and-caviar crepes, Creole-mustard-crusted lamb chops and—what else?—your favorite French bubbly. Again, rezzies are a must…so make 'em!
But you may want to skip dessert—that will come a little later, when you head home to snuggle up and hunker down with a to-die-for red velvet or white-chocolate-raspberry Nothing Bundt Cakes Valentine's Day cake. Let him feed it to you (great practice for your upcoming wedding reception!), and let that ridiculously delicious butter-cream-cheese frosting make your toes curl with pleasure.
The rest of the evening, love, is up to you…
Happy Valentine's Day!