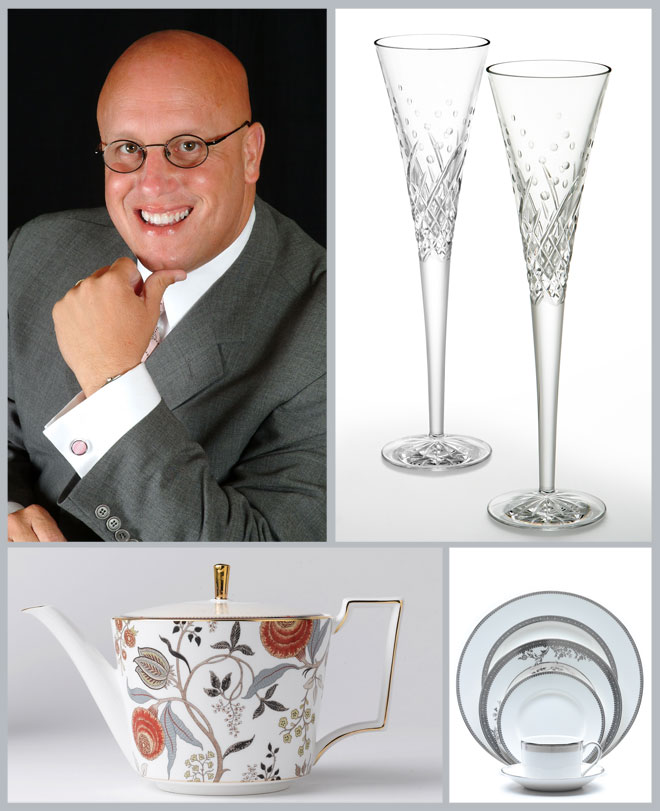 Registering for your wedding is one of the most purely enjoyable parts of the planning process. But all that heady, fantasy-fulfilling pleasure can lead to, shall we say, lapses in judgment. That ultra-modern industrial-steel salad bowl might not look so slick when it's off the store display table…and on yours. And 32 "As Seen on TV" kitchen gadgets…but no elegant china for entertaining? Is that kind of setup really going to serve you well?
To help us—and you—sort through the best practices and potential pitfalls of registering for your wedding, we turned to one of the foremost experts in the business of stylish entertaining and gracious good living (who just happens to be one of our very favorite friends in the wedding world): Waterford Wedgwood national spokesperson and bridal director Jorge Perez.
Read, learn…register right! And make sure to a) "Like" us on Facebook, b) Drop your comment, right here on this post, letting us know  your first name, the date and location of your Houston wedding, and the one GIFT ITEM YOU'RE MOST EXCITED ABOUT REGISTERING FOR (any brand or type), for your chance to win this month's giveaway. Ten–count 'em, TEN–lucky brides will each score a stunning pair of Waterford Mondavi Chardonnay glasses! ENTRY DEADLINE IS MIDNIGHT WEDNESDAY, OCT. 26. Winners will be announced FRIDAY, OCT. 28 on Facebook!!
Houston Wedding Blog: What should a to-be-wed couple do before creating their registry list?
Jorge Perez: Couples should start by agreeing upon their combined style. He may want geometrics and you may want florals. He has a beaten up leather La-Z-Boy from his frat house…and you do not. You need to compromise, and find a style that is not yours and not his, but a combined style.
You also need to take an inventory of what you already have so you can create a list of what you need. If you're already living together, or you already have a lot of your own stuff, but it's a little older, a register is a great place to upgrade.
Consider your entertaining style and make sure to register for all the items you'll need to entertain for years to come.
And definitely discuss which areas of the registry each of you wants to decide about. You might love the kitchen, he might want to command the decisions on barware or bedding. Have a discussion, and let him know: "Honey, you're so much better at that area."
HWB: How should a couple decide where to register—and how many different retailers should they register with?
JP: I recommend that you look for retailers that provide registry and completion rewards. Registry rewards mean that you can gain credit or dollars within the store for your registry. Registry completion rewards mean that the store offers gifts for completing your registry. For example, if you register for 12 items and complete 12 items, you get a free platter. Make sure to take advantage of all the great offers out there.
And don't register at more than three places—more just makes it difficult to manage, and you don't end up with complete sets. Personally, I love one-stop registering, where one retailer has most of the things you're looking for.
And try to stick to a national retailer with online services. It's easier for you to manage, and easier for guests to buy you what you want.
HWB: What are some of the key items every couple should include on their registry list?
JP: There is nothing more luxurious than a beautifully made bed and a fabulous set of towels. Make sure to register for enough sets so that you can change them out often.
If you're planning to entertain a lot, don't forget your china serving pieces! A good way to know what you'll need is to plan a future dinner party in your head. Write down a menu of what you'll be serving. That will dictate how many and what serving pieces you'll need. The menu always dictates the table service. Remember, your table is your label, so make sure yours says a lot about you.
HWB: Speaking of entertaining—can you share some of your best tips for registering for china and crystal?
JP: When selecting china, make sure to register for fine bone china. The Vera Wang grosgrain pattern by Waterford Wedgwood, for instance, is wonderful, because it's the strongest stuff there is in the dinnerware category, and it is sure to become a family heirloom. For crystal, I recommend registering for two patterns, one for everyday, like grilling or hanging out with friends, and another more dressed-up pattern for special occasions like Friday night. For a luxury bar, I insist on Waterford's Lismore pattern. It's what I have at home. I think everyone should live a crystal life!
HWB: What should a couple bring with them when they meet with a registry consultant in-store?
JP: Meeting with a bridal consult, bring your groom and let him register for the category he loves, like bar or small electronics. His opinion counts too. And definitely bring tear sheets of home decor and style ideas. It's also important that you bring an open mind, since a consultant can help in figuring out what's best for you.
HWB: Any registry pitfalls or common mistakes a couple should avoid?
JP: Don't take too many people to your registry appointment. This way, you'll avoid too many opinions. Another common mistake is not registering for enough. My magic number is service for 12 in all pieces you'll use most, such as dinnerware, stemware and flatware.
HWB: The last word on registering right?
JP: This is the only time in your life that everyone around you is buying you gifts, so register for the good stuff! Look at it as your opportunity to collect jewelry for your new home: candlesticks, vases, bowls, frames, decorative accessories, etc.
In general, always register for quality brands with enduring style, and you'll never go wrong!
HWB: Thank you so much, Jorge…for the awesome advice, and for the stunning Waterford Mondavi Crystal Wineglasses. We can't WAIT to give them away!