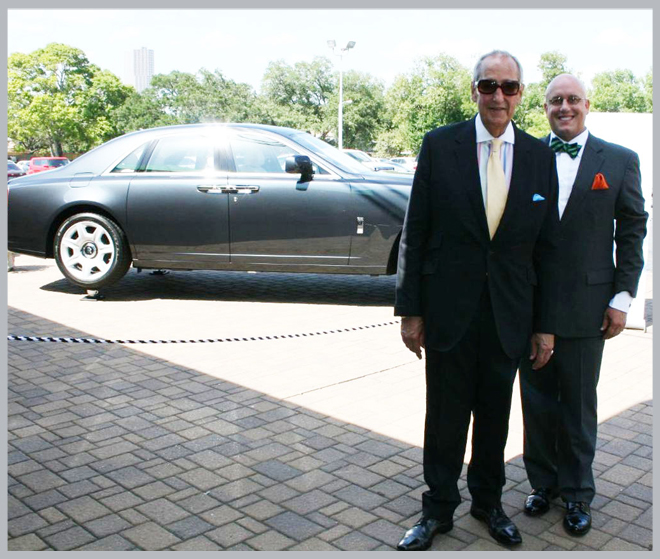 If you happened to pop over to Bering's on Friday or Saturday, June 18-19, you no doubt caught a glimpse of the future of fine china and crystal. For two gleaming, glittering, gorgeous days, Houston's emporium of elegance hosted Lord Wedgwood, of the famed British china dynasty, accompanied by Waterford Wedgwood international spokesperson and arbiter of entertaining excellence Jorge Perez. Big thanks to Bering's for pairing with Rolls-Royce to bring this terrific twosome to Houston!
For those of you who weren't able to attend, we snagged an exclusive chat with Perez and Lord Wedgwood, who dished on serving platters, teapots and such, and told us why today's tabletop registry is all about breaking free of the "china prison" (Perez's cute term for grandma's hands-off china hutch). Here's what we learned:
Lord Wedgwood: Registering for your wedding is not just saying something looks pretty. Yes, it looks pretty, but you should also be able to say, "Wow, we can use it for this and this and this." Wedgwood has been at this game for 250-plus years, and the reason we're still in business is based on the legacy of a number of things. One of them is quality. And quality absolutely illustrates that this is something that can be used multiple ways for time immemorial.
Jorge Perez: There is nothing like a Houston bride. These are world-class brides. They've had great parenting, and this region of the country is one that still entertains with style. It's in their blood. We also know that with brides today, they have so much going on in their lives. Registering is a point in time when a bride stops and takes time to think about the future. We may not be the sexy part of wedding planning, like the cake or the venue. But we are about life after the wedding. We're here to inspire a bride to think about why she might need a teacup. It's not just for tea. A tea cup can be used for tapas, spicy sauces, holding flowers or serving soup in. We're here to give brides permission to use these things in many different ways, so you can use that china that your parents or grandparents left in the hutch too long. Get it out of that "china prison!"
Lord Wedgwood: Entertaining is all about creating atmosphere and ambiance. In so many instances, that is so critical to the whole experience. Even the food can be relatively mediocre, as long as you've created the right ambiance with lighting, flowers and the right kind of accessories. It just requires a little bit of thought. And if you have put that thought into your registry, then you're able to draw from the things that are there.
Jorge Perez: And that ambiance we're talking about really begins at curbside. That's where your guests should start feeling this incredible evening coming on. And that table, make sure it's real for you. Don't set your table for a photo shoot, set it for the purpose of evening. And remember, there are no rules. We just want you to enjoy yourself. Do, though, try to keep the centerpieces low, and the candles and flowers fragrance-free. Also, one of the things we love to advise at Waterford Wedgwood is always do something unexpected. Guests might not remember the meal, but they will remember the experience. So turn that Waterford glass upside down and use it for a votive. Pour the soup out of a coffeepot into a cup and saucer. Your guests will remember that forever. It's really all about doing simple things in a fabulous way.
Jorge Perez will return to the Houston Wedding Blog to offer his top registry tips in just a few weeks. Trust us, you won't want to make your list till you check this post…twice. We'll announce it on Facebook and Twitter when we post, so stay tuned!
For a full gallery of event photos, visit Bering's bridal blog