Having begun sewing at the age of 15, Minerva Wooldridge quickly moved on to creating custom wedding gowns from hand-selected materials and exquisite embellishments, eventually founding her own Houston atelier, MW Couture. She is known throughout Houston and the U.S. as an alterations expert and designer of heirloom-quality special-occasion garments, who follows a strict set of rules to ensure that every bride leaves her store with the perfect fit. "My goal is to put my quality on display all the time," she says. "You don't take your dress from here unless you are 100 percent happy and satisfied." We talked with Wooldridge about her rigorous regimen, known to her and her staff as "The Eight Commandments."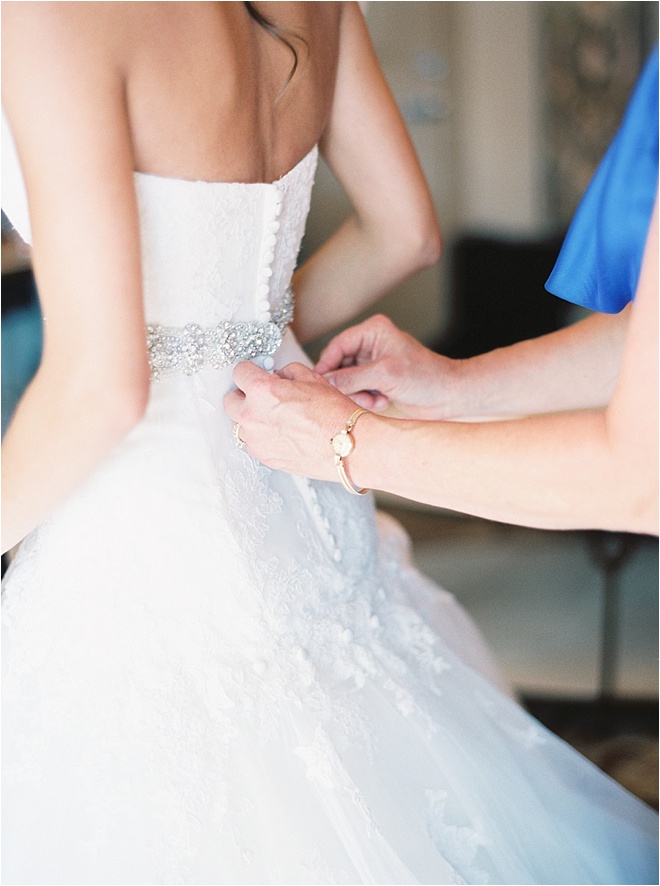 Gown Alterations: MW Couture | Wedding Gown: Brickhouse Bridal | Photography: Ever & Anon Photography
1. The First Fitting — Wooldridge and her team strive to create the most welcoming and comfortable environment possible for the clients who have entrusted MW Couture with their wedding-day look. One way she does this is by reminding brides from the very first phone call to bring their slip, bra and shoes to their first fitting, so she and her team can get the entire look right from the get-go.
2. Dress With Care — Wooldridge also dresses the bride herself, paying special attention to every detail of the dress. She says that this helps her client feel more confident, as she expertly sets the gown to each bride's body.
3. Find the Vibe — "Sometimes having the bride describe her wedding is like looking into a crystal ball. It lets me know her personality," Wooldridge says. By hearing more about the event, Wooldridge can determine if she should go more romantic, modern or elegant with the design and fitting.
4. Listen and Answer — "The first time the bride comes in she might be very emotional," Wooldridge says. She and her team listen intently to make sure they don't miss any key elements the bride might mention, and that they answer all questions and address all concerns with confidence and empathy.
Gown Alterations: MW Couture | Wedding Gown: Brickhouse Bridal | Photography: Ever & Anon Photography
5. Talk It Out — Once alterations are underway, Wooldridge and her team go into great detail to explain all changes that have been made to the dress and offer any further ideas they might have, leaving the floor open for the bride to ask questions of her own. "Everything has a solution," Wooldridge says. "I am trying to find the best solution, so she can have a dress that is both personal and unique."
6. Right On Time — The team at MW Couture is always conscious of brides' timeframes and takes pride in making achievable alterations within acceptable pickup dates.
7. Quality, Quality, Quality — Wooldridge insists that all alterations at MW Couture are "equal to or better than the original construction of the dress." We can vouch for that!
8. Conclude with Gratitude — Lastly, Wooldridge thanks the bride for trusting the family at MW Couture with the most important garment for the most important day of her life! She wishes all wedding couples luck and a lifetime of memories.
Alterations: MW Couture | Gown: Lillian West from Whittington Bridal | Photo: Brad Adcock Photography
There are few experts in the wedding business as professional and caring as Minerva Wooldridge and the team at MW Couture! Want to get your perfect fit? Schedule a consultation with MW Couture today!