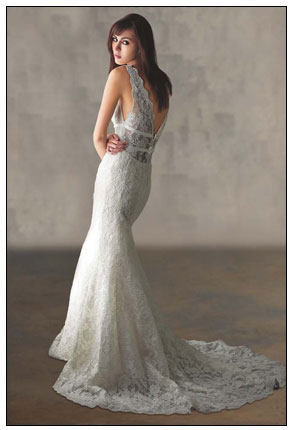 Tiny tubes of moisturizer, itsy bitsy fragrance vials, bite-size bits of anything yummy—we love us some samples. Especially when the sample in question is a designer wedding gown. How about more than 100 designer gowns? From top bridal design houses like Amsale, Rivini, Kenneth Pool, Liancarlo and more?? That's what you'll find when Mia Bridal Couture hosts its sensational off-the-rack sample sale this Sunday from noon-4 p.m. Please note that dresses pictured above represent designers that will be featured at the sale, but not the exact gowns that will be featured.
No appointments, early arrival is strongly encouraged, here's what to expect: Mia has five dressing rooms, so the salon will allow five brides (with an entourage of up to three guests each) into the store at a time. During your time in the store you can choose four dresses to try on. Once you decide on a dress, a very helpful and gracious Mia staffer will have you pay for your dress in full (at a discount of 50-75% off!!) hand you a list of alteration and cleaning specialists, and send you on your soon-to-be-married way.
A few tips when buying your wedding dress off the rack, courtesy of Mia's Lisa Toenjes:
If a dress is too small, you can have your seamstress change it to a lace-up.
A dress can be taken in approximately three sizes before you lose the look of the dress.
Remember to bring a strapless bra, your favorite heels (or shoes of the same heel height you plan to wear for your wedding), your friends, a camera and lots of excitement!
Good luck, gown shoppers. And remember, patience and manners, girls. It's just plain good wedding karma!