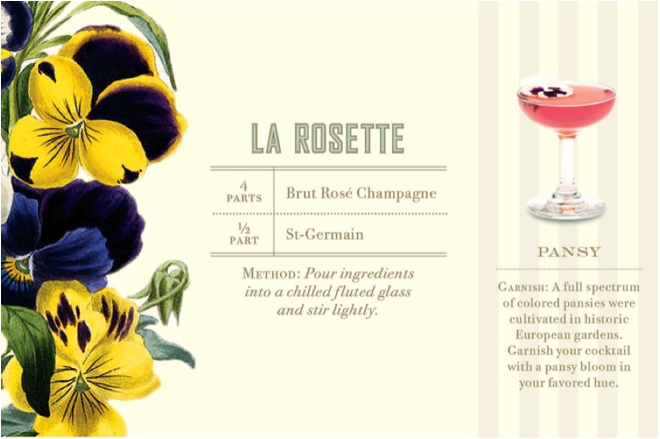 Photo: St. Germain
OK, this one goes out to our esteemed publisher Radhika Day, who just happens to be a major St. Germain fan—and with good reason. The classic French elderflower liqueur, made from gently macerating hand-picked blossoms that bloom briefly each spring, is ineffably subtle and delicious. Trying to describe it, according to the famous French artisanal liqueur-maker, is like "asking a hummingbird to describe the flavor of its favorite nectar." Which we would never do. We'll simply say that St. Germain is more or less the flavor of romance—which makes it perfect for wedding-day cocktails.
Our favorite is La Rosette, a simple combination of 4 parts Brut Rosé Champagne to ¼ part St. Germain, served in a chilled flute and garnished with a pansy, rose petal or delicate orchid. Parfait! Non?
For more delicious and incredibly pretty St. Germain wedding cocktails, sip—er, click—here!