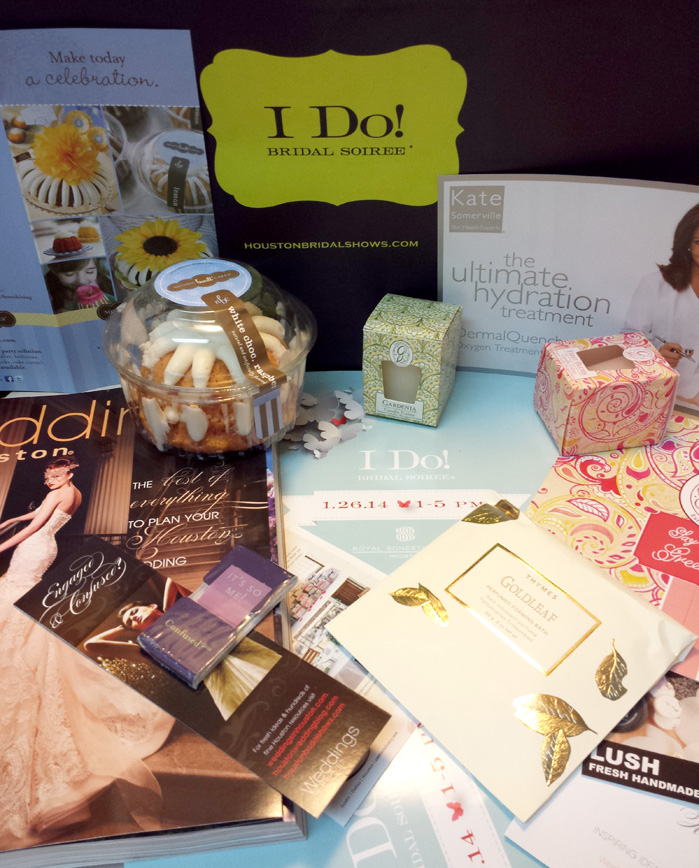 We at Weddings in Houston firmly believe that take-home treats shouldn't be just for wedding guests. That's why we put so much love—and LOTS of good stuff—into our exclusive I Do! Bridal Soiree swag bags! We want to thank the exceptional brands and vendors who contributed gifts and goodies to the swag bags our brides took home from the fabulous I Do! Bridal Soiree at the Royal Sonesta Hotel Houston on Sunday, Jan. 26.
Greenleaf Gifts
Not only did Greenleaf's First Blush and Gardenia Fragrance Votives have us totally swooning with delight over their soft, romantic scents, but their packaging was pretty much perfection. Love the idea of these for visiting guests' hotel rooms, amenity baskets, and reception powder rooms and dressing rooms. Don't you? #weddingfavor #guestroomamenity #homefragrance #bridesmaidgift
Thymes
Infused with jasmine, rose, hyacinth, lily of the valley and other divine floral fragrances, Thymes' Goldleaf Foaming Bath Powder is our new favorite soak-time ritual. Did we mention it leaves our skin feeling like silk and smelling like Heaven après-bath? #bridesmaidgift #spabasket #bathandbody #fragrance
Kate Somerville
When the amazing Kate Somerville offers to treat you to a skincare treatment, you'd best take her up on it. I Do! Brides: Make sure to schedule your complimentary Kate Somerville DermaQuench Treatment at Neiman Marcus…TODAY! #bridalbeauty #bridesmaidbeauty #skincare #ideserveit
Nothing Bundt Cakes
So. Freakin.' Delicious. Once you take one bite of a Nothing Bundt Cakes Red Velvet, White-Chocolate Raspberry, Chocolate or Lemon cake, drizzled and basically filled with decadent frosting, you're a fan for life. And they make wedding cakes, too! #bundtcake #weddingcake #desserttable #ideserveit
Tiff's Treats
Cookies make us happy. So we kinda figured they'd make y'all happy, too. And Tiff's Treats knows how to make a cookie that'd make anyone happy. 'Nuff said. ENJOY!
#weddingfavors #cookies #desserttable #coupon
Last but most definitely not least, we'd like to give a big ol' Weddings in Houston shout out to Save-On Crafts for the gorgeous romance-red Sola Flowers adorning our I Do! Bridal Soiree "Bride" name tags. These natural-tapioca-fiber flowers aren't just beautiful, they're versatile, eco-friendly and absolutely awesome for DIY wedding decor, favor packages and other fun stuff. Check 'em out!