Photo: Sylvie Gil
Northern California's Napa and Sonoma valleys both top the destination wish lists of countless to-be-wed couples in Houston, and, indeed, all over the world. One of the region's premier event planning firms, Cole Drake Events has a deep knowledge of the area and its wedding choices, and with her genetically determined passion for parties—her mother is an event-industry icon who plans major bashes for nonprofits and California cities—co-founder Stephanie Cole spends each working day guiding wedding couples through the hills and valleys of wine-country wedding planning. Here, she offers a bit of that renowned Cole Drake know-how to Houston to-be-weds—one of her most beloved destination demographics: "They're always so much fun to work with!"
Photo: Briana Marie Photography
Weddings in Houston: How important are Texas-based couples to the region's wedding scene—and why do you think Napa-Sonoma is such a strong draw for Texas to-be-weds?
Stephanie Cole: Every year it seems to be that about half our wedding business comes from Texas. Napa-Sonoma has it all in my opinion: picturesque scenery, world-renowned cuisine, marvelous mixology programs, amazing wines and perfect weather (meaning no humidity, y'all). It's easy to see why it's such a strong draw as a destination wedding location!
WIH: What's the best way for a Houston couple to get a feel for the region before planning their wine-country destination wedding?
SC: The best way to get a feel for the region is to come out here…come on, I'll twist your arm to come taste wine, eat amazing food and enjoy the beautiful weather! Once a couple has made the decision to get married in wine country, the most important thing to do is find and book a local wedding planner. They can listen to what you want in the area and offer suggestions for wedding venues. They can eliminate a lot of research for you, and, if they're good, they'll know all of the right people to contact to check availability.
Some couples only want Napa County—I mean, I am a Napa local, so I get it. But Sonoma County has a ton of hidden gems too. Healdsburg and Sonoma are postcard-worthy towns that are underrated due to Napa's huge name recognition.
In Napa County, Yountville, Rutherford, St. Helena and Calistoga are my favorite towns, and can all be considered wine country chic.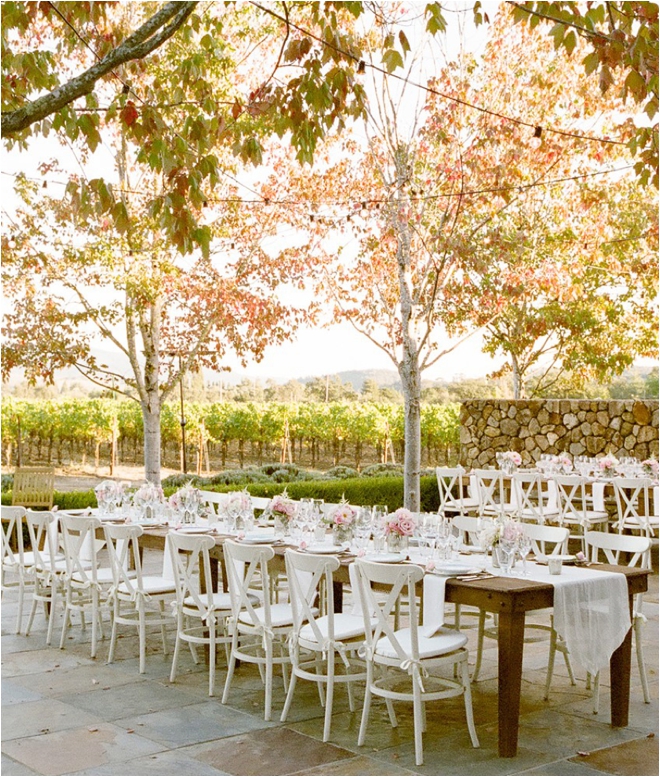 Photo: Aaron Delesie
WIH: What local activities or attractions should be part of a fabulous wine-country destination-wedding weekend?
SC: Wine tasting (duh) cannot be missed. One of my favorite activities for a wedding group is to have them blend their own wine! There are several wineries that offer this unique option, where guests are teamed up—we randomly pick teams by numbering off—and given specific assignments. The team creates their own wine blend together (imagine beaker, goggles and lab coat), while individually each member is responsible for other tasks (label creation, marketing strategy, financials, etc.).
After corking the wine and presenting to the judges, an overall winner is decided. It's a great way to break the ice with people that may not have a chance to meet and mingle otherwise.
Croquet brunch at Meadowood Resort is another fantastic option. Guests dressed in all white—with fabulous sunglasses to hide the effects of the killer wedding the night before—can learn from Meadowood's resident croquet master the skills and rules of the game before letting loose! Coupled with a brunch buffet, including a Bloody Mary bar and/or a mimosa bar, it's one of the best ways to end your weekend celebration.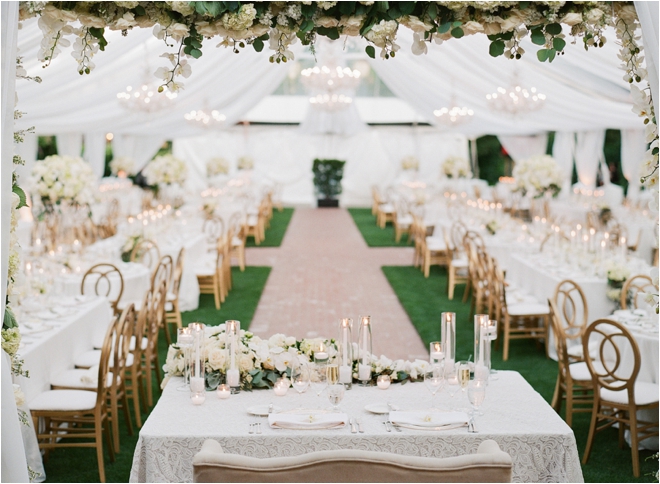 Photo: Sylvie Gil
WIH: On the culinary side, what can couples expect from local dining options?
SC: Napa County certainly boasts world-renowned cuisine. We have the Restaurant at Meadowood (with three Michelin stars), the French Laundry in Yountville (with three Michelin stars), and countless one-Michelin-star-rated restaurants. Fun fact: Yountville itself claims the most Michelin stars per capita of anywhere in North America.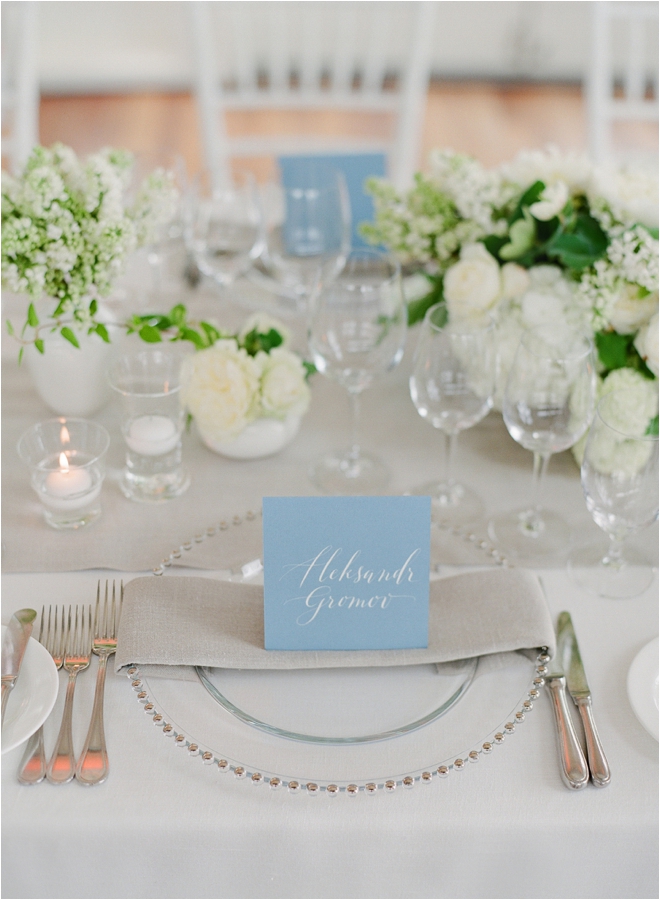 Photo: Jose Villa
WIH: How can a Houston couple bring wine, and wine culture, into their Napa-Sonoma destination wedding?
SC: If a couple is in love with wine, food and wine pairings or tasting menus are the best ways to showcase it. We work with some of the best sommeliers and chefs in the area and can have them pair wines with cuisine for wedding couples and their guests.
For the wedding, small touches of wine country are definitely noticed. Utilization of barrels (don't worry, we have a lot of them), personalized signs printed on cork, and finished wood farm tables with fashionable wine country chairs scream wine country chic.
Photo: Sylvie Gil
WIH: What advice do you have for couples who are considering a Northern California wine-country destination wedding…but may be hesitant about bucking the tradition of a big Texas nuptial bash?
SC: For my Texas clients, it generally takes them one trip to wine country as a couple (often during their courtship, or as the site of the proposal) to fall in love with the place. After they get engaged and think about their future wedding, they immediately think again of this beautiful place.
The most common concern is distance—but that's where a planner makes it so easy. A wedding planner who is based in Napa or Sonoma knows the area, knows the key partners and knows what to expect. Your planner can offer suggestions to you (think about her as your matchmaker for your wedding dreams) and can even help you save money (and avert disasters). Simply put, planners are trained to eliminate the stress and to make your wedding vision come to fruition.
Finally, more often than not, we hear our clients lamenting that if they were to have a wedding in Texas, it would be a 300-to-400-person affair, which can be overwhelming. Here in wine country, our Texas-based wedding groups usually range in the 120-to-150-guest mark.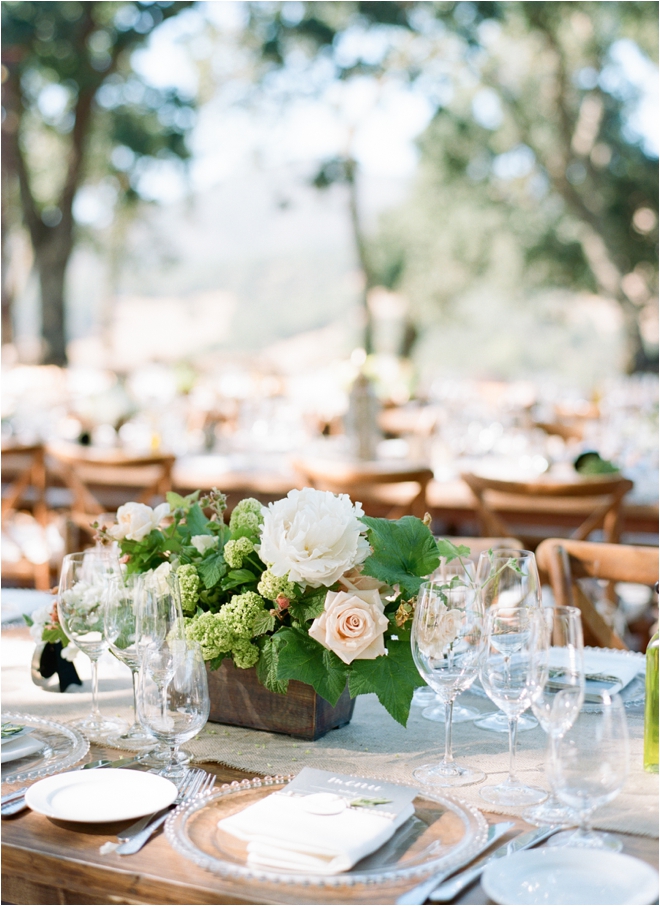 Photo: Sylvie Gil
WIH: We know that Texas couples are awesome…so tell us, why do you love Lone-Star-state lovebirds so much?
Year after year, Texas couples are seriously some of my favorite couples, and often become personal friends after the wedding. They always have a vision of what they want for their destination wedding, but they also have an open mind for new ideas and cost-saving suggestions. Plus, they are the sweetest and most thoughtful couples I have ever met!
Photo: Sylvie Gil