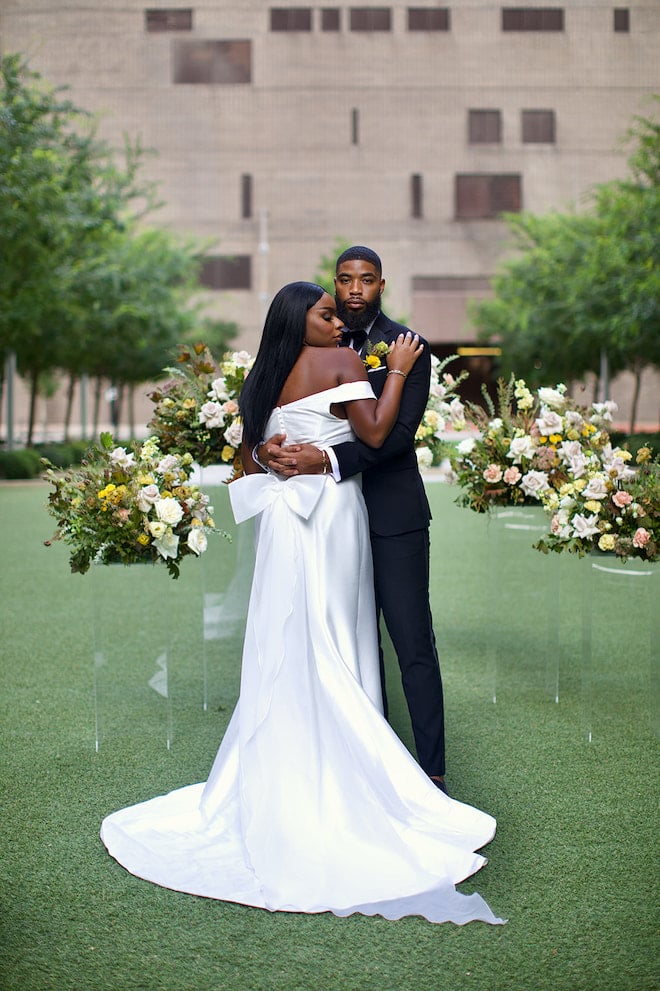 With the C. Baldwin Hotel as the setting, this modern minimalist wedding editorial by Painted Peacock Photography finds magic in the simple things.
The luxurious C. Baldwin Hotel was the muse for this editorial. Rebekah from Hopeful Events and Design took inspiration from C. Baldwin's textured walls, modern light fixtures and greenery. Rebekah says walking into the C. Baldwin feels like being transported to California, which is how she landed on the modern minimalist theme for the styled shoot. "C. Baldwin Hotel has such a vibe! From the lounge area, the open-spaced bar, outdoor seating and especially their hideaway bar. With so much beauty around you, you forget you are actually at a hotel in Texas. Any spot can be a photo op. It's stunning all on its own," says Rebekah.
Sunny yellow, blush and white were the perfect colors to make a statement while still complimenting C. Baldwin's modern ambiance. Pompom Florists and Decor by Dulce designed an outdoor tablescape dripping in yellow and blush florals. The decadent two-tiered white wedding cake by Common Bond Bistro and Bakery matched the tablescape with flowers from Pompom Florists placed throughout the cake and as the topper.
After Athena's Brides finished the bride's flawless glam, Heirlum Hangers had the sophisticated gowns waiting, hung up on a customized embroidered hanger. The Bride modeled two Belle Ame Bridal satin gowns, each flowing perfectly with the modern minimalist wedding theme. Privosa Fine Jewelry completed the look with an intricate necklace, the bride's square-cut diamond ring, and the groom's bracelets and gold wedding band.
From the luxe hideaway bar that feels like you're stepping back in time to the tablescape and the gorgeous alfresco ceremony, Painted Peacock Photography and videographer Cinematic Saviors had a dream location to capture the styled shoot's modern minimalist theme perfectly. "What a pleasure it was to collaborate with this amazing team of creative minds. Tucked away among a lively downtown Houston, the luxurious C. Baldwin Hotel provided a dramatic and timeless main character in our story- reminiscent of a bygone era where dreams come to life. Our yellowy-apricot florals mirrored the amber skies overhead to create a truly magical atmosphere for photos. We are forever honored to have experienced this day with such talented friends and the incredible Weddings in Houston team," says Ashley from Painted Peacock Photography.
Scroll on to dive deeper into this dreamy downtown editorial.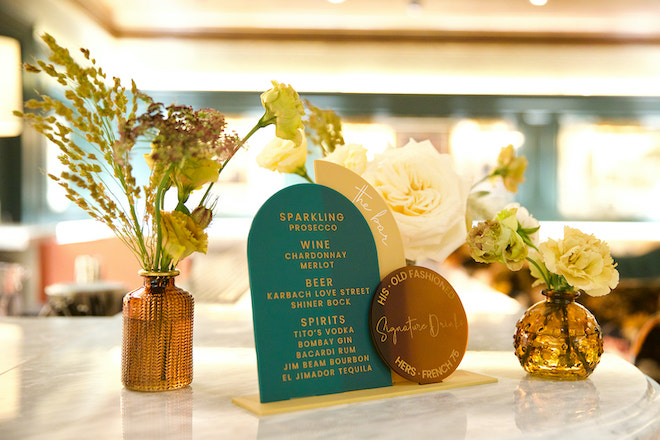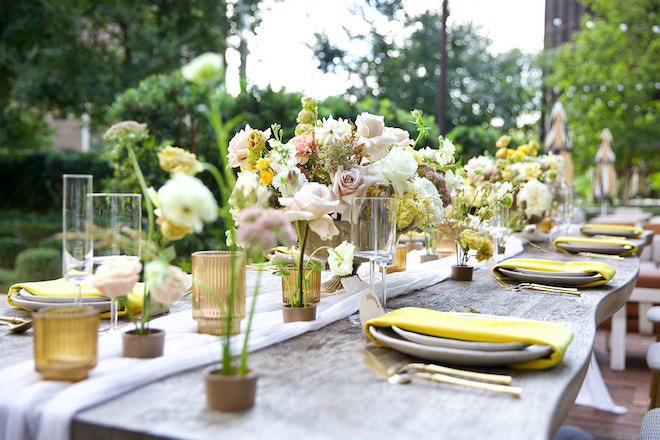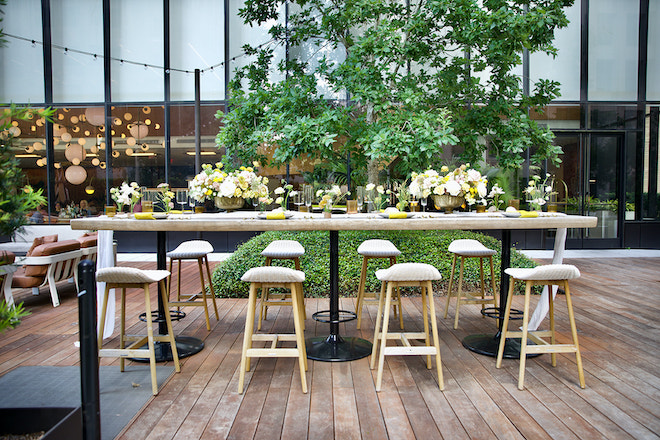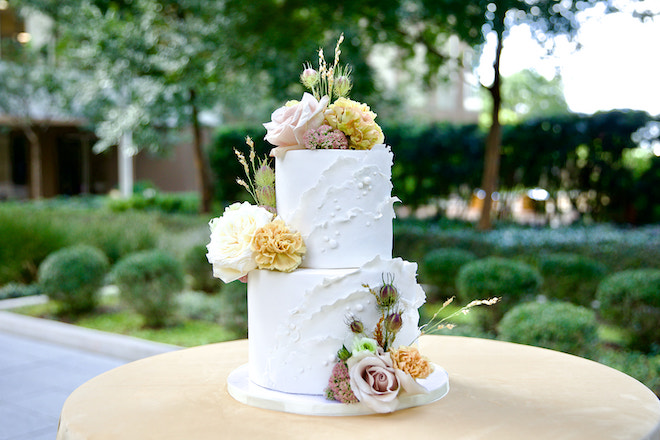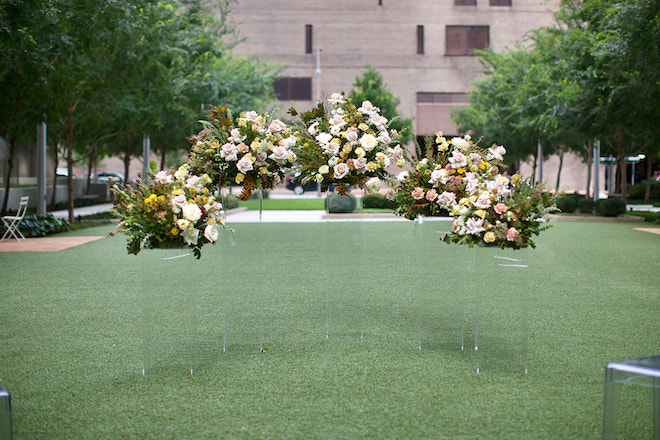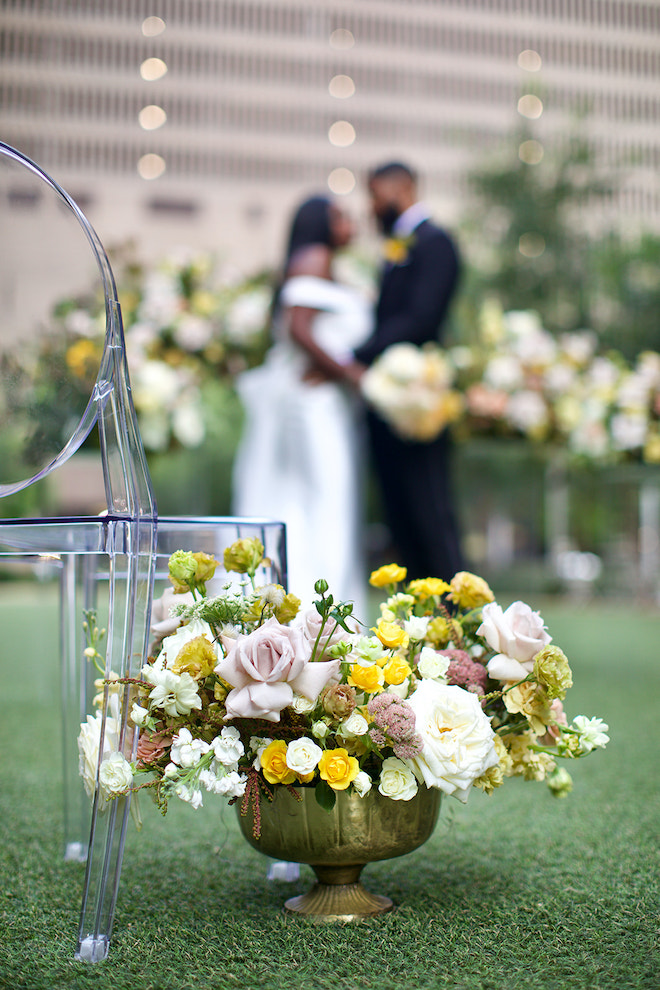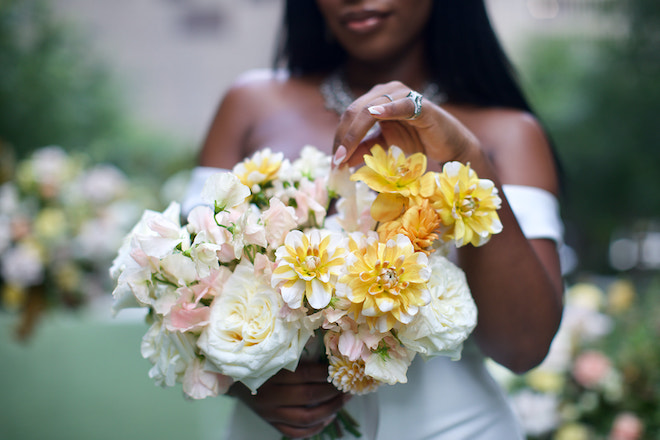 Contributor: Paper Goods /Acrylics: House of Hart