There's something so magical about downtown Houston. The city's impressive skyline, dazzling lights, and vibrant energy make it an ideal setting for the wedding of your dreams! With a robust and diverse culture, there's something for everyone downtown. From five-star luxury event space to grand ballrooms rich in history, you're sure to find an appealing backdrop for your special day without having to wander too far from home. Explore these top downtown wedding venues to find the perfect place to say "I do."
The Four Seasons' exceptional five-star customer service is what makes it a globally renowned luxury hospitality company, so from the very beginning of wedding planning, you know you can enjoy the process in a relaxing atmosphere. Welcome your guests with spectacular spa services, walk down a dreamy petal-strewn aisle, enjoy a delectable meal before dancing the night away to your favorite songs, and kickstart your honeymoon at the hotel's poolside oasis. No matter what you envision for your big day, weekend, or weeklong celebration, the Four Seasons Hotel Houston will bring your dreams to life. With several venue spaces, curated wedding packages, and wedding planning services, the Four Seasons makes it seamless to host a wedding of any size.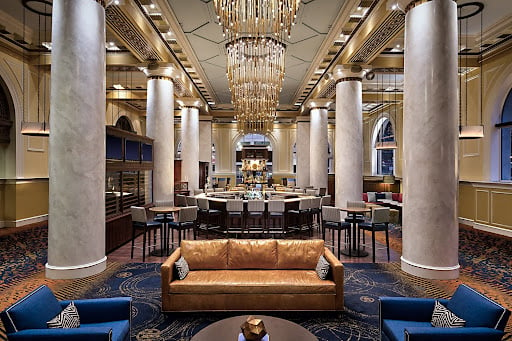 With architecture rich in Houston history, Hotel Icon has a unique and luxurious interior with a 1920's aesthetic with a modern Texas twist. This downtown hotel is housed in one of the nation's earliest skyscrapers and was originally the Union National Bank, making it truly "iconic." Let this hotel dazzle you with first-class service and grand spaces for rehearsal dinners, wedding ceremonies, receptions, and more! Hotel Icon's well-rounded hospitality makes the process of planning your dream wedding seamless and enjoyable. The 12-story highrise is conveniently in the heart of Houston and offers stunning skyline views, filling your guests with Houston pride in every detail.
Host an elegant, grand event or a romantic, intimate celebration at The Petroleum Club of Houston. You'll love the authentic metropolitan feel of this downtown wedding venue. The versatile atmosphere, surrounded by the Houston skyline, provides a perfect blank canvas, perfect for any wedding. The Petroleum Club's experienced staff will ensure that every detail is personalized, including a menu specifically for your wedding.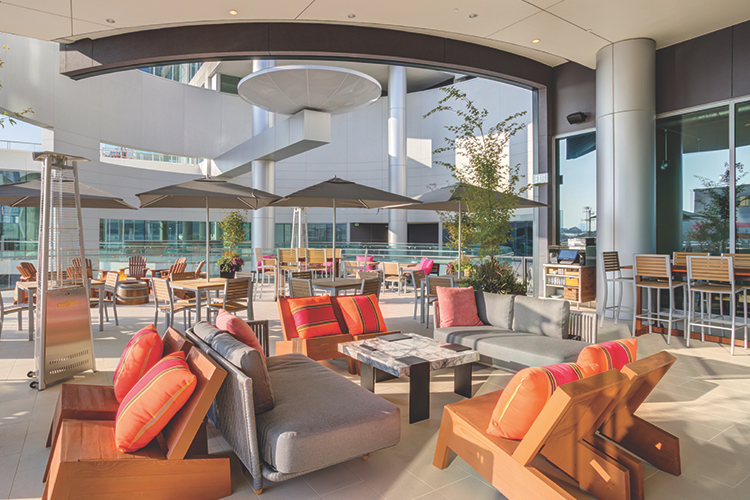 If you're looking to entertain your guests with unique and fun amenities, Pinstripes Houston is the place to be. This venue has a variety of entertainment, including a bowling alley, Bocce ball, a large outdoor patio and spacious rooms for any wedding, party or gathering. Not to mention, Pinstripes offers catering and has a menu full of several options for breakfast, lunch and dinner. You can also enjoy live music at the bar, which would make a great reception environment.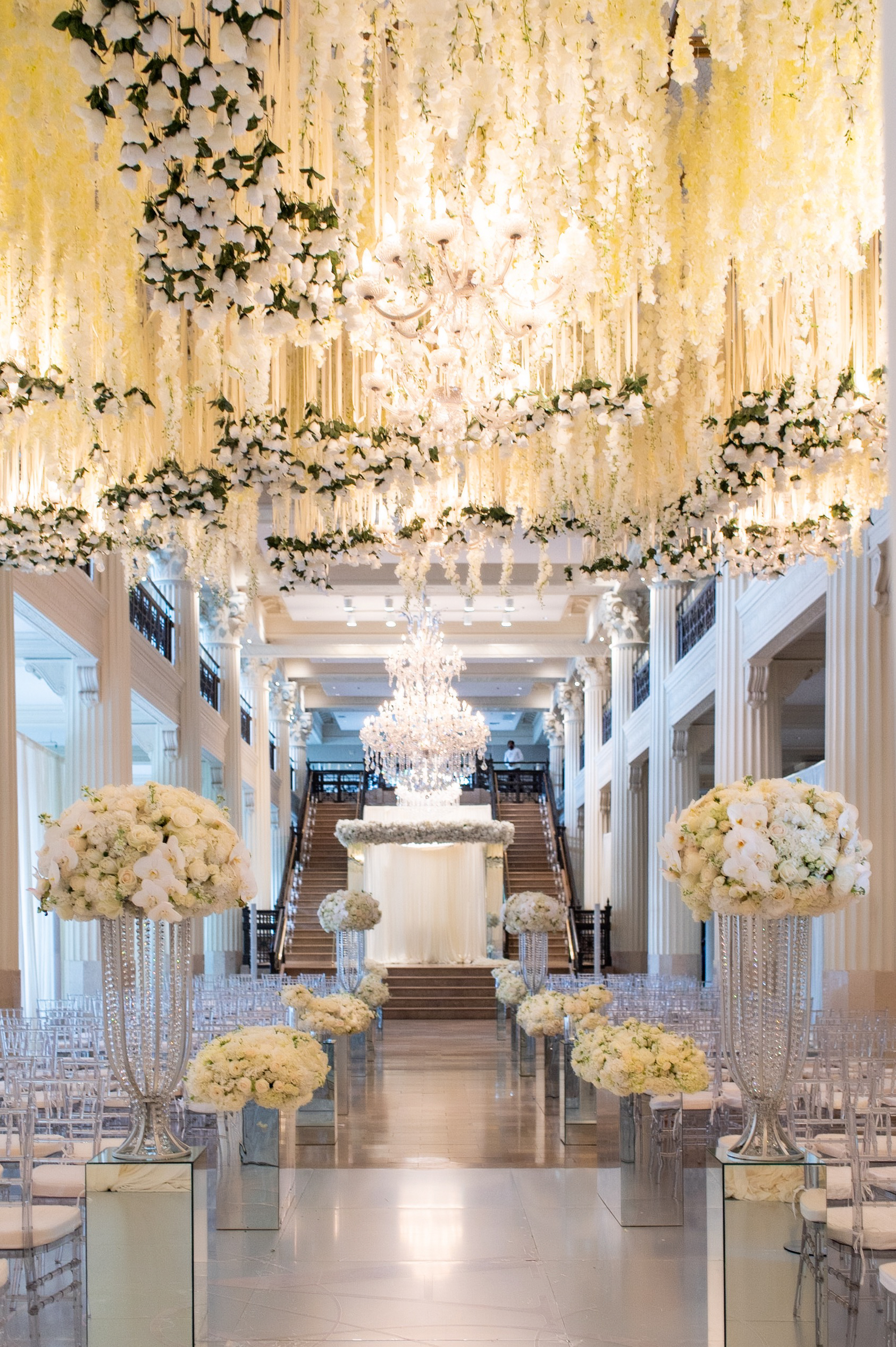 Initially completed in 1905 as Houston's First National Bank, a renovation transformed the historic and visually stunning building into the Corinthian Houston, a venue made for one-of-a-kind luxury weddings. Invite more than a thousand of your family and friends to your once-in-a-lifetime occasion. Enjoy the ceremony of your dreams at a sophisticated reception amid 24 towering white Corinthian columns in the picturesque Grand Hall. With its soaring ceilings and expansive grand, the Corinthian-Houston can accommodate them all, along with exquisite furnishings, lavish floral arrangements, and catering by one of several top Houston caterers.
The Whitehall Houston has been creating memories and hosting some of the city's most glamorous events since opening in 1963. Houston's first landmark hotel consistently ranks among Houston's premier wedding venues thanks to its distinctly stunning space and world-class dining. Although Whitehall has a rustic touch to its personality in the modern city lights that will bring you back to your Texas roots, so ultimately, you get the best of both worlds. This hotel has something for everyone, from extravagant weddings in the Bluebonnet Ballroom to micro-weddings in the Part & Parcel outdoor courtyard.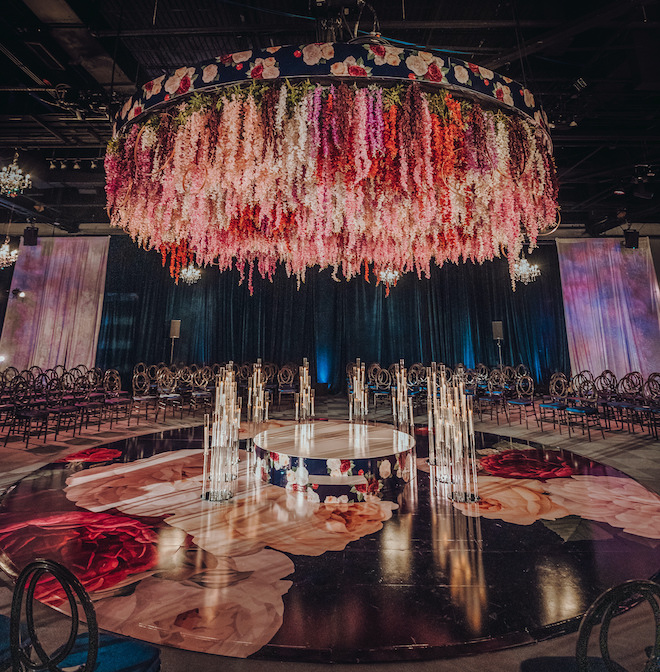 Known simply as "The Ballroom," this expansive contemporary event space in downtown Houston's Theater District boasts 15,000 square feet of contiguous event space, making it an ideal option for large weddings with an air of urban sophistication. The venue's covered balcony allows for outdoor cocktails and mingling, with the furnishings and amenities of a stylish indoor lounge, while its floor-to-ceiling windows, offering sweeping views of the city, give indoor events an expansive, airy feel. You'll want to check out this Downtown dazzler, where manager Craig Howard (formerly of Ritz Carlton hotels and Cirque du Soleil—you may have heard of them) and his team of pros will help you with everything you need to plan a gorgeous city wedding.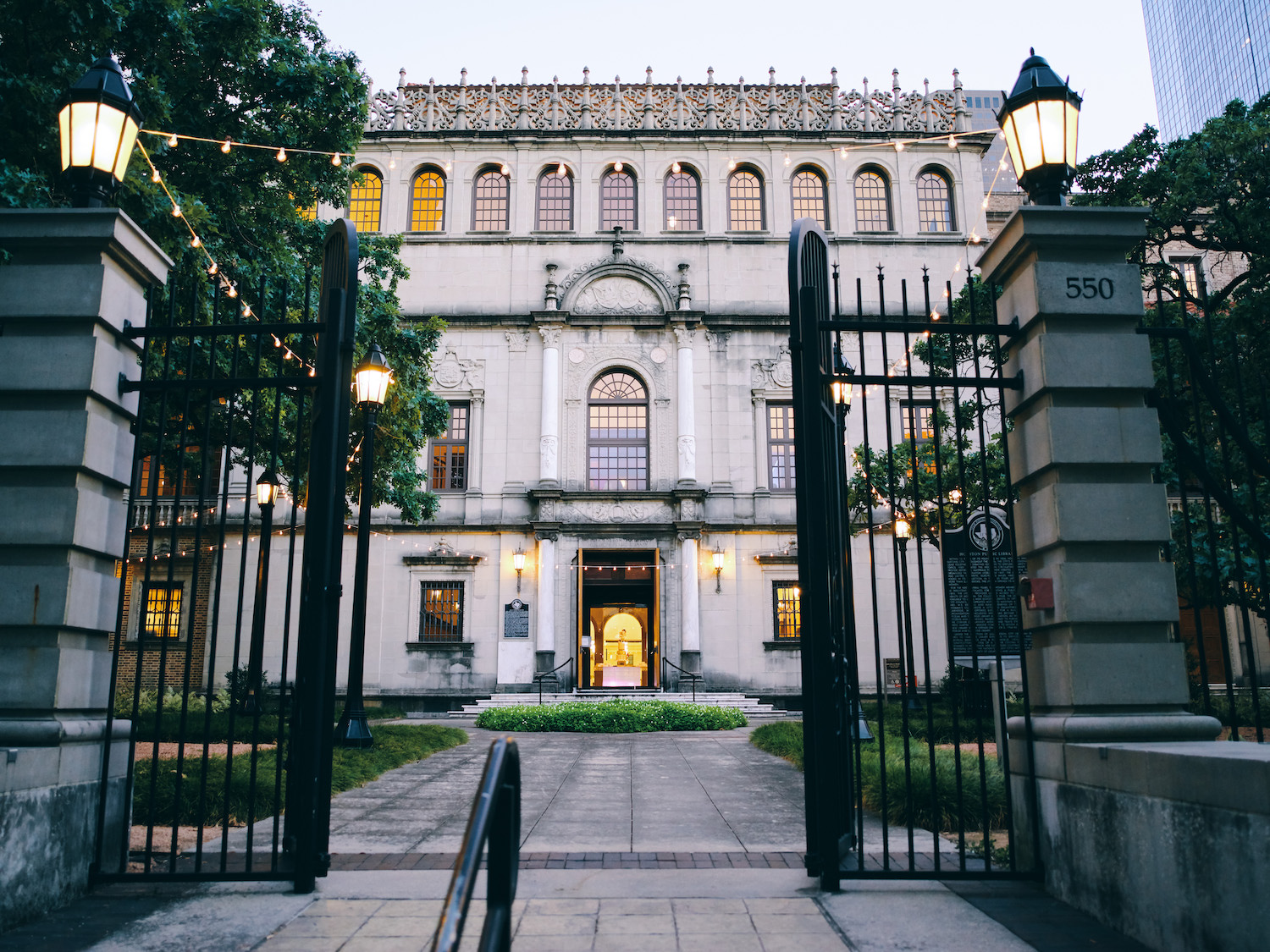 There is something magical about getting married surrounded by years of knowledge and legendary stories housed in thousands of books. The historic Julia Ideson Library has an enchanting charm with its old Spaniard architecture design and detailing. Celebrate your nuptials inside this stunning 1926 structure, and you'll get to dine, dance, laugh, talk and enjoy every moment of your once-in-a-lifetime event, surrounded by gleaming marble pillars beneath the garden of gilded wood flowers that wraps around the ceiling.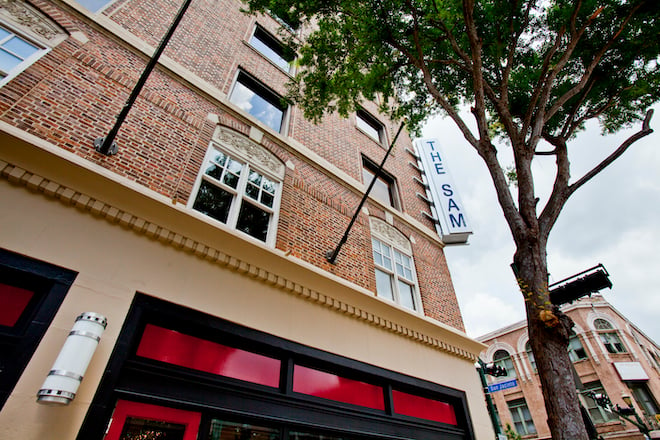 Vintage glamour meets modern elegance at The Sam Houston Hotel!  While this boutique hotel has been operating since 1924, its locally-inspired renovation in 2013 added remarkable indoor/outdoor wedding space and modernized the amenities while maintaining the hotel's vintage charm. The ornate Veranda Ballroom is an alluring open-air, climate-controlled venue with exposed brick and natural ivy with a garden-inspired charm you and up to 150 guests will adore.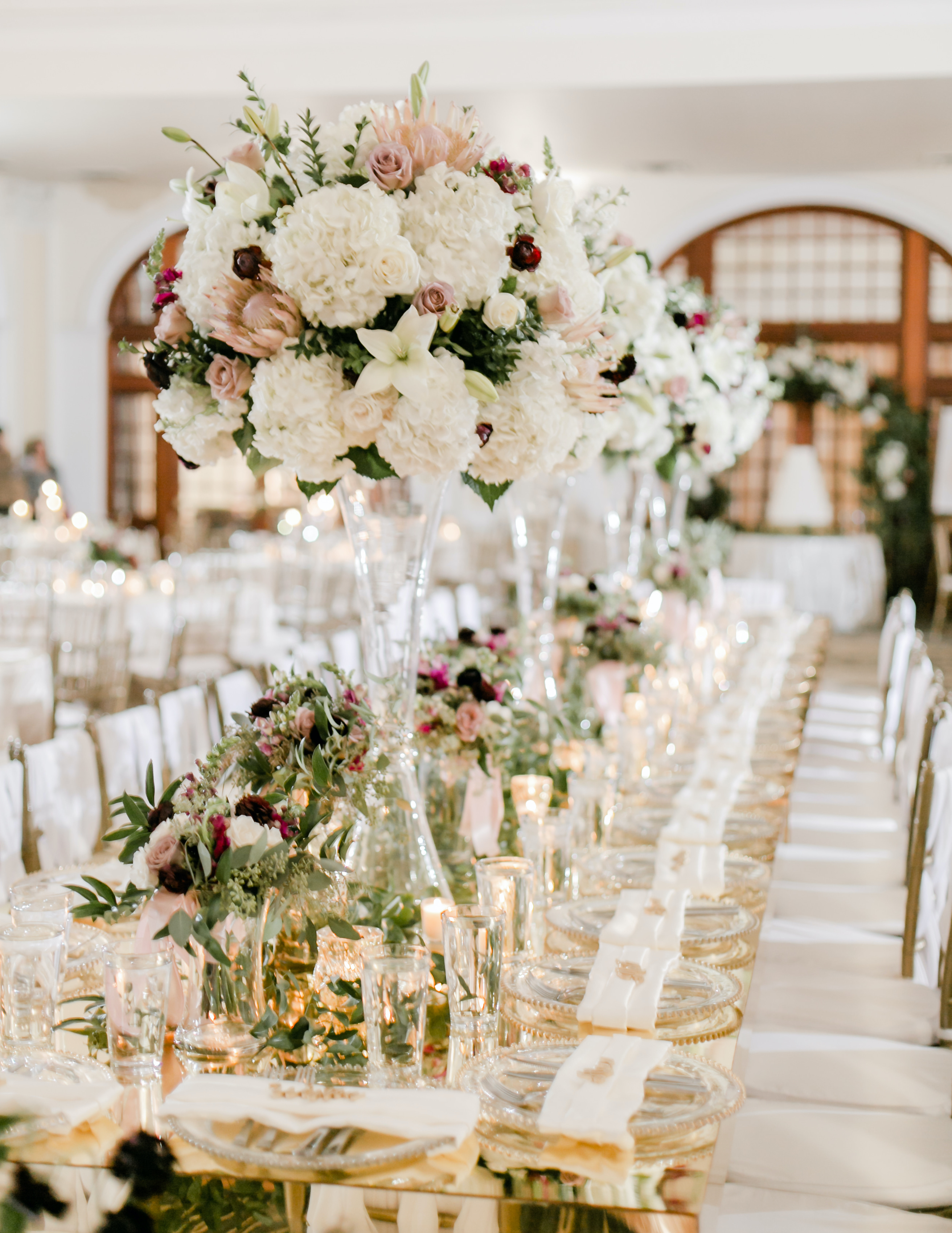 The Crystal Ballroom at the Rice has hosted celebrities, presidents, and local politicians alike over the years, and it's easy to see why! Once you step inside, the repeating arched windows, 35-foot-high ceilings, an outdoor wraparound terrace, and beautifully restored murals from 1913 truly take guests back to the turn of the 20th century. One can immediately imagine an opulent Art Deco-themed celebration or a classically elegant ceremony at this one-of-a-kind venue full of vintage glamour. The enormous ballroom can host up to 400 guests for a meal and plenty of space for a dance floor!
Named after the "Mother of Houston," Charlotte Baldwin, The C. Baldwin uniquely embodies Houston's allure. Conveniently connected to the Allen Center and Heritage Plaza, this chic venue places you within walking distance or a short drive from Houston's richest cultural attractions, such as Montrose, The Heights and Buffalo Bayou Park. The hotel also re-opened an in-house restaurant called "Rosalie," a modern space full of color and lush greenery that serves delectable Italian cuisine. Choose from C. Baldwin's customizable wedding packages that fit a range of budgets and host a memorable celebration in one of their two grand, blank-slate ballrooms.
A celebration on top of the world (or pretty darn close to it), with dazzling views of Houston's city skyline? If that sounds like your idea of wedding heaven, then Le Meridien may be the venue for you. First, make your wedding day unforgettable at Le Méridien Houston Downtown, with over 9,000 square feet of modern event space that's close to dining, nightlife, shopping, and even has a rooftop lounge boast 360-degrees of downtown Houston. Then, unwind after your big day in the hotel's sophisticated and romantic Wedding Suite.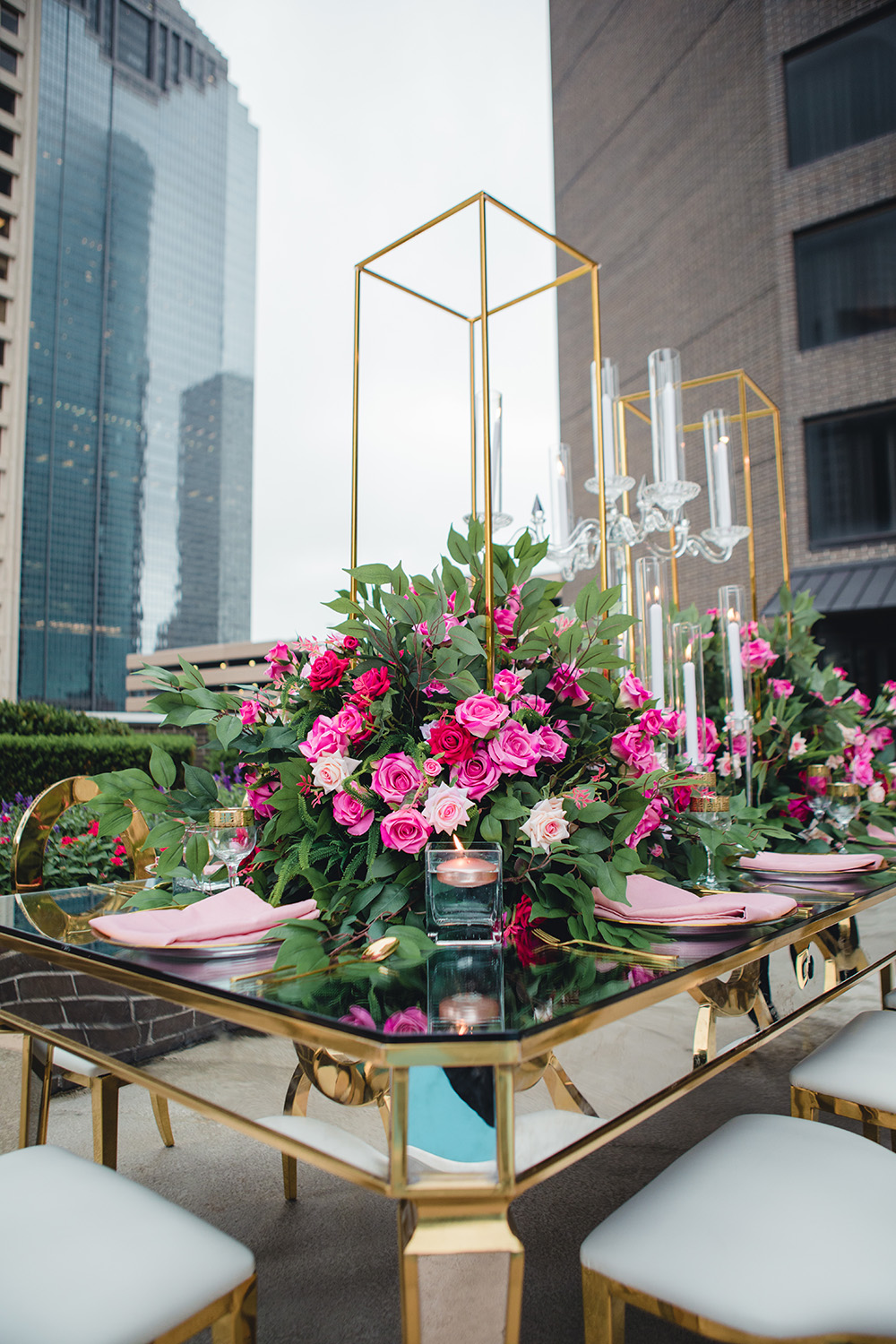 The Hyatt Regency Houston's vast event space has something for everyone, from intimate weddings with cocktails and hors d'oeuvres to all-out lavish affairs. The hotel recently underwent a $43 million renovation, creating richly decorated ballrooms and expansive room options. At the reception, let an award-winning catering team guide you in serving a wedding menu that will delight your guests. In addition, the full-service hotel and downtown wedding venue offer several on-site restaurants, which are perfect for bridal showers, rehearsal dinners, and farewell brunches with jaw-dropping views of the city.
With its elegant and urban event space and its much-lauded culinary expertise, The Houston Club is a fabulous location for classic weddings with a cosmopolitan edge. Located on the 49th floor of 910 Louisiana in the theater district, the venue features some of the most dazzling downtown Houston views. The Houston Club can accommodate many wedding events: intimate and extravagant, various cultures, military weddings, and more. And each step of the way, the Houston Club's private events team is ready to make your experience exceptional.
Click the venue links to book a tour with your favorite downtown wedding venues today! Are you looking for more wedding venue inspiration? Visit our wedding venues page to request more information.
Contributors: Photography: Dan Ham / Chris W Photo / Composure Studios / Civic Photos / MD Turner Photography / Mark Silverstein / Julie Soefer Photography / Clay Hayner Photography / Kat Creech Events