Next in our "Real Brides: Wedding Planning In Houston" series, we catch up with real Houston bride and blogger Esmeralda of Dessert for Brunch! Today, Esmeralda shares her bridesmaids proposal box ideas.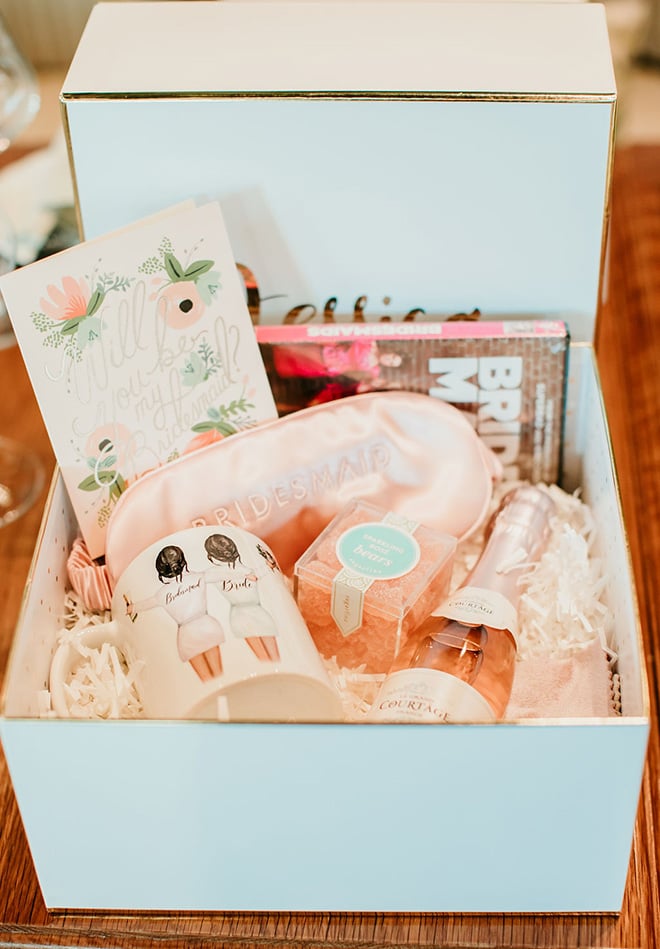 Out of all the tasks on my wedding planning to-do list, one I couldn't wait for was asking my bridesmaids. I truly admire the friendship and bond I have with each bridesmaid and I wanted to express this when asking them to stand next to me on such a memorable day.
Family and friendship are extremely important to me and I could not wait to spoil those closest to me with these customized bridesmaids proposal boxes. To create my "Will You Be My Bridesmaid?" proposal boxes, I chose items that could be personalized and loved by each girl and used from now until our wedding day… and beyond!
These bridesmaids proposal boxes were so much fun to create! I chose key items that any woman would appreciate. Here are my must-haves for a bridesmaid proposal: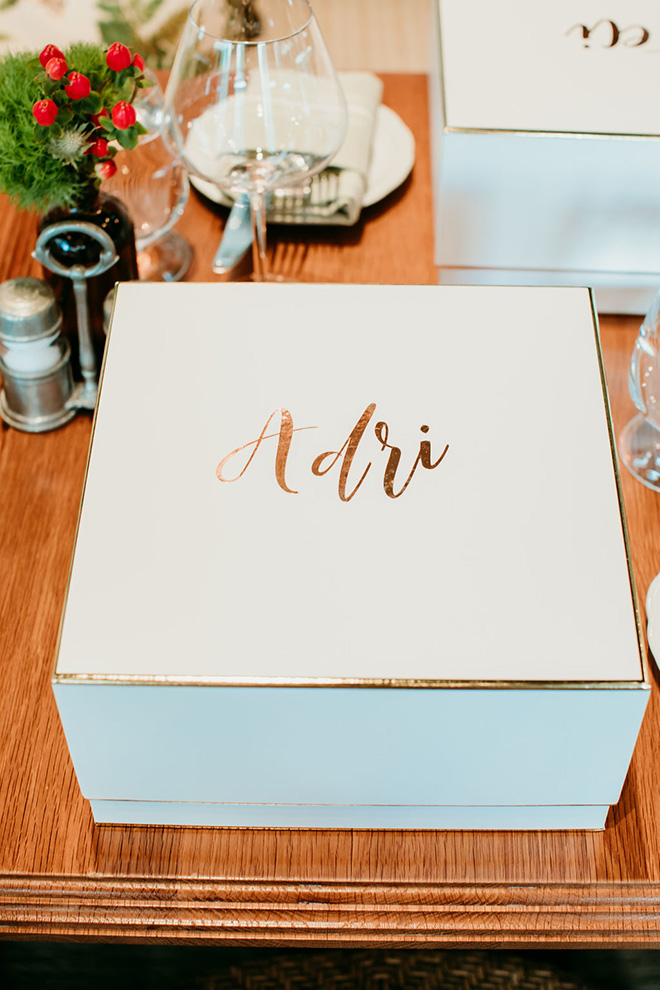 Personalized Gift Box
When creating a bridesmaid proposal box, I wanted to find a box that each girl could use for everyday, whether for storing photos or as a dressing table keepsake. I had a custom metallic rose gold decal made of each girl's name in calligraphy, to personalize each bridesmaids box. You can find a retailer on Etsy to order a similar decal design.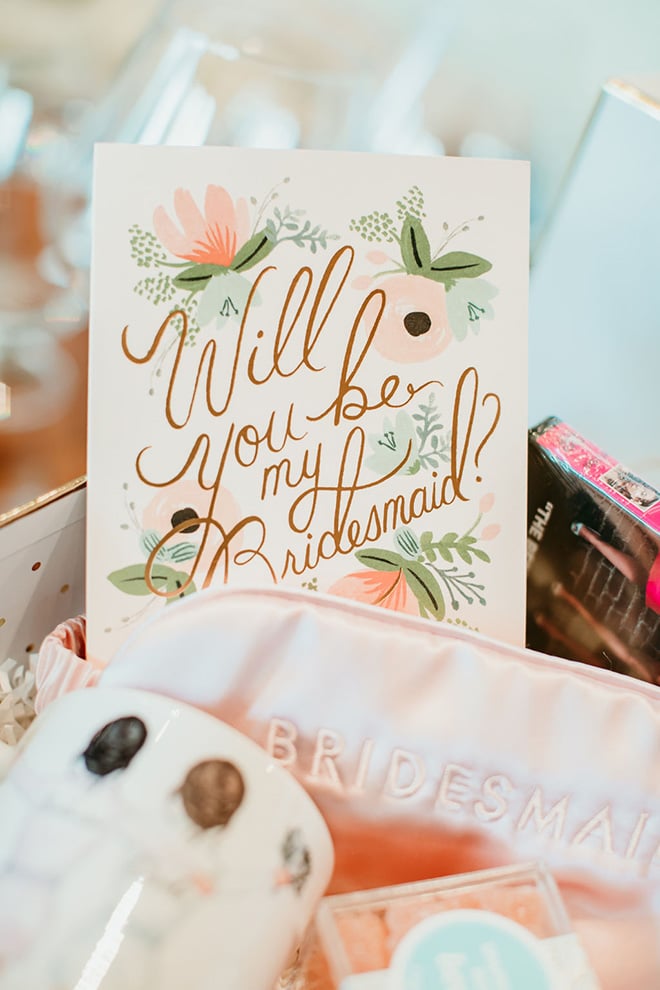 Will You Be My Bridesmaid Card
These pretty floral cards by Rifle Paper Co. are just stunning, and are pretty enough for my 'maids to keep. I chose a set of cards for my bridesmaids and an individual card for my maid of honor. Inside, I wrote something from the heart to each girl.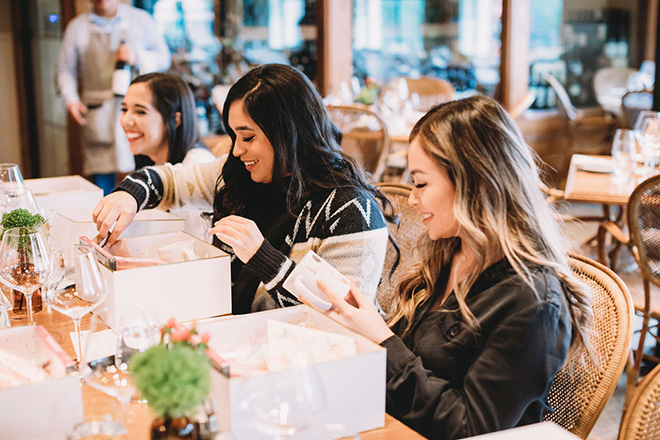 "Bridesmaid" Silk Sleep Mask
I knew I wanted to include these silk sleep masks by Slip in the bridesmaids box the minute I saw them. They're 100% pure silk, making them luxurious, plus they're a great treat to take along for the bachelorette trip, for some cute matching photo opps… and much-needed shut eye!
Bridesmaids Movie DVD
A hilarious modern classic about the ups and downs of true friendship, it's the perfect excuse for a girls' movie night with your bridal party.
Sparkling Rosé Gummy Bears
There was really no question of whether to add these grown-up gummy bears into the bridesmaids proposal box. It was an easy yes! None of the girls had tasted these before and they were a huge hit! I mean… who can say no to a gummy bear infused with rosé wine and dusted in tart sugar crystals? Plus, the cute packaging matched the gift boxes!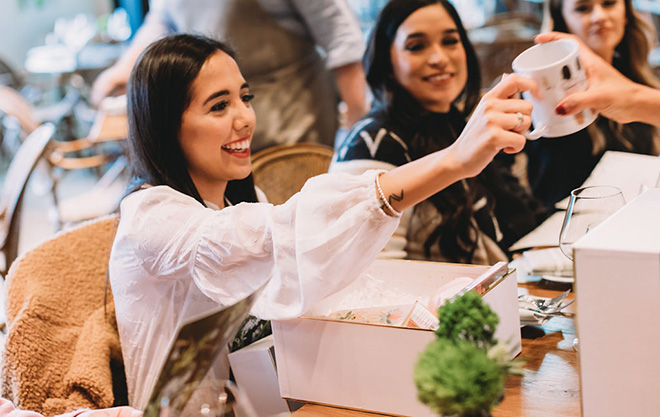 Customizable Bridesmaids Mug
This personalized bridesmaid's mug was definitely my favorite gift out of them all! I customized the artwork to look like me and my 'maids. Plus, you can add a quote, tag line, hashtag or inside joke to the back of the mug. I chose "Bridesmaid for a day, friend for life." Such a sweet and sentimental keepsake for each of my special bridesmaids!
Bottle of Bubbly
I think it's important to not just celebrate my engagement, but to also celebrate having my favorite girls saying YES to standing by my side. I finished off each bridesmaid's proposal box with a pretty bottle of sparkling French rosé, of course, because nothing screams "Celebrate!" like popping open a bottle of our favorite go-to wine!