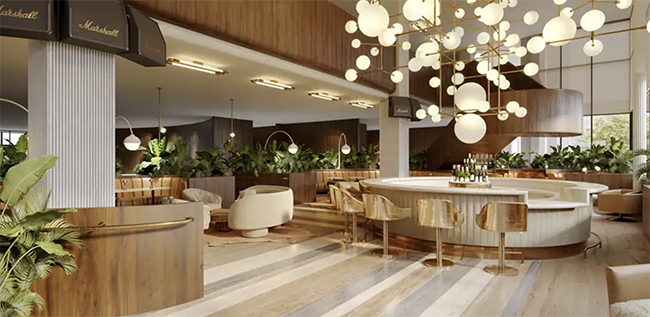 Arranging guest accommodations for your out-of-town wedding guests can be a logistical headache and a source of stress. Fortunately, Houston offers a wide variety of wedding venues with room to stay and play!
Chic & Sleek
For the latest in downtown Houston wedding venues, consider the stylish and newly renovated C. Baldwin Curio Collection by Hilton. Formerly known as the DoubleTree by Hilton Houston Downtown, the C. Baldwin is a chic solution for large and small weddings, with two posh ballrooms and various event and wedding spaces. The boldly stylish decor, floor-to-ceiling windows, glamorous textures and luxurious amenities of the premium rooms and suites will ensure your guests are comfortable and catered to in true Houston style.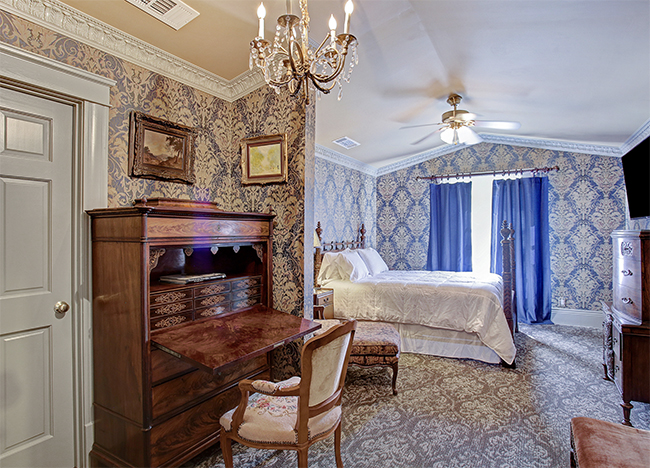 Bed & Breakfast
Charming and historic wedding venue Sara's Inn can host intimate weddings and small celebrations. For guest accommodations, Sara's Inn has several on-site rooms and suites for a unique wedding weekend or overnight stay… including a Man Cave for the groom and a honeymoon suite with balcony. Located in the Houston Heights, the inn is just a short drive or Uber ride from the artsy boutiques of 19th street, the shopping and dining of Montrose, or the lights of downtown. Every guest experiences gracious hospitality, with gluten-free breakfast options and complimentary on-site parking.
Sand & Sea
For a 1920's seaside vacation vibe, your out-of-town wedding guests can experience the ambiance of Galveston's Hotel Galvez or Tremont House. Both venues are rich in vintage-luxe appeal, and have plenty of space for your weekend wedding. Dramatic and grand Hotel Galvez & Spa, the "Queen of the Gulf" overlooks the rolling waves of the gulf of Mexico. A sun-soaked outdoor ceremony lawn, swaying palm trees and window-walled terrace dining room bring a relaxing ocean element to any celebration. Guest accommodations combine historic charm, beautiful views and modern amenities. The on-site spa and pool offers guests an added level of relaxation.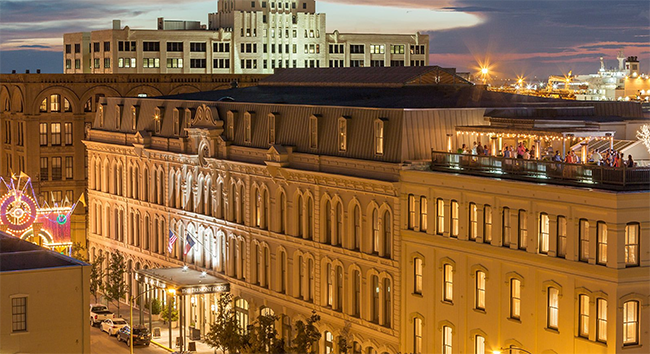 The Tremont House, located in the heart of Galveston's historic Strand District, evokes the glamour of the Gatsby era, with a rooftop balcony and bar, atrium lobby with live jazz music, and the excitement of Galveston's nightlife. Small and large event spaces are available for weddings of many sizes. Your guests will appreciate the warm and welcoming accommodations at The Tremont House, and important touches such as allowing small pets, available suites with kitchenettes and luggage storage before check-in.
Haute & Happening
When you want to bring the glam, treat your guests to a Hotel ZaZa experience. Hotel ZaZa is famous for its concept suites: luxurious guest accommodations, each fantastically themed for an escape from the ordinary. Fanciful, unique or dramatic, both Hotel ZaZa Museum District and Hotel ZaZa Memorial City have concept suites and guest rooms to suit everyone's taste.
Perfect for bachelor and bachelorette weekends, bridal showers, and weddings, Hotel ZaZa is ideal for couples who want to make a big impression on visiting guests. Both Houston ZaZa properties have exceptional wedding and event spaces, luxurious on-site amenities (like a fabulous pool and signature ZaSpa) and pet-friendly, central locations, so your guests can relax and rest–or hit the town–with ease.