Before your "Bon Voyage," follow these four essential honeymoon planning steps…then pack those bags and go!
1. MAKE YOUR HONEYMOON PLANNING A PRIORITY
During those heady, hectic months—sometimes years— of planning your wedding, honeymoon arrangements can sometimes take a back seat to big-day prep. But if you wait too long to plan your honeymoon, or you neglect budgeting for your big trip, you may find yourself having to compromise on location, dates and amenities. Just as a professional wedding planner will help you navigate your wedding decisions, and save you time and money on booking vendors, a professional travel agent can guide you to the best hotels and resorts in your dream honeymoon locale, snag you honeymoon amenities you don't have access to yourselves (special suites, spa vouchers, a welcome bottle of bubbly, perhaps?), and direct you toward deals. For optimal honeymoon planning, enlist a travel pro at the same time you start your wedding planning in earnest—typically about one year out. Doing so will ensure that when you're ready to make your escape, you'll be booked, packed and ready to board, for the most romantic getaway of your life.
2. HAVE FUN AS YOU PLAN
As with wedding planning, honeymoon planning should be enjoyable, exciting, full of anticipation and laughter— it should not be a chore. Start your planning by sitting down together and plotting out places you think you'd like to go. Make it a date night, or a series of them, and take the time as a couple to search locations, compare travel wish lists, and read up on potential honeymoon destinations. Once you've narrowed down two or three locations, start to think about what kind of honeymoon vacation you would prefer. Determine if you both truly want the same experience on your honeymoon—i.e. outdoor adventures, championship golf, downtime by the pool, luxurious spa treatments—or, if you each have things you'd like to enjoy individually (it's OK, you're married, not joined at the hip), while still having plenty of opportunities for romantic strolls, snuggles and sunset cocktails. Also discuss the type of accommodations you'd like. An all-inclusive property, for example, can be more budget-friendly, and is great if you prefer not to have to arrange transportation or dining reservations every day, but can be limiting for true adventurers. Boutique hotels, meanwhile, can offer lots of unique design, edgy elegance and sophisticated fun, but may lack on-property restaurants and other amenities common to larger properties. When you have a few options in mind, share these with your travel agent, and collect information from her or him, then make another date (or two) to reconnect as a couple, review the details, and start to envision yourselves in…Paradise.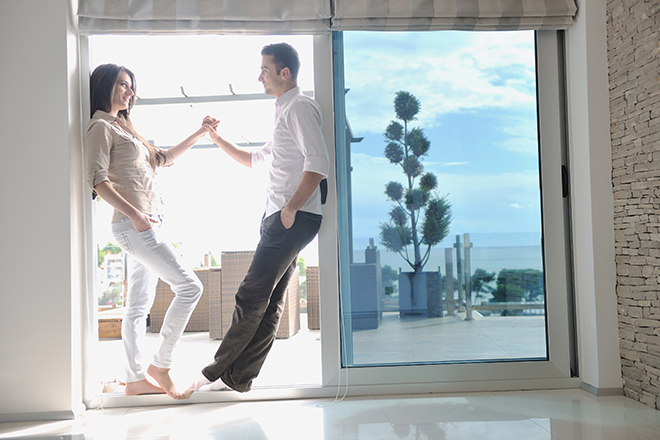 3. FIGURE OUT WHEN TO TAKE OFF
While honeymoons traditionally have followed right on the tail of the big celebration itself, today's wedding couples are all over the map when it comes to honeymoon travel dates. And with good reason: Most Houston wedding couples are working folks, who have just spent tons of time planning, then celebrating, their nuptial event. Taking off immediately after the wedding, often isn't an option. A great alternative: Take time for a two- or three-day "mini-moon" right after the wedding—perhaps a jaunt to the Hill Country, or a Gulf Coast getaway just a short drive from town. Then, later in the year, or whenever you have more time (and, perhaps, when your bank account has rebounded a bit), indulge in the dream vacation you and your boo have fantasized about for ages. You'll have way more fun on your Caribbean cruise, French Polynesian island-hop or Tuscan wine adventure, if you're not worrying about work deadlines or credit card bills.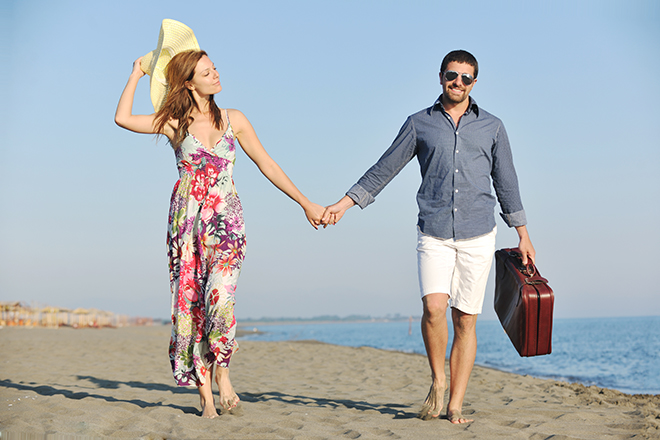 4. TRAVEL IN STYLE
Don't take off for the islands with that threadbare bikini you've been wearing for three summers, your cozy "T-shirt bra", or the backpack you lugged around Australia as a hostel-hopping college kid. While you don't have to replace your entire wardrobe, your honeymoon is a great time to step it up a notch. A good way to upgrade your travel gear is with your wedding gift registry. Houston's top registry retailers carry superb luggage selections. Likewise, your bridal shower is great for upgrading some of your lingerie with special pieces. Fun additions include monogrammed "wet bags" for swimsuits and water gear, designer passport holders, travel tech holders, and elegant kits of your favorite products. And you might go ahead and pick up a new fragrance—something different, that you can dab on from time to time in years to come, to remind you both of your amazing honeymoon.