---
The Voice Of Video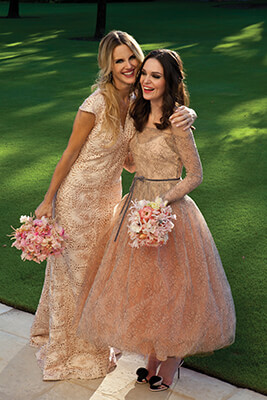 Photo: Larry Fagala - Flowers: Todd Events
Rather than mere footage of the big day, the modern wedding video is the cinematic narrative of a profoundly personal milestone. Typically shot using the kind of professional equipment you're more likely to find on a film set than at a suburban backyard birthday party, today's wedding film is a major production—many of them complete with trailers, outtakes, and extended cuts.

Style & Substance
"Sometimes trends are worth following, and other times, they're not," notes Emmy-winning filmmaker and in-demand Houston wedding videographer Alex Douglas of Sculpting With Time Productions. "We approach filmmaking with the intention that we want our film to be as powerful and moving when you see it 20 years from now, as it was the first time you saw it."
For Sculpting With Time clients, that means "having a film that really captures and personifies who the bride and groom are as people," Douglas explains. "The novelty of having a trendy wedding film that looks like a music video is wearing off. Regardless of who our client is, we want their personality, their passions and their love to really shine through."
Joey Mathews of 31 Films, notes, "Our couples are really interested in story-based editing—not just flashy camera moves, but telling the story of the day in a beautiful and meaningful way." Not only does the client appreciate this type of wedding film more, but the filmmaker is more appreciative, too: "It's an exciting trend for us because we feel that what we are creating for them has a timeless reach—something that they will love sharing for generations to come."
Skilled in technique, and stocked with the latest in technology, Daniel Salazar of Seventh Ray Films says the key to capturing unforgettable wedding footage is knowing his clients, and their priorities: "We care deeply about the films we do and the stories we help create. We try to go out of our way to really pay attention to what each couple wants us to focus on. Do they want to see a room full of friends and family? Do they want to really capture the flowers they spent thousands of dollars on? We find out what they care about most and we focus on that."
As for equipment, Salazar says, "We have it all—steadycams, drone technology, everything. But we don't focus on one piece of equipment. We really let the couple's story dictate which equipment is right for the moment."

Edits & Extras
Eddie Hafiz, of Pixel Studio Productions, a Houston film studio known for its cinematic and documentary film styles, focuses as much on film editing as on the shooting itself. "We're offering our clients custom edits, with a two-week turnaround," he notes. "The client has the option to sit with the editor to make custom tweaks."
Pixel Studio also offers same-day edits of ceremony footage that can be screened at the reception, as well as behind-the-scenes "love story" videos with intimate interviews, and effects like 3D animation.
Mathews likes to screen the couple's love story film, usually shot about a month before the wedding, just before the newlyweds are introduced at the reception. "We've even started mixing the love story film with a same-day edit that includes portions of the day mixed with their story," he adds. "It has a huge impact, while also sharing with your guests the story of how you met. People are blown away."
Douglas also likes to shoot short videos as save-the-dates—a thrilling alternative to the typical sent-by-post announcements. And, "For guests that can't be in attendance," he says, "we stream a live simulcast of your wedding online so that they can be there in spirit. The options are as endless as your creativity!"

Short & Sweet
While wedding films mimic feature films in many ways, when it comes to run times—which seem to grow ever longer for features—wedding films are moving in the opposite direction.
Videographers throughout the nation are finding that when it comes to wedding films, couples want to keep it short and sweet. That's a marked change from five or 10 years ago, when the standard was an hour-long video. Today's couples typically want to relive their entire wedding day in five to 10 minutes, more in the style of popular YouTube clips. Shorter wedding films allow no down time in the video for people to look away, making them a great choice for sharing video with wedding guests and far-flung friends or family who may not have been able to attend.
To make sure that couples don't miss out on important moments, videographers will also supply an extended cut, for keepsake purposes. This cut may include the entire ceremony, shot from different angles, so the couple can experience that moment exactly as it was, with nothing edited out; ditto for the first dance and reception speeches.

Share & Show Off
Like any cinematic enterprise, the filming of your wedding video is just one part of the moviemaking magic. Once your wedding film has been shot and edited, it's time for the sharing to begin. Experiencing your wedding film with friends and family, whether virtually, or gathered around the big screen, is always a thrill. So ensure that your videographer is prepared to provide you with your film in a format you can share and share...and share again.
Many videographers are turning to popular video-viewing website Vimeo, which charges a monthly fee to the videographer, but allows for private, password-protected videos, and forgoes advertisements. Filmmakers will post a one-minute Vimeo film trailer within 10 days of the wedding, or provide the trailer to the client on a USB drive, from which they can drag and drop it on their computer. It makes it very easy to share with their family members, colleagues and friends on Facebook and other social media sites.
It's important to note that expert film editing takes time, and is worth the wait. Salazar explains that the editing process is as important, if not more important, than the filming itself. Seventh Ray Films' couples can expect to receive their three- to five-minute highlight reel within about four to five weeks after the wedding. The longer, more complete edit usually is available to the couple about six to eight weeks after the big day. Hafiz notes that his clients get either a DVD or Blu Ray disc, or both if they prefer. "We'll also post their video on a blog," he adds.
For 31 Films' clients, "Facebook is probably the most widely used site for sharing wedding videos," Mathews says, "but there are other creative platforms like Instagram to share a short teaser film with friends and family." Douglas suggests "brides and grooms break out the Champagne and popcorn, and have a viewing party with all their VIPs before sharing their films online." By watching the film together with your nearest and dearest, "You'll all laugh and cry together, and they'll feel special to have been shown the film before the world of social media sees it."
You Might Also Like