---
How to Find Your Perfect Photographer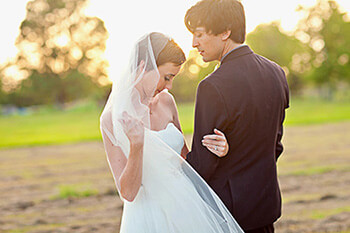 Photo: Le Zu Photography
When the music stops and the guests go home, your wedding photos remain as a visual document of the most important occasion of your life. So it pays to enlist a photographer who understands your vision and has the talent to capture it for eternity. While budget is certainly a factor in hiring your photographer, it's only part of the picture. Just as important is finding a photographic style that excites you and a photographer with whom you connect personally. Here, four fine Houston wedding photographers offer more advice for getting photos to love for a lifetime.
Simpatico, Synced, Psyched
You and your fiancé have been learning a lot about your preferences and personal tastes as you plan your wedding. For photos that will please you both, as long as you both shall live, you'll want to hire a person who "gets" you—your life, your love, and your distinct personality as a couple. Barett Henry of Civic Photos says, "Deciding what type of photography impresses you will give you a great head start in selecting the photographer for your special day. Do you want traditional photography? Fine art? Vibrant colors? A vintage look?
By sharing this crucial information, you can get insight as to how the photographer you're communicating with can help fulfill that vision."
It may take some time to find the right person. "Don't give up on what you want for your photographer," says Steve Lee of Steve Lee Photography. "Keep looking until you find the perfect match."
Besides the must-have "shot list" (heaven forbid we miss those place-setting details or the bright red soles of your bridal Louboutins), if you have a creative vision for a certain type of shot, talk to your photographer about your ideas. As an experienced professional, and a photographic artist, the photographer may have ideas to take your vision one step further, or suggest great shots you'd never even considered. "I personally love shooting in fields with tall and faded grass, since the couple really stands out in those settings," says Henry. Adds photographer Akil Bennett: "I usually try to shoot in locations with lots of greenery. This makes for a beautiful background."
Want to book an engagement shoot, boudoir pix, or even a trash-the-dress session? Brainstorm with your photographer about out-of-the-box ideas. On-location and outdoor boudoir photography are fresh and exciting alternatives to in-studio boudoir, especially when styled with vintage lingerie, accessories and props. For an engagement shoot with personal meaning, consider returning to the spot where you met, whether it was at a local honky-tonk, on a spring-break beach holiday, or at your mutual alma mater. As for TTDs, "Our best trash-the-dress shoot was with the bride and groom in a pool together," says David Stanley of DC Stanley Photography.
Get the Big Picture
Once you've honed in on your style and have your top photographer choices in mind, decide together what add-ons are most important for you, and work them into your budget. For starters, don't make any assumptions about what's included in the photography fee, referred to as the "investment" by most wedding photographers. "Some photographers include prints in their wedding collections, but this should be one of the items you ask about during your consultation with the photographer prior to booking," says Henry.
Depending on your lifestyle and what you plan to do with your photos—for instance, do you prize the idea of a big, beautiful, customized, flush-mount album, or are you more of a DIY-er or digital-file sharer?—"There may be more than one way to get to the price that fits your budget," says Stanley. Though he does add: "We feel an album is the most memorable item one can have from the wedding day. You want to be able to go back and feel like you were there. Others should be able to pick up the book and understand the story of the wedding day."
While you're talking wedding packages with your potential photographers, make sure to inquire about what they have to offer as far as types of albums, turnaround time and cost of prints, and unique products they might specialize in, such as reproductions on canvas.
Prepare for the Spotlight
On one of the most exciting and emotional days of your life, being followed by the paprazzi can be more than a little nerve-wracking, especially for the shy bride. As Lee says, "Having hundreds of photos taken of you can be an awkward experience. The good news is that as the shoot goes on, you will naturally become more comfortable." "Just try your best to ignore us," Bennett advises. "I know it can be difficult at times, but we generally like to keep our distance to help with this. This way we can capture beautiful moments and interactions throughout the day. When posing, I like to give minimal instructions to my clients. I let them do whatever comes naturally. If the portraits are too staged, then the expressions I get aren't authentic."
Throwing a little touch-up kit into your bridal clutch will keep your big-day beauty going strong. What should it include? "Lip gloss (usually packaged by the makeup artist) and powder for your nose and forehead," says Stanley.
Set a Schedule
When it comes to scheduling your couples' shots and wrangling your (tipsy and exuberant) bridal party and family for formal photos, communication with your photographer and all those photo subjects beforehand is key. A shot list given to the photographer prior to the wedding, as well as to your consultant or coordinator, will help things run more smoothly. "I highly recommend doing a first look—it's my favorite part of the wedding day," says Bennett. "Try your best to minimize the amount of people present. I know family and the wedding party are just as excited, but it makes for a really nice moment if the couple can have some privacy."
"You might do a first-look shot alone, and then do all your family photos before the ceremony," says Lee. "Be sure to let your wedding party and family know where to be and when." "I'm an advocate for family photos before the ceremony, not after," says Stanley. "In fact, I educate my wedding couples about how important it is for them to go and enjoy the cocktail hour. Things happen so fast that they really should enjoy everything!"
"While the wedding party is walking from ceremony to the cocktail hour or between shot locations, you get great spontaneous moments to capture," notes Henry. He also suggests, "Take time during the reception for individual family shots with the bride and groom."
Don't forget to consider the time of day when plotting your photography timeline. The experts all agree that the hour of the day during which images are shot has a major effect on the mood of the lighting, especially for outdoor shots. "I like to start shooting either two hours before sunset, or 30 minutes after sunrise (for engagement or bridal shoots). The lighting is really soft and beautiful which allows for more flattering portraits," says Bennett. For a traditional 20-minute ceremony that will be held outdoors, "Start about one and a half hours before true sunset," suggests Stanley. Lee adds: "One hour before sunset, untill sunset, is referred to as the golden or magic hour. Be sure to get some photos done outdoors during this time."
The Finishing Touch
After the party, some couples want a total mental break from the wedding, while others obsess over Facebook from their honeymoon hotel, looking for candid wedding snapshots. Either way, you'll want to know what to expect when you're expecting your professional photos.
Henry suggests asking the following: "How many images should I expect from the wedding day? How long will it take before I see the images in an online gallery?"
Photo editing, too, is something you should discuss in depth to best manage expectations. Determining which images you may want edited more heavily (such as your bridal or couple portraits) and what your photographer provides is important. "You should ask which images taken on the wedding day will be edited. The image style you love will determine what type of photo editing you will require of your wedding photographer," says Henry.
"We edit our photos for color, exposure and cropping, and release digital negatives with personal printing rights from the wedding," says Lee. And speaking of usage rights, that's another point to bring up with your photographer as well, to make sure that you are all in agreement regarding printing, posting and displaying your wedding images.
With a little extra planning and communication as our pros suggest, that first look at your photos will bring back to you, in living color (or sepia, or black and white), just how amazing your wedding was. And your relationship with your photographer just might last—through baby portraits, senior portraits, family portraits, milestone anniversary parties—for years and years to come.
You Might Also Like