---
A Guide to Gorgeous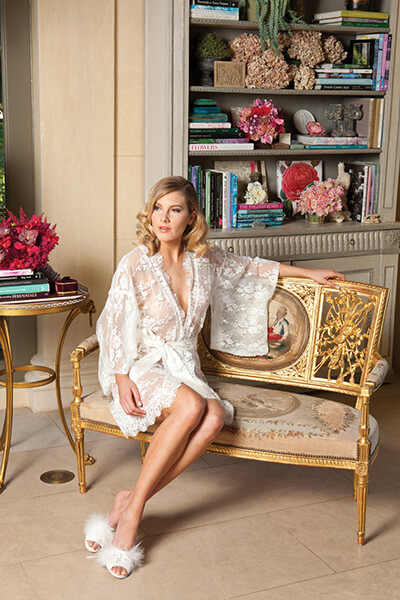 Photo: Larry Fagala - Flowers & Decor: Todd Events - Makeup & Hair: Ceron Salon
You've found the perfect partner, and then the perfect sites for your ceremony and reception. You've selected sensational invitations, chosen the caterer, the musicians, the menu, the florist and your wedding-day duds. You've left no detail unattended—or have you? Deciding how you'll look on your wedding day is a duty that demands special attention. After all, this is a once-in-a-lifetime event! Not only will all eyes be on you, but you'll also be the focus of photos and video that will remain treasured documents of your nuptial celebration. What matters most is how you feel about how you look. If you feel beautiful, you'll look and act beautiful all day long. So take the steps to give yourself that extra time to primp and pamper!

Pick Your Prep Team
Sure you've got a million details to arrange, but don't wait too long to make some decisions about your personal appearance, and the look you want your wedding party to have. While you may be great at hair and makup, or you may trust your friends with your life, it's best to leave these possibly stressful tasks to the pros on your wedding day, especially if you will be enjoying a little pre-ceremony champagne! Meet with your makeup artist and/or hair dresser well ahead of your wedding, as stylists may be booked six to eight months ahead of time. Bring sample pics and tell them what your expectations are for both you and the wedding party. Make sure that you are confident that you can say anything you want without feeling intimidated, and consider your chemistry before you hire him or her. You're trusting them with a lot!

Coiffure Couture
Schedule a "trial run" with your stylists, to see what you want to look like before the morning of your wedding. You don't want to have to decide between chic and slick or soft and romantic hairstyles on the big day. It's a smart idea to avoid the trends and stick with classic styles which seem natural for you. For long hair, wearing it up or down is a classic bridal query: try out both looks wearing a similar neckline and jewelry as you will on your wedding day. Consider using clip-in extensions or falls for added volume and length, if desired. Make sure your stylist will take the expected weather into account. If you're getting married during Houston's hot, humid months, those soft curls that looked so fetching in the salon may be drooping by the time you arrive at the reception. Ask your stylist to suggest products you can take along for optimum style stamina. In addition to hairstyle, you may also want to consider gentle color (nothing too drastic!), or deep conditioning or glossing treatments in the weeks before the wedding.

Makeup Test
Opt for a natural look instead of bold colors. Consider classic hues like browns, smoky grays, pale pinks, ivories, and peaches. Eyelash strips and lash extensions should be natural length or just a touch longer, added for volume, not Showgirl Status. You want to highlight your features without distracting, so that people notice you, not your makeup, so err on the side of caution with contouring. At the same time, it's important to bring intensity to eyes and lips, so that you don't appear washed out in your photos and videos. Brows should be shaped and filled without looking severe. Don't forget to have your artist leave you with a small kit of the products used for touch-ups throughout the day and evening. On your wedding day, tote along blotting papers or a loose powder and brush to fight shine.

Skin Deep
A beautiful face starts with beautiful skin. A series of facials will help get your skin in tiptop shape. To make sure that any redness or roughness—common immediately after extractions and exfoliations—have faded completely by the time you're in wedding mode, it's a good idea to have your last facial at least a week prior. And don't neglect the rest of your body. For an all-over glow, try a hydrating aromatherapy wrap that will make your skin look fresh and feel fantastic. Don't forget to schedule a pedicure and manicure as close as possible to the wedding date to get those feet silky smooth and those hands ready for the ring close-ups!

Smooth Move
For smooth, hair-free skin, try waxing, or sugaring, which is just as effective as waxing and leaves your skin feeling soft and silky. Regular sugaring treatments also slow hair growth; after six treatments, you should notice a difference. For smooth, comfortable legs and underarms, schedule your sugaring or waxing appointment at least 48 hours before your wedding. For brows that wow, consider threading—a precise shaping technique that removes stray hairs without harming the delicate skin around them.

De-stressed Darling
Finally, don't overlook the importance of relaxing before your big day—if you are relaxed, you will look your best and ready to take on the day with grace and a calm (or utterly ecstatic) sense of joy. If you're feeling nervous, a spa or salon date is a great way to escape from anxiety and spend some time with your loved ones, so that you can enjoy your day to the fullest. A massage or mani-pedi the morning of your wedding—perhaps with your bridal party or spouse-to-be—may be just what you need.
You Might Also Like