---
Get Gorgeous, Girl!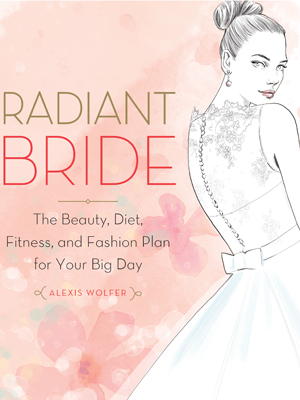 Famed lifestyle blogger and "Radiant Bride" author Alexis Wolfer has become a beauty sensation across the nation. A frequent guest on CBS, ABC and E!, Wolfer's site TheBeautyBean.com is one of the web's most popular destinations for practical beauty and skincare advice. Here, she shares her best tips and tricks for bridal beauty, health, and, yes, happiness.
Weddings in Houston: When and why did you start blogging about beauty tips?
Alexis Wolfer: I have my Master's in human rights/women's studies and I was inspired to create a place for women to get all their favorite beauty and lifestyle content, but in an empowering way. Having struggled with an eating disorder in the past, I knew the impact media had on the way women perceived themselves. I started TheBeautyBean.com in 2009 because I wanted to do my part to help all women look and feel their best.
WIH: What are some of your favorite natural treatments for daily skincare at home?
AW: Coconut oil is a game changer! I use it to remove eye makeup, as an all-over moisturizer, hair treatment and so much more. Also, make sure to drink enough water and eat healthy­—your skin, hair and nails can't radiate if you're not feeding your beauty the right way.
WIH: Houston's weather is incredibly hot and humid. What do you recommend for keeping your skin glowing without feeling sticky and icky?
AW: Serums are a humid-climate-dweller's BFF. You get all the anti-aging benefits you're looking for without the heaviness of creams. I would also suggest sticking with cosmetics that have sheen or shimmer, rather than creams and foundations—the former will highlight your skin and stay put while the latter will make you hotter and more "sticky" feeling.
WIH: Congratulations on your new book! What was the inspiration behind it?
AW: Thank you! I was inspired by my BeautyBean readers, many of whom were constantly asking for wedding day tips. It's the one day that the spotlight is fully on you. What bride wouldn't want to look and feel spectacular? It's important to know that what works for one specific body type and budget will not work for others. So many resources are focused on crash dieting and makeup, but not on helping women look and feel their best. "Radiant Bride" is the book for all women who want to look their best on their wedding day—and who doesn't?
WIH: What are a few ways the bride and her bridesmaids can have fun together while getting their skin, hair, nails and bodies in great shape prior to the wedding day?
AW: The key is to have fun with whatever you do. You don't need to suffer through wedding prep, dieting and workouts you hate. Love to dance? Do that! Hate running? Don't! Lots of bridal parties like to plan DIY spa parties (I have lots of homemade spa recipes in the book), take a yoga or dance class, and learn beauty-boosting new cocktail recipes that allow you to have fun without losing track of your goals.
WIH: Should a bride get her wedding dress altered to her "goal size?"
AW: No! That does nothing but cause pressure, which raises cortisol levels, which makes it nearly impossible to lose weight. Instead, book a final fitting as close to your wedding date as possible. The goal, though, shouldn't be about losing weight. I've seen far too many brides drop pounds and pay the price with sallow skin, lackluster hair and a grumpy attitude. Instead, focus on looking and feeling your best, not worrying about some arbitrary size or number.
If you are focused on getting in shape, and shedding a few pounds, you'll get the biggest bang for your buck by doing short, high-intensity cardio spurts, which are most effective for health and fitness. Also make sure to do dress-specific toning exercises so that, for instance, you're not wasting all your time and energy on firming up your rear end when it's going to be concealed by a ballgown.
WIH:What's your best advice to brides for taking care of body, skin and overall well-being during the last, super-stressful stretch before the wedding?
AW: Breathe and remind yourself what this is all about: a marriage, not a wedding. After the big day, guests might not remember what the flowers looked like, but they will remember the love and joy of the occasion. And make sure you eat! You'll need the energy and you'll look and feel better, too.
Alexis Wolfer's new book, "Radiant Bride," is available at Amazon.com.
You Might Also Like