---
7 Essential Planning Tips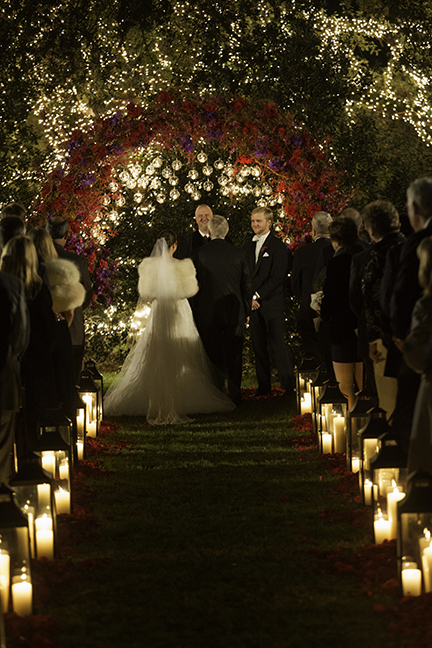 Photo: D. Jones Photography
Your wedding day is one of the biggest days of your entire life—a day in which loving commitments are sealed and lifelong memories are made. It is a day when family and friends gather together to celebrate you and your beautiful new partnership. It's also a day that can cause a great amount of stress and anxiety—about relationships, money…and whether teal pairs more harmoniously with fuchsia or tangerine. The good news is there are plenty of simple ways to minimize wedding stress and maintain your pre-nuptial sanity. The even better news is that we've assembled Houston's top wedding experts to share their essential planning tips with you.
1. Hire a planner
There are many strategies for keeping your budget in line, but forgoing investment in a professional wedding planner should not be one of them. There is no better way to take a load of stress off your shoulders than to let someone else handle the details of your big day.
Stacy Mendenhall-Parsons, event planner and owner of Lary's Florist & Designs, states, "Planners are the ones to carry the stress for the bride and groom. Planners also know how to work with budgets, and they have working relationships with many vendors. When picking a planner, work with someone that you get along with, someone you form a connection with, and someone who understands your wants and wishes."
Not only will a professional planner help organize your day, but he or she can also act as a valuable buffer between your desires and your family's opinions—a balancing act that can be the source of stress for many to-be-weds.
"Remember that this is your day!" says planner Shaun Gray, owner of Gray & Assoc. Events. "A good planner can be a great neutral voice that still respectfully represents your wishes when dealing with family."
Claudia de Velasco, lead event planner for A Day To Remember, notes, "I always ask my couples what their peace of mind is worth. Not only are we guiding our couples through the process, but we are also saving them hours of research, and ensuring we connect them to reliable creative partners. As planners, we become their BFF and confidante."
2. Don't lose sight of the big picture
Across the board, expert planners concur: It is essential to remember that this day is about celebrating your love for the one you have chosen as your spouse.
Jo Ann Schwartz Woodward of planning firm Schwartz & Woodward urges couples to "always keep in mind that this is only the first day of the rest of your lives together. Remember to give as much time and attention to your relationship as you do to planning the reception."
Adds Aliah Calbert of Calberts Weddings & Events: "Don't forget that this day is about you two. This is supposed to be one of the most joyous times in your life. Don't let little things stress you out. Your wedding is a reflection of both of your personalities. Just be yourself and have fun."
3. Stay true to your desires and dreams for your wedding
"By starting with a great foundation and streamlining all of their desires, our couples find their journey to be more in tune with their vision," says Kat Creech, owner of Kat Creech Events.
But while some to-be-weds have known their whole lives what they'd like their wedding day to look like, others may just have a vague idea. De Velasco offers this sage advice on narrowing down your ideas and getting focused: "In this day and age, with so much media available, it is very easy to become overwhelmed. We encourage our couples to start an online inspiration board of ideas they like. Then we go through their picks and start narrowing down what truly defines their style."
And while you're at it, make sure to focus on one or two wedding elements that really resonate with you, Creech adds: "For some, it may be an epic cake design, and for others, it might be the entertainment. Some brides and grooms wish to have an amazing food experience, while others want to splurge on a suspended floral canopy over the dance floor."
4. Lay out (and stick to) a budget
No matter who is paying for your wedding, or how lavish your wedding plans, a budget is a must. "It is important to keep in mind your style and your budget. Don't go to the Rolls-Royce dealer if you have a Lexus budget. Be realistic and honest when selecting your vendors," says Schwartz Woodward.
Your planner will help you stick with your budget, and may even help you get better rates for some of your vendors than you would on your own. "A professional planner is not an addition to your budget; we are part of the budget," and can help you make the most of the money allocated for other line items, including flowers, rentals and catering, Calbert adds.
5. Go with your gut
First impressions count more than anything, whether you are hiring your planner, choosing your venue, or finding all of your wedding day vendors.
Adds Gray: "Planning a wedding is a unique journey that varies greatly depending on the couple. Start with finding your planner and venue, and then allow all of the rest of your vision to come full circle once those first two pieces are confirmed." He continues: "Above everything else, during any consultation, see if you actually connect with the vendor on a human level. If they aren't buying into your vision, or appearing to really understand it, then you need to consider shopping around some more."
6. Give your family a say—but not the final say
"There is no doubt that families come in all shapes, sizes and dynamics," Creech says. "Communication and setting boundaries are a must, especially with overzealous family members."
Lauren Ehly, owner of Lauren Ehly Events, agrees. "Family members will always want to help and offer advice. Even so, always keep the bigger picture in mind: You are marrying the love of your life! You may need to compromise somewhat, but ultimately it is about you and your future spouse.
7. Make the day count
The big day, when it finally arrives, is the culmination of all your smart, low-stress planning. It's also a once-in-a-lifetime experience that you should savor from start to finish.
"We want each couple to be in the moment, as their wedding day goes by so quickly. It should be a fun, wonderful time," says Schwartz Woodward.
To help ensure that you cover all your bases, and that you and your guests enjoy your celebration to the fullest, "Allow plenty of time for photos and travel," says Ehly. "Also, I recommend not stopping the party too many times for speeches, cake cutting, bouquet toss, etc. Try to group those together so guests can enjoy themselves on the dance floor."
And no matter what unexpected glitches occur, on this, your BIG day, "Don't sweat the small stuff," De Velasco says.
You Might Also Like