We know it's hard to think about cold weather when the heat index is hitting 105 and the air is more liquid than gas…in other words, Houston in August. But all you winter brides (you know who you are) have less planning time left than you might think. Which means you better start thinking about how you're going to stylishly cover up those bare bridal shoulders and arms when our temps FINALLY take a dip, as they tend to do, November through February.
Here's a suggestion: Crank up the A/C, pour yourself a frosty beverage—heck, plunk yourself down into an ice-water bath (not just refreshing, but GREAT for the pores). Whatever you do, just cool off before you check out these lovely winter wedding outerwear ideas. Brrr…. in a good way!
We love the Old-Hollywood glamour of this marabou wedding stole, which gets an added bit of pretty from a chiffon-scarf front tie.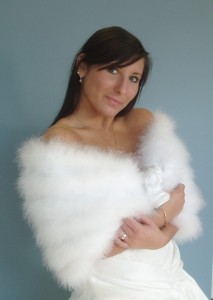 This snug, sophisticated faux-fur shoulder wrap has a handy hook-and-eye closure for easy on and off. And it's a steal at under 60 bucks!
A longer faux-mink style from another one of our Etsy faves, Vldana. Be sure to check out her other items—she makes lovely wedding capelets and wedding shawls, too!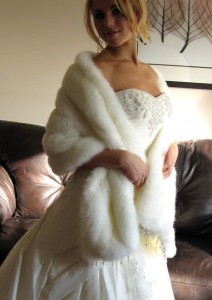 There's a dreamy, lavish, Dr. Zhivago-esque romance to this faux-fur-trimmed wedding cloak, don't you think? Matching muff included!
For lighter coverage, we're wild about this gorgeous ruffle-edged double silk taffeta stole. Wrap it up, we'll take it!