Having a seasonal wedding bouquet isn't just about syncing your flower theme with your wedding month. Choosing in-season blooms for your bridal bouquet also helps ensure that the flowers you hold in your hand as you walk down the aisle to "I do" are at peak freshness and fullness. Choosing seasonal flowers for your bouquet can also save you money, since these blooms will be available in abundance, and likely will not need to be flown in from verrrrry far away at a verrrrry high cost. To get started dreaming up your seasonal flower arrangement, think about the month you'll wed, and the location (you wouldn't want wildflowers in a lavish ballroom, or cascading tendrils on a blustery beachfront, for example), use this here post for inspiration and advice, and talk to your Houston wedding florist about bringing your own interpretation to your seasonal bridal bouquet.
Photo: Adam Nyholt Photographer
Quite possibly the single most beloved bridal flower is the delicate, fluttery, ultra-feminine peony. Available in shades ranging from snowy white to vibrant coral to multiple shades of pink, peonies have a notoriously short season, generally reaching peak bloom in April and May, so if spring is your wedding season, take advantage of this fabulous flower!
Other popular spring flowers:
Delphinium
Pansies
Lisianthus
Tulips
Sweet Peas

Photo: A to Zinnia
Planning a summer wedding? Bring in a pop of color with bright, bountiful zinnias, which hit peak season during the summer months. Available in red, orange and bright pinks, this lively flower's fluted petals add texture and depth to any bridal bouquet or bridesmaid nosegay.
Other popular summer flowers:
Chrysanthemum
Dahlia
Stock
Sunflower

Photo: Lisa Mathewson Photography
English roses, yellow coxcomb and purple wax flowers make up this colorful and feminine fall bridal bouquet. But you can choose from a bounty of fall-season flowers for your own autumnal arrangement! If your wedding falls during the months of September, October or November, pay homage to Houston's shift from REALLY HOT to NOT AS HOT with flowers in shades of burnt orange, deep maroon, yellow and green, with touches of blush and pink.
Other popular fall flowers:
Gerbera Daisy
Calla Lily
Marigold
Aster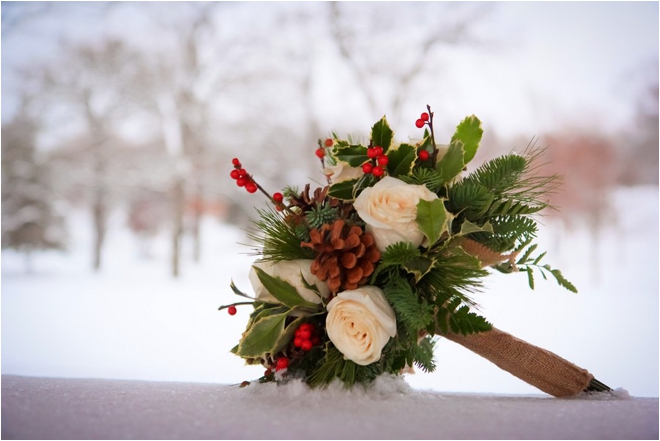 Photo: Colin Lyons Wedding Photography
If winter is your wedding season, congratulations! (Well, congratulations no matter WHAT season you're set to wed in…this is the Houston Wedding Blog, after all : ) What we mean is, considering that this here is Houston, having your wedding during the winter months means treating visiting guests to one of the city's most delightful times of year, when temps drop, twinkle lights come out, and a sense of fun and festivity fills the air. For winter wedding bouquets, we can't say enough good things about roses, the eternal flower of love, and the most reliable, and beautiful, year-round bloomer. Want to really go all out with your seasonal style? Accent your rose bouquet with hypericum berries, pine sprigs and/or cones, and holly leaves. For a winter wedding bouquet that's as snow white as the stuff that falls from the sky further north, opt for slender, elegant paper whites (a type of winter narcissus), or fragrant stephanotis. Happy floral designing, darlings!