Still on the prowl for the perfect gown? This weekend, perfection comes to Houston in the form of Australian bridal design house Martina Liana and Atlanta-based designer Anne Barge. Make your appointments NOW. Here are the deets: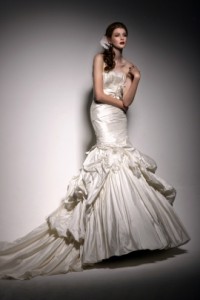 On Friday and Saturday, Brickhouse Bridal welcomes Martina Liana. Created by Martine Harris and Leanne Collova of Essense of Australia (Collova HERSELF will be at this show), the Martina Liana line is pure couture all the way, with a thrilling touch of contemporary edge. We love Martina Liana for its ample choices in customization, too. Choose the wedding gown style that suits you, and make it truly your own with your unique combination of shades and fabrics. Fabulous.
Martina Liana Trunk Show @ Brickhouse Bridal
Friday, October 1 – Saturday, October 2
Friday 10 a.m. to 6 p.m., Saturday 8:30 a.m. to 4 p.m.
200 Valleywood Drive
Suite A300
The Woodlands, TX 77380
For more information call 281.681.3430 or visit Brickhouse Bridal
Also on Friday and Saturday, Belle Mariée Bridal presents couture designer Anne Barge. View the Fall 2010 collection, with its sumptuous fabrics, museum-quality detailing and embrace of tradition and elegance. If you're looking for the kind of classic gown that instantly becomes a treasured family heirloom, you don't want to miss this exclusive show.
Anne Barge Trunk Show @ Belle Mariée Bridal
Friday, October 1 – Saturday, October 2
Friday 11 a.m. to 5 p.m., Saturday 10 a.m. to 4 p.m.
2509 River Oaks Blvd.
Houston, TX 77019
For more information call 713.523.0068 or visit  Belle Mariée Bridal