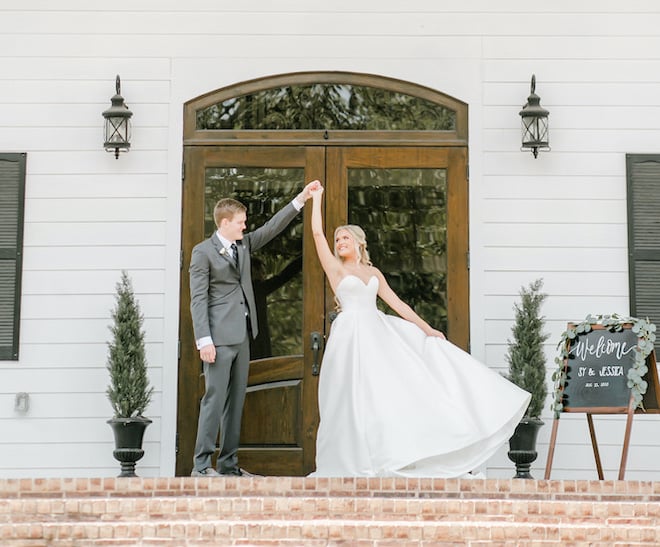 On date nights, Jessica and Sy would watch Masterchef and came to love the winner of season one, Whitney Miller. So what better way to propose to Jessica than to ask their favorite Masterchef winner for help? After Sy received a personalized video from Whitney, the proposal all came together during a family beach trip. "Mrs. Slater had her laptop open and called me over and said 'Come watch this video,'" recounts Jessica. "I recognized who it was and thought, 'Oh fun it's Whitney from Masterchef!' But then she said my name and that Sy had something to ask me. I was in shock! Then Sy grabbed my hands, told me he loves me, and asked me to marry him. Of course, I said yes!"
For their summer wedding, Jessica and Sy chose the sprawling green grounds of The Estates at Pecan Park for a timeless wedding celebration. The couple exchanged vows in a sun-drenched outdoor ceremony where Jessica's favorite moment was seeing her groom at the altar. The newlyweds took full advantage of the venue's blank-slate ballroom and large windows to create a bright and airy reception enhanced by a delicate wedding palette of grey, white, gold and eucalyptus.
We invite you to celebrate this sweet young couple's timeless summer wedding at The Estates at Pecan Park, along with us, by scrolling through dreamy images from Amy Maddox Photography. Congratulations, Jessica & Sy!