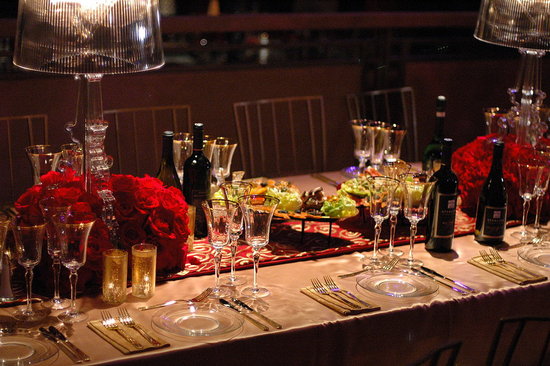 If you've ever dined at a modern American bistro or swooned over a supper-club scene from your favorite '40s flick, you've likely been seduced by the sophisticated glow of a table lamp. With their low-profile bases and light-diffusing shades, lamps invite a certain kind of conspiratorial intimacy to the table—perfect for a grown-up dinner reception with a high-end restaurant feel, whether you're actually in a high-end restaurant, or you're in a big hotel ballroom. Even a warehouse or other raw space can be both warmed up and dressed up with the right kind of table lamps.
We love the look of a single, standout lamp at the center of an all-white centerpiece on a round or small square dining table. For a long banquet table, try mixing a few different lamp styles in varying base heights with coordinating shades, repeating the mix at intervals along the length of the table, and filling the space with small, clustered floral arrangements, beautiful crystal stemware and candles. Also awesome: glass-base table lamps, orchids floating dreamily within.
Depending on your venue's specific regulations, the style of lamp you select, and the kind of ambience you desire, you can choose votive candles, fuel cells or LED flicker cells as your light source. Most will last between six and 10 hours.
Plan to party for longer than that? First of all—wow, rock on! Also: Plan to have staff discreetly change out light sources, perhaps during dancing or late-night nibbles.