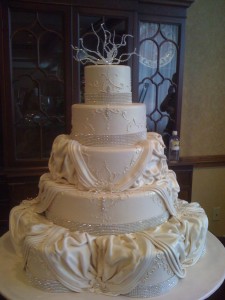 Susie's Cakes & Confections (left); iCatching Events (right)
More than 1,000 attendees. Over 80 vendors. Five full hours of FAB-U-LOUS. We'll be doing complete show coverage a little further down the road, with photos, video, the whole shebang. But for now, we wanted to take a sec to shine the spotlight on some of your (and our) favorite highlights of this past Sunday's absolutely spectacular I Do! Bridal Soiree @ The Houstonian Hotel, Club & Spa.
First off, how about those tablescapes? Sparkle, shimmer & bling are the thing for 2011 wedding reception tables, as radiantly evidenced by our vendors' magnificent wedding table displays, which featured tons of crystals, blow-glass orbs and jewel accents. And how about that high overhead? We're talking beautiful suspended floral displays and centerpieces (which, incidentally, are great for letting guests talk to each other across the table without sight obstructions). We saw you practically swooning at the masses of roses (the one bloom that never goes out style), and the brilliant palettes of red, pink and oh-so-popular purple.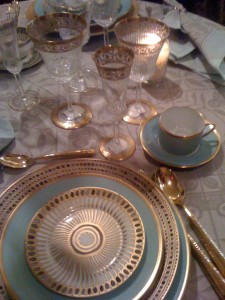 Mia Bridal Couture (left); Kuhl-Linscomb (right)
When you weren't chatting with vendors, we spotted you sipping refreshing Pimms cocktails and nibbling sinfully delicious (and simply adorable) French macaroons. And how about those awesome sliders and savory-sweet chicken biscuits? So yummy! It's no wonder The Houstonian's fabulously talented catering department recommends serving diminutive comfort snacks like these as a late-night treat at your reception.
As for that fashion show…gorgeous, right? We'll soon have a rundown of the runway's most coveted looks, but for now, two words: convertible gown. As in, one amazing dress that goes from ceremony-elegant to celebration-sexy. As in, pretty much perfect.
Whether these highlights remind you of Sunday's splendor…or make you wish you'd attended, we hope they'll make you smile. Be sure to subscribe to the Houston Wedding Blog and the Weddings in Houston Wedding Buzz for complete I Do! coverage along with advice on how to incorporate the divine design ideas featured at the soiree into your own very, very special day.