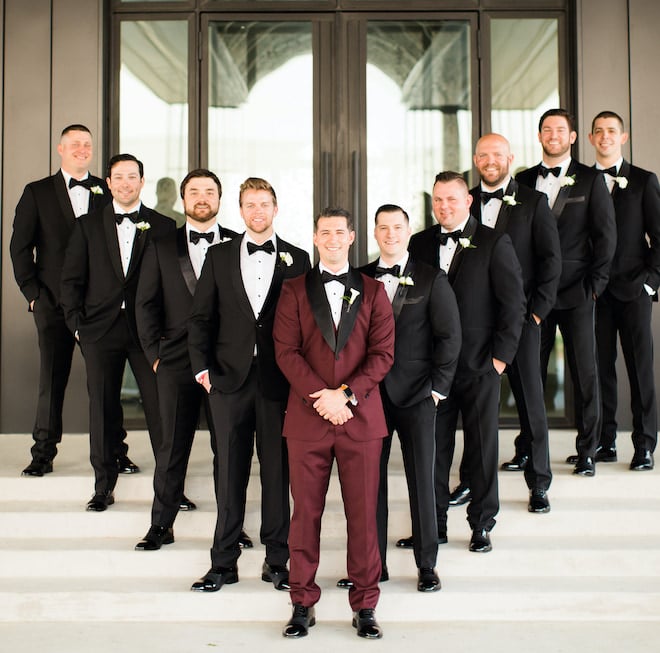 What a groom chooses to wear on his wedding day is as important as a bride's wedding gown and veil. After all, it's his special moment, too, and he'll be in the spotlight (and photographer's frame) right alongside his partner. Consider the possibilities for groomswear, from classic black-and-white tuxedos, to jewel-colored jackets, to crisp shirts and khakis, to bespoke suits. And don't forget the accessories: A carefully chosen watch, pocket square, your father's cufflinks or a fun pair of patterned socks can amp up your groom style big time, on your big day. This may sound like a lot of stuff to sort though but relax…we've got you covered (and very well accessorized) with our guide on how to choose wedding day groomswear and accessories perfectly suited for you!
To Tuxedo Or Not To Tuxedo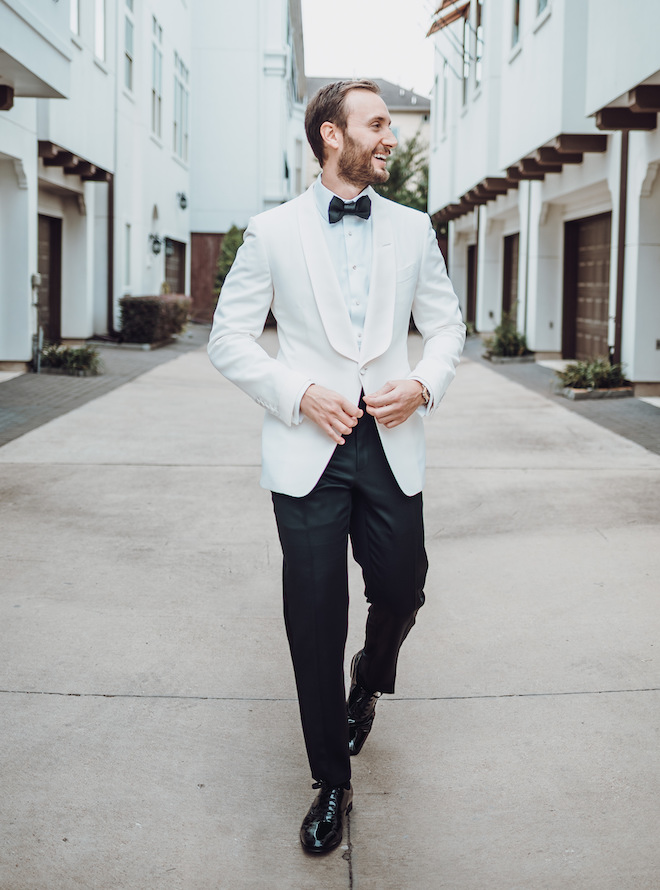 While weddings differ in formality, there's rarely a time where a suit is too informal to be worn. So don't think a tuxedo is an absolute necessity. Ultimately, your wedding fashion aesthetic should showcase your personality as an individual, and your lives as a couple. "If you're a more laid-back type of couple, a dress shirt and khakis may be more your style," says Kylie Carlson, CEO of The Wedding Academy, a global education resource for wedding planners. "Don't force a fashion style if you aren't comfortable with it."
Groomswear trends also tend to be regional. For example, Oleta Collins, owner of boutique floral-design company Flourishing Art Design Studio, finds that in California, where her company is based, grooms often opt to ditch the socks altogether and go with tapered-leg pants. "We are also seeing bowties becoming more and more popular," she adds.
Most current groomswear trends tend toward classic style, reminiscent of debonair spy James Bond. "Grooms are keeping it simple and loving clean lines with no tails and no cummerbunds," Collins notes.
Suits, in general, are becoming more common for grooms' wedding attire, according to Kevin Dennis, a certified wedding planner at California-based Fantasy Sound Event Services. But if you are having a formal, black-tie affair, you really need to go with the tuxedo, Collins adds: "Just as a bride wants her dress to fit the theme and feel of the evening, so does the groom." The same is true for outdoor, rustic weddings. For this type of event, "You wouldn't want to feel out of place by wearing a full tux," Collins says, instead suggesting a well-fitted suit in a navy hue.
Suits are also easy to dress up. Choosing the right accessories is key: Think eclectic pocket squares, patterned ties and stylish socks. "Even if you're planning to go with a black-and-white suit, this is a great way to elevate your outfit and add some nice color," Dennis says.
Be Bold With Color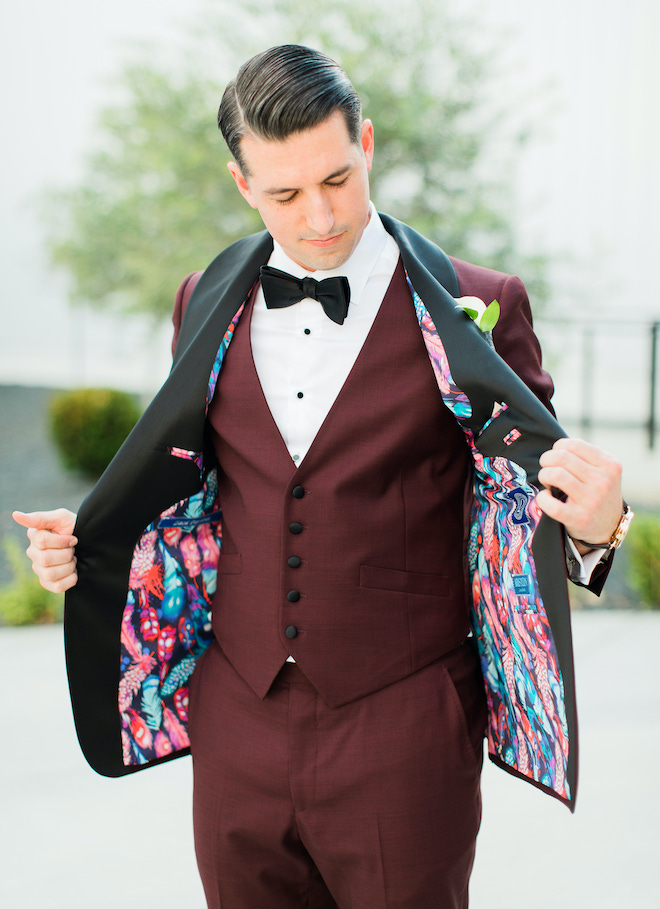 "We're seeing more grooms explore other color options for both themselves and their wedding party," says Dennis. "Navy blue, forest green, and even merlot or plum, are popular jewel tones that grooms are leaning toward, in lieu of the traditional color palette."
Textures also are a huge groomswear trend right now, especially velvet and suede. "This is the perfect way to spice up a tuxedo or suit, and you'll score bonus points with moody tones, especially for fall," according to Carlson.
Billy Marshi, president of Houston men's boutique Versione, agrees, noting that Lurex, a material with a metallic sheen, can add a bit of bling to the traditional suit. He also prefers a more formal peaked lapel for grooms, rather than the notched lapel common to business suits.
More and more often these days, the groom is coordinating his suit with his groomsmen, with the addition of an accent element such as different-colored ties.
No matter what palette or textures you choose, always try to tailor your style to the overall look and feel of the wedding, Collins says. "If your reception is elegant and glamorous, then find your best smoking slippers and a two-button tux that fits perfectly, and you will look and feel like a million bucks."
The Rules of Groom Accessories
The good news is: There really are no rules! As long as you don't mix metals (say, silver cufflinks with a gold watch), you can get creative and make as much of a statement as you want with your accessories.
Vintage accessories are always a great choice. "Whether you've thrifted some cufflinks or a watch, or inherited them from a late family member, these add a timeless touch to your attire," says Carlson.
If you like leather watch bands, you'll be happy to know that they are definitely circling back as a fan favorite, adds Dennis. Just remember that your wedding day watch should be fairly dressy, advises Marshi: "Thin. Nothing bulky or sporty for a wedding."
While it's perfectly fine to incorporate unique accessories that you might not wear in your everyday life, but on your big day you do want to keep it stylish and simple. Don't over-accessorize. Your wedding day is not the time to be flashy or over-the-top. Instead, choose items that have meaning, such as a watch gifted to you by your partner, a pair of cufflinks sporting your alma mater or customized with your wedding date, or a tie clip embossed with a personalized motif.
Finding the Right Groom's Shoes
Keep your footwear classic, and make sure that it's comfortable. "Brown leather is great to pair with a colored suit, and black is always a no-brainer for a regular black suit," says Dennis. "If you want to bring some personality and color to your footwear, add some cool socks! No one will immediately see them unless you choose to show them off to friends and family, and you'll be able to brighten up any shoe style that you opt for."
When choosing your shoes, find a style that complements your overall attire. "If you are wearing a classic oxford, wingtips are too much, but smoking slippers are acceptable, depending on the feel of your venue," suggests Collins. "We are also seeing grooms monogram their smoking slippers, which makes them a great keepsake."
Patent-leather dress shoes are no longer a top choice in grooms' footwear, according to Carlson. But mixing your suit color with your footwear is. "Just make sure that you avoid pairing black and brown, as this combo never quite sticks the landing," she cautions.
And lastly, make sure to purchase your shoes and wear them several times to break them in before your wedding day. Remember, the key to looking good is feeling good, so prioritize comfort, and a sense of confidence, as you assemble your ensemble!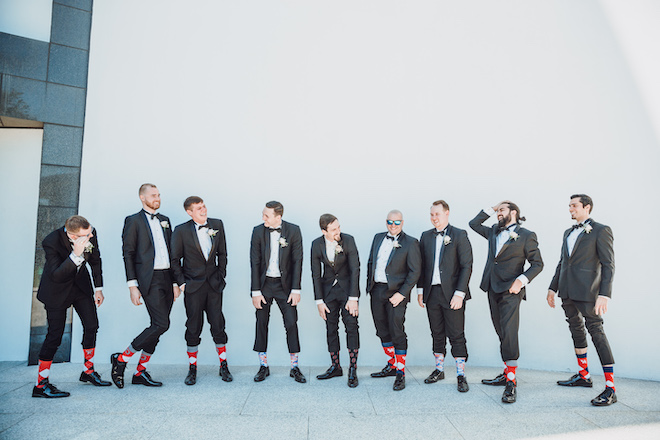 If you have your suit picked out but are looking for more accessory ideas, get inspired by our 5 unique accessories every stylish groom needs here. Or, if you're looking for more groomswear inspiration, be sure to check out our Grooms & Guys Pinterest board for more groom wedding attire ideas!