We recently buzzed about vintage jewelry, which we love for its one-of-a-kind glamour—so perfectly suited to the once-in-a-lifetime wedding. Well, here's another great way to incorporate vintage jewels into your wedding: your bouquet. Yeah, it's a little unconventional. But that's the beauty of it. That, and the fact that unlike cut flowers, a custom bouquet made out of heirloom jewelry will last forever, and can become an heirloom in its own right, passing along from generation to generation, bride to bride, for years to come.
Vintage-jewelry genius Noaki combs antique shops, estate sales, flea markets and other sources to find unique and exquisite heirloom jewelry, than hand-selects pieces and hand-wraps them into unbelievably gorgeous bridal bouquets. She can also incorporate your own family heirlooms and wedding colors, or create a special arrangement to match the theme of your wedding.
Check out more of her stunning wedding work here and here. Wow!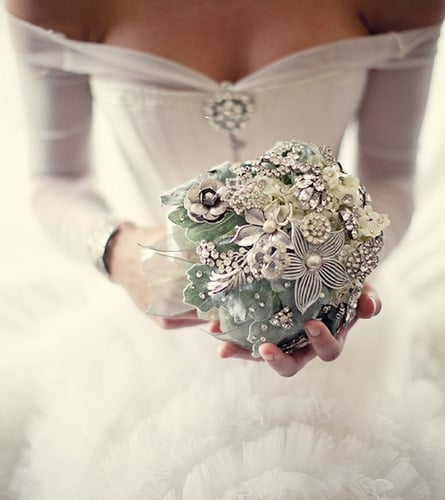 Photos by Lindsey Joy and Claire D.